First-year student business 'Emerson Sweets' brings a sprinkle of sugar to Boston campus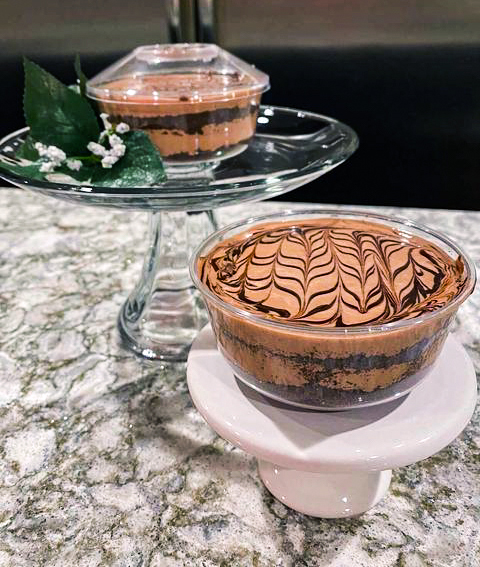 First-year visual and media arts major Salwa Shuman recently launched her new baked goods business through Instagram on March 3, titled Emerson Sweets. Shuman sells various types of desserts including mousses, candied nuts, and cakes, with free delivery to the Emerson campus through her Instagram account, @emerson_sweets.  
Shuman currently sells and hand delivers lotus mousse, nutella mousse, and candied almonds ranging from $3-5, and bundt cakes for $10, since college is so expensive, she said. She plans to bake more desserts based on customer feedback.
Shuman, who resides off campus, said her inspiration to start Emerson Sweets comes from her goal of funding her own production studio, a studio combining complex technology with storytelling to produce media like Warner Bros. or Paramount Pictures. To fund her studio, she started her first business, Jameelat Beauty–her online cruelty-free cosmetics and fragrance shop–in November of last year, and started Emerson Sweets at the beginning of March. 
Since going into the film industry is notoriously expensive, Shuman said she is working toward her future business to get a head start on her plans financially. 
"I wanted to start saving up now," Shuman said. "And then in the next four years, after college, I'll hopefully have made my dream come true."
With Jameelat Beauty already in operation, Shuman thought up Emerson Sweets because of her fan favorite signature treat, Lotus Biscoff mousse, a soft and airy French dessert, made with Lotus Biscoff cookie butter. 
"My friends were obsessing over it, they love it so much," Shuman said. "And then recently, they told me 'You should start selling them,' so I did that." 
Shuman started baking with her mother during her childhood and began seriously baking during her junior year of high school as a stress reliever.  
As a newcomer to small business, Shuman said that marketing herself has been the toughest learning curve to tackle. However, she didn't let this discourage her from working towards her production studio.
"[It was difficult] getting my name out there with my first business, especially because I put so much of my time and money, like I really invested," Shuman said. "I knew I was gonna make mistakes. And I knew that when I wanted to create, like, I was gonna make mistakes and I did it to learn from them, and kind of grow as my business grows." 
During the pandemic, COVID-19 safety is at the top of Shuman's priorities. She works hard to ensure safe products and delivery.
"I sanitize everything before and after," Shuman said. "I also wear gloves the whole time. I would always want to receive products like that. So I would definitely only give away my products like that."
Shuman said she is willing to expand operations if demand comes from other schools, but as of right now, she wants to bring joy exclusively to the Emerson campus through her baking. 
"I really hope that the Emerson community really enjoys the products that I'm offering," Shuman said. "[I hope] they tell their friends about it, and they're super satisfied with it and hopefully come back for more."
Students can place orders by direct messaging the Emerson Sweets Instagram account,  @emerson_sweets, which has gained 115 followers in the last week and prompted four orders, where she posts photos of the treats and deals. Orders for Jameelat Beauty can be placed through the website.