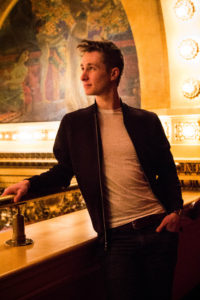 Alyson Hannigan, the host of Penn & Teller: Fool Us, saw her phone drop to the floor. Magician Ben Zabin had performed the same magic trick hundreds of times before, but failed for the first time in front of a 1,200 person audience. Although his clip was cut from the show, the blunder inspired him to write AbracaDAMMIT!: Disaster Stories & Life Lessons From the World's Top Magicians in 2017.
"I got to talk with pretty much the best of the best in the industry and hear about what went wrong in their shows, what life lessons they've learned, and any regrets they've had," Zabin said. "There are great stories from strippers ruining shows to tigers getting loose."
The business of creative enterprises freshman has performed magic at theaters, corporate events, and schools across the U.S. for 14 years, including the Mac King Comedy Show in Las Vegas. At the age of 19, he has authored two books and performed with famous magicians like Bill Herz.
He said he once hung out with internationally-famous illusionist David Copperfield at a barbecue.
"It's surreal to have all of my heroes in my phone and to be able to call and text them whenever," Zabin said. "It has opened so, so many doors, and it's been a lot of fun."
Zabin recently toured Costa Rica with Magicians Without Borders, a nonprofit dedicated to performing magic for children in impoverished and war-stricken areas. He traveled with a small group of student magicians to schools, theatres, and prisons.
"We were doing magic for kids whose parents make five dollars a day as farmers," Zabin said. "And they were so grateful for the reception. I was just happy to be there."
He said the children radiated joy despite the poverty they experienced.
"I went in to teach magic to them, and one of the kids started crying," Zabin said. "He was telling everyone he worked with a Las Vegas magician, and he just took that so much to heart—I have chills right now just thinking about it."
In Costa Rica, Zabin traveled with a group of magicians and his friend, Diego Vargas, a fellow magician and the director of Magicians Without Borders. Vargas said Zabin designed the show's routine as the only professional in the primarily student pack.
"The kids from Magicians Without Borders Costa Rica are from a really, really poor area," Vargas said. "So I was actually telling them, 'Hey this guy, Ben, he has performed in Vegas. He knows [David] Copperfield,' and they were like, 'Wow!' I mean, you wouldn't believe their faces."
Vargas said working with Magicians Without Borders has been a dream come true, and that he wanted to change the world through smiles. Zabin said the socioeconomic barriers between him and his audience vanished after he started performing. Guards and prisoners gathered in one crowd during a prison performance.
"[The prisons] were super scary at first, considering I'm a white boy from Connecticut," Zabin said. "As soon as the show started, immediately the language barrier was gone, the social barrier was gone, the freedom barrier was gone, and by the end of the show we didn't want to leave."
Before picking up a pen or a wand, Zabin said he received his first magic set at the age of five and continued practicing because he failed at sports. He said his speech impediment and insecurities vanished when he stepped on the stage.
"I was very shy," Zabin said. "Magic gave me the confidence to be myself and gave me something I was good at. I loved doing it. I love making people happy. I love making people laugh. It was just a blast."
He said his parents provided total support—even when he traveled across the country at 10 years old. Steve Zabin, his father, said any concern he had of his son traveling disappeared after seeing him do what he loves.
He said Ben Zabin appeared in a town-wide talent show as a child. Right before the show began, one of his tools malfunctioned.
"He totally collected himself, walked out onstage with such confidence, and the rest of the act went just fine," Steve Zabin said. "And at that moment I remember saying to myself, 'wow, there's something really special about this 8-year-old.' I just knew that this kid knows what he is doing."
Zabin says he encourages anyone interested in learning the secrets of magic to jump into the industry.
"Just do it," Zabin said. "I think so many students and kids are so caught up in the fact that they have to learn everything before they go out and do it. I just think they should do whatever they wanted to do right now."