Freshman goalkeeper Megan Rose cemented her position as the starter early on for Emerson's women's soccer team.
In the New England Women's and Men's Athletic Conference, Rose ranks second with 36 saves so far this season.
Rose said transitioning into college-level competition as a freshman comes with difficulties.
"As it is, playing goalie is a super high-pressure position, so I'm used to having a lot of pressure on me while I'm playing," Rose said. "But I will say that [during] the first few games, and even practices, I was really nervous that I would screw up and lose my starting position."
Head women's soccer coach David Suvak said Rose's ability to kick a ball accurately up to 40 yards sets her apart from other goalies.
"Her experience and compelling attitude are what makes her a strong goalie," Suvak said. "She is an excellent vocal leader—she communicates in a very positive, direct way with the players."
Senior captain Kira Venturini described Rose as fierce, intuitive, and confident on the field.
"She makes other players all around the field feel more comfortable and confident," Venturini said. "They know that she would never put them in a bad position."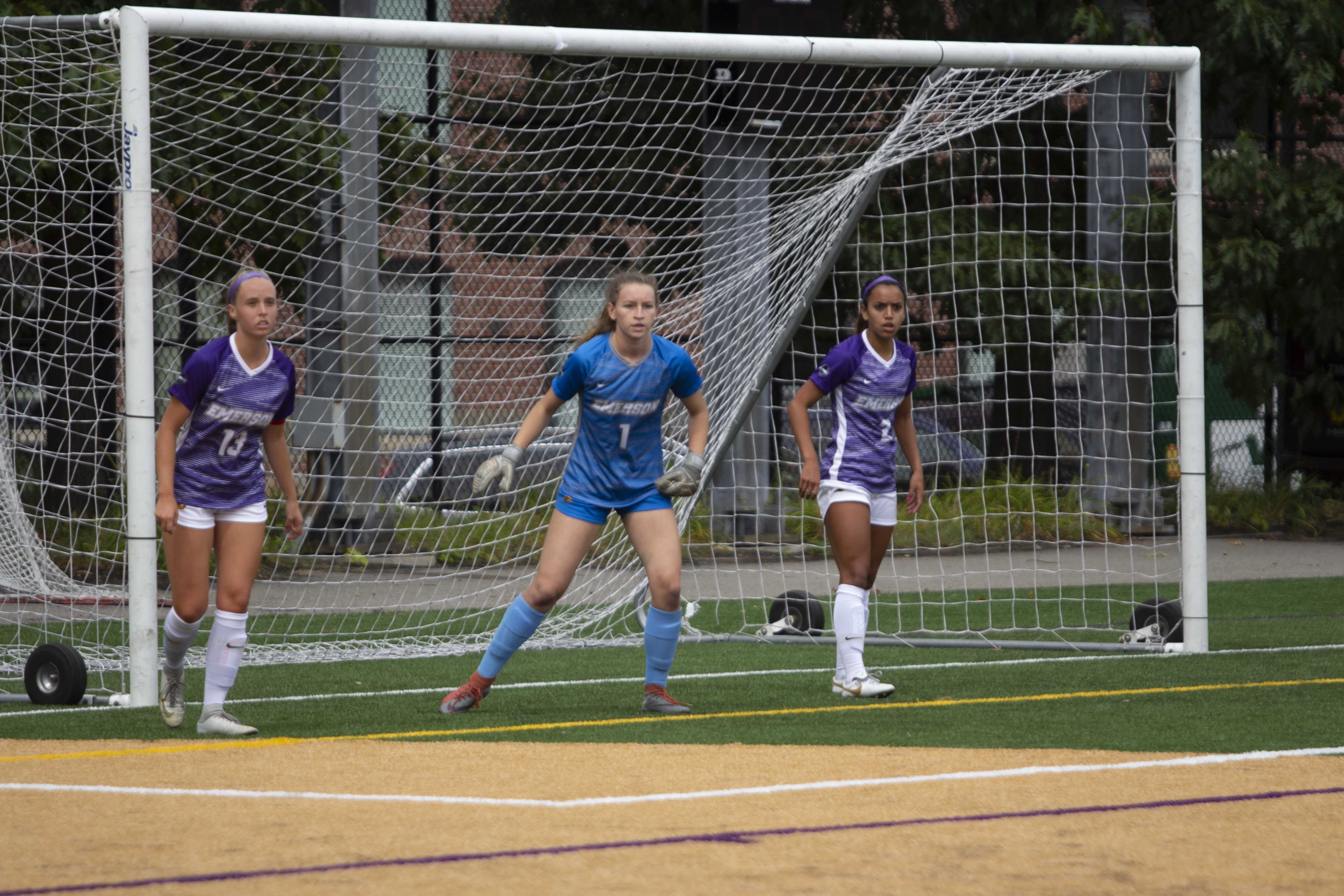 Rose, a visual and media arts major, said her parents encouraged her from a young age to try out different sports.
"I've been playing soccer since I was six, but I didn't even start playing goalie until I was 12," Rose said. "I remember being thrown in and my coach saying, 'Let's see what you got.'"
Suvak said one of Rose's standout moments as a soccer player came from a mistake in Emerson's game against Wesleyan College.
"[She] received the ball and she was trying to play one of our midfielders. And she struck the ball; it went just a little stray, and a forward picked it up," Suvak said. "The goal was open, but she backtracked, made an amazing save where she backpedaled, touched it out, and the ball hit the bar, and she saved it. It was a mistake that she made and that she cleaned up on her own, but that sticks out because I have not seen a female college soccer player make that kind of save in my nine years here."
Rose said after moving from California, she felt some nerves, but entering college with 30 teammates helped her settle in. 
"There is a sisterhood here. Everyone gets along, there aren't any cliques, and all the upperclassmen were super helpful and nice here," Rose said. "It doesn't really feel like there is a seniority kind of thing, so I really like that."