In-person classes to resume in the fall, college announces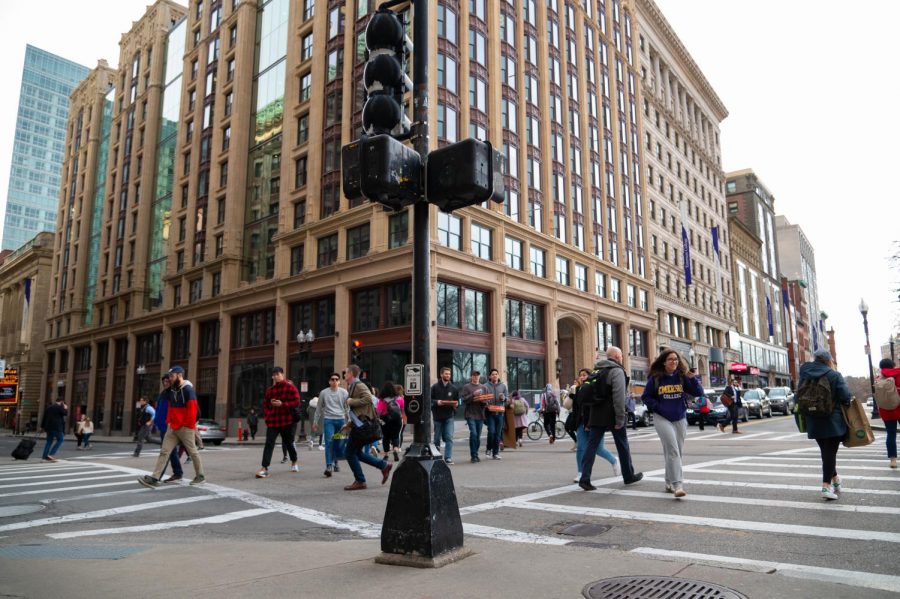 By Diana Bravo and Charlie McKenna
June 10, 2020
The college will reinstate in-person classes for the fall 2020 semester with significant changes to student life following the rapid spread of the COVID-19 pandemic, President M. Lee Pelton announced in an email Wednesday.
The program, called "One Emerson Flex Learning," includes a variety of changes to normal operations at the college, including requiring students stay home following Thanksgiving break and moving the final two weeks of courses and final exams online. 
"The vast majority of our students and their parents have expressed a strong desire to return to living and learning on campus," Pelton said in the email. "The Fall term plan is informed by safeguarding the health and wellbeing of our entire community as the chief and principal priority."
The announcement comes two days before the June 12 deadline Pelton set in May to announce the college's decision. The college formed temporary working groups in mid-April tasked with deciding how the college would proceed with the fall semester in two major COVID-19 hotspots—Boston and Los Angeles.
Move- in for students will shift as part of the new plan, beginning three days earlier than originally scheduled. Students will move in during assigned shifts spread across three days to minimize person-to-person contact. 
We stand for community, fact-based journalism. What do you stand for?
Some things in life are essential; they touch us every single day. Good journalism is one of those things. It keeps us in the know as we hurry through our busy lives.
Classes will begin online on August 31 and then transition to an in-person format on September 2. Pelton said that most classes will combine in-person and online learning.
The plan will also introduce precautions against COVID-19 around campus such as extensive monitoring of symptoms, testing and contact tracing, requiring masks in all campus buildings, and limiting the number of people in elevators and classrooms. 
The Emerson Los Angeles program is still set to proceed for the fall semester with an earlier staggered move-in schedule and an online end to the semester. Additionally, the internships required in the program may become exclusively virtual or a combination of online and in-person work.
Students planning to attend Kasteel Well or another study abroad program in the fall are still in the dark regarding the fate of their programs and will receive more information at a later date, Pelton said.
In place of the typical one-week intersession classes that have taken place between terms in past years, the college will instead offer an optional one month online winter term from December to early January.
The reopening plan was created to balance the value of campus life and in-person learning with the safety of students, faculty, and staff the college wrote in an emailed statement to The Beacon.
"The Flex Learning plan is Emerson's approach to serving the various and diverse needs of our students, faculty, and staff during these unprecedented times, while keeping our commitment to a robust and vibrant campus experience," the statement reads.
Executive Vice President and Dean of Campus Life Jim Hoppe told the Beacon that the college doesn't know how the fall reopening plan will affect tuition.
"I don't have a lot of details to share right now in terms of tuition and costs," Hoppe said. 
Incoming Student Government Association Executive President Claire Rodenbush has adamantly advocated for the college to decrease tuition on social media, labeling the fall "half a semester."
"It seems like a lot of things are going to be limited," she said in a phone interview. "As we learned from online class this past semester, certain classes can't always do finals and tests online due to the content of the class. Just looking at the plan based on what we have, logically the conclusion that a lot of people are making, myself included, is it looks as if we're getting less of a typical semester so we should be paying less than the typical amount."
Director of Housing and Residential Education Christie Anglade told The Beacon that students will receive more information about how the reopening plan will affect on-campus housing later this week.
"We intend on getting further information out regarding housing this week, as well as asking for students to share their intent for the incoming semester. " she said in an email to The Beacon.
Emerson's announcement comes after similar announcements from Boston University and Northeastern University in the last two weeks. The two schools will also institute a combination of in-person and remote learning, with the stipulation that students may choose to stay remote and learn synchronously with students on campus.
 Rodenbush told The Beacon that SGA members met with administrators Wednesday night to discuss the college's reopening plan. 
Pelton said he expects the Spring 2021 term to include the loosening of some restrictions, but that the college has not made a decision on that front yet. 
"I have great confidence that together, our remarkable community will commit and adhere to the health and safety protocols that will allow [the college] to continue to thrive," Pelton said.
If you would like to submit a letter to the editor, email [email protected]. Letters may be edited for style and clarity.
Charlie McKenna, Deputy News Editor
Charlie McKenna is from Los Angeles, CA and currently serves as The Beacon's Deputy Express Editor, where he leads The Beacon's coverage of events, breaking news, and student government at the college....