In-person commencement to take place at Fenway Park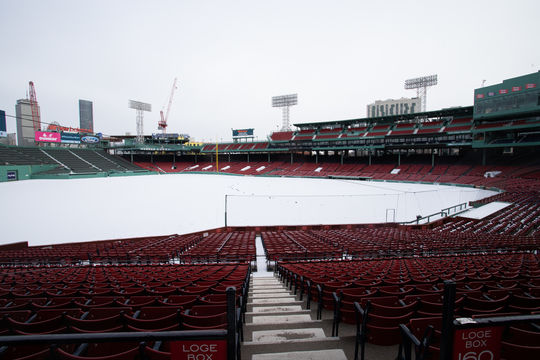 Emerson plans to hold an in-person commencement at Fenway Park alongside the previously announced virtual ceremony, according to President M. Lee Pelton's Tuesday afternoon appearance on GBH.
The in-person ceremony will include graduates from the classes of both 2020 and 2021 and will be held on May 2, Pelton announced in a Tuesday evening email following the GBH appearance. A virtual ceremony for the class of 2021 will still take place on May 9, the email said. Undergraduate and graduate students completing their degrees can choose to attend one or both ceremonies.
The ceremony for 2020 graduates will take place in the afternoon, the email said. As of 7:30 p.m. on Tuesday, it is unclear what time the 2021 commencement will take place.
Emerson is still awaiting approval from the City of Boston to move forward with the ceremony, according to the email.
Graduates may be allowed to bring two guests, who would be required to sit alongside the student in pods of three people, according to the email. More details about the event are to follow in the coming days.
"The decision to hold these in-person events, in addition to the virtual commencement exercises, was made with thoughtful deliberation," Pelton wrote. "With health and safety as our top priority, the College considered the wishes expressed by our graduates and their families, while closely consulting with state and local officials about the latest COVID-19 rules and regulations for in-person gatherings, particularly at stadiums and large venues."
Pelton's announcement follows a March 25 email stating the college was "exploring several options" for an in-person commencement on May 9.
The college previously shifted the May 9 commencement ceremony to an entirely virtual format on Feb. 4, sparking a student-led petition calling for college officials to reconsider their decision. Emerson's shift to an in-person commencement also follows several neighboring universities announcing their plans for in-person graduations, including Boston University and Suffolk University.
On March 24, Vice President and Dean for Campus Life Jim Hoppe said during a "COVID Q&A" that he had no updates to share regarding an in-person commencement ceremony.