In quarantine, I revisited my taste in books—and it changed for the better
Throughout my entire childhood, I always loved books. I forced my grandma to take me to the bookstore after my Friday classes every week, so that I could spend hours upon hours browsing the shelfs. In my literary journey, I've visited many different places: Hogwarts, Olympus, and Panem, among others. But once I began college, it started to bother me how out of touch I seemed to be with books about real people and their stories in the contemporary world.
As far as my interest in fantasy goes, I have all my childhood years of reading to thank for that, and I wouldn't change it for the world. I spent drives back home from the bookstore trying to explain to my grandma why 12-year-old me was so similar to the Divergent main character, Tris. Or about how all my friends and I had taken the Harry Potter house test and everybody else had gotten Gryfindor, while I was the only one who got Slytherin—thinking that made me special somehow. These characters and stories gave me insight into worlds that fascinate me to this day. 
Toward the end of high school, however, I let go of my constant reading habits so I could be more social and give full attention to my then-present surroundings. I think that not reading for a couple of years caused my taste in books to get stuck in the chapter of my life where I did read a lot—my early teenage years. 
After moving from Brazil to San Diego in eighth grade, a lot of my time was spent either with my family or by myself, reading books. Once I finally started to find my identity and friends in the U.S., a part of me started to let go of my reading habits. Now around four years later, when the need to quarantine put a lot of free time in my hands, I decided to once again dive into the book world—but with a twist. 
Instead of exclusively reading the usual teen romances and fantasy novels I was so crazy about years ago, I decided to give other genres a chance. This is largely thanks to a YouTube channel I discovered called Jasmine's Reads. Jasmine Allen is currently a philosophy student at the University of York and development editor at Sweet Cherry publishing, an indie children's book publisher based in Leicester, England. I thought all the books she recommended were so real, and they all had some connection to contemporary topics like race issues, relationships, and different cultures. So most of the books I'm mentioning here are brought to you courtesy of Jasmine. 
My reading journey started when I decided to read a mystery novel at the same time as my best friend. Our choice was The Woman in Cabin 10 by Ruth Ware, a book I already had on my bookshelf back home in California. The story follows Lo Blacklock, a journalist who writes for a travel magazine. Lo has just been given an assignment to attend a luxury cruise with 10 cabins. But once onboard, things take a turn when she witnesses a potential murder in the cabin next door, which is supposedly empty. Though it had been sitting on my bookshelf for years, it always felt too intense for me. And it definitely didn't seem like a book that would have the swoon-worthy love interest always found in my favorite childhood books. 
A couple of months before reading that book, I developed a psychological thriller movie obsession, so I thought a mystery/crime novel wouldn't be too far off and would be a good start to diving into books with more adult themes. Sitting on my balcony during the beginning of quarantine and trying to get rid of my pasty Boston complexion, I decided it was the right time to start off. 
The book started off slow, and it took me a couple of days to get into it. I would read a couple of pages, put it down, then pick it back up. But I was committed, so I stuck with it. And even though it's not the best book I've ever read, the last 100 pages were so intense that when the book finally finished, I started crying. 
After reading it, I sat there and realized my usual favorite elements of a book like romance and magical worlds were not there, but I still really liked the story. It was refreshing to read about something completely different that made me really interested in reading more crime and mystery books. 
The next mystery/crime book on my list is Agatha Christie's The Murder of Roger Ackroyd, which was voted the best crime novel ever by The British Crime Writers' Association. So I have high hopes, to say the least. 
Now on with the journey. I also decided to start reading a dystopian feminist novel, The Water Cure by Sophie Mackintosh, that was longlisted for the Man Booker Prize. The book follows three sisters who live with their parents on a deserted island due to a mystery disease that makes women sick in the mainland when one day their father disappears on a boat ride, and two men wash ashore the next day. 
This book is one I was really excited for because I felt there was so much potential in the premise. But much to my disappointment, it was very slow and really didn't touch on any of the feminism and gender roles topics that it promised; it barely scratched the surface. I did enjoy Mackintosh's writing style because it was very poetic, but not in the way that makes me re-read every sentence—it was beautifully written but simple. I liked the relationships presented, but I felt I needed more from the world they were in. The dystopian aspect just wasn't developed well enough.
Onto my most challenging genre I decided to read literary fiction; no fake worlds, no mystery to be solved, just real-life people, relationships, and a lifetime of interactions to be analyzed. This genre scared me for a long time because it seemed too real. Books were almost like an escape from reality for me growing up—not that I didn't have an amazing childhood. But I loved being able to dive into stories of people doing incredible things while I sat on my grandma's couch drinking chocolate milk.
Now, as a 20-year-old, I started to realize I wanted to dive into literature that makes me think more deeply and read about points of views I never thought about before. My choice for this genre was Ask Again, Yes by Mary Beth Keane. The book follows the lives of two families who live next door to each other in the New York suburbs, it spans through decades and touches on topics such as blame, forgiveness and love. This one started off incredible, then slowed down, but then picked back up again towards the end. To me, it just showed how well written it was because the book was just like life—there are stages and some are better than others, and that's exactly what the book felt like. My next literary fiction novel to be read will be A Little Life by Hanya Yanagihara, which was shortlisted for the 2015 Man Booker Prize.
I don't think I'll ever not love fantasy, but I'm excited for my literary taste to grow with me and read about different experiences. Meanwhile, I will also be diving into one of the best fantasy books of all time, just for old times sake, The Name of the Wind by Patrick Rothfuss. 
View Comments(1)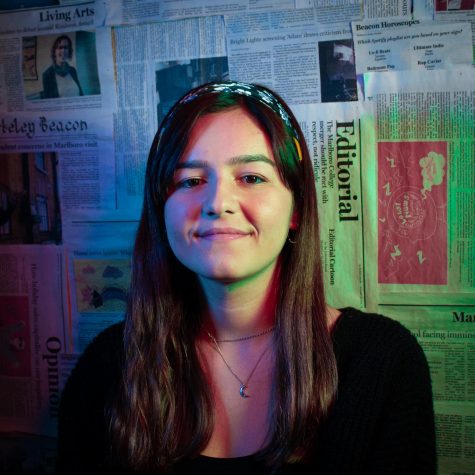 Taina Millsap, Staff Writer
Taina Millsap is originally from Fortaleza, Brazil, but calls San Diego, CA home as well ever since she moved there in 2013. She is currently a News and Magazine staff writer, previously she acted as The Beacon's Living Arts Editor. When she is not writing articles and editing for the Beacon she can be found working on her internship with Flaunt magazine.