Student-athlete in quarantine day five: finally back to feeling 100 percent
April 7 marked officially less than a full week before I am finally able to leave Paramount. 
Over the course of the night, things seemed to be improving for myself. Early Tuesday night, I was alerted that due to space limitations I was being moved in with my suitemate, who had also tested positive. It was a bit inconvenient in the moving part, but after a few days of complete isolation, having someone to chat and interact with even if for little moments throughout the day, really makes a difference. 
Again the day was mostly routine, waking up late to avoid dealing with the dread of being in isolation for ten days, going to class at 12:00 p.m., and then debating what to do with my time before heading to my laptop to write this entry. 
Still, there are always a few highlights of the day despite the uneventfulness of this solitude. No paprika was inhaled, thankfully, but my French class included highlights such as my professor asking if I had shaved my beard and the extended post-class conversation regarding the 1998 FIFA World Cup Final between France and Brazil. 
Wednesday also marked the first day in which I felt the healthiest since my arrival in Paramount. Beyond the blistering pain I felt when trying to do a set squat routine, I am finally feeling back at 100 percent.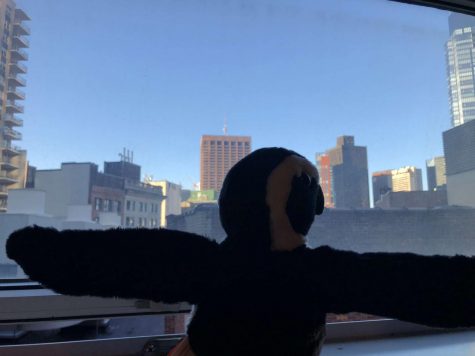 Apart from what has already been stated, the day was pretty much like any other Wednesday. I tuned in to watch the UEFA Champions League, but we won't talk about the scores (Bayern Munich sadly lost). I also prepared ideas and a script for the soccer podcast I co-host, called "The Golden Boot Podcast" (available on Spotify and everywhere you stream your podcasts).
For those wondering if anything spectacular happened, besides rushing to finish some assignments and homework, I turned yesterday's afternoon into a photoshoot for Melvin. Melvin is my penguin stuffed animal that I bought at the New England Aquarium a few weeks ago. 
While the Velcro on his wings is supposed to hug your drinkware, I use him as my one and only sense of companionship in my room. Making Melvin pose and taking pictures with "My Heart Will Go On" by Céline Dion in the background, does help reassess your views on life, if only for a few moments.
The rise in positive COVID-19 tests on campus has obviously had an effect on people at Emerson, and my personal friends. Though that effect hasn't impacted me that much compared to others, I believe that the overlying stress of my peers can spill over to those who are currently in isolation. 
Regardless, I still strive to do what I had in mind since I arrived: stay positive and keep looking forward to April 13.