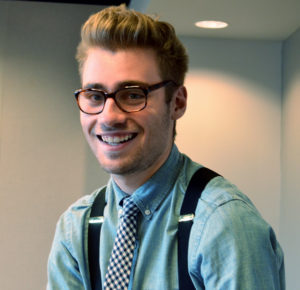 This semester, junior journalism major Paul Ross plans to bring political commentary influenced by political comedians Stephen Colbert and John Oliver to Emerson Independent Video with his show Paulitics.
Each episode features news, discussions, and a monologue from Ross—the show's host and executive producer of content. He said he wants politicians, pundits, and political campaign workers to appear as guests.
Ross said he hopes to make the show as diverse as possible with representation from different races, genders, and ideologies. He doesn't want Paulitics to be another show with a liberal, white, male host in a time where white men dominate political commentary and comedy.
"We have a very diverse cast, which I'm excited about, and a very female dominated crew," Ross said. 
Ross said he believes a diverse cast and and crew will set Paulitics apart from similar political commentary shows while improving its quality.
"Emerson is not a diverse place in terms of race alone. To me, being able to represent people of different races, different backgrounds, different countries too … this is really important," Ross said.
Despite his left-leaning bias, Ross aims to give every political party a voice on Paulitics. He said he hopes to present diversity of opinion to the community—which he sees as largely liberal.
"Even if you're a Republican, you can easily make fun of Donald Trump," he said. "So I think that's something that we all share in common."
Technical Executive Producer Tessa Maguire described the show as Ross's baby. The senior said she felt particularly excited because Paulitics will be the only political talk show on EIV this semester.
Maguire expressed excitement and confidence in how the show will turn out. Communicating remotely with correspondents is something to which she particularly looks forward.
"I'm interested to see how we will execute it because it's not an easy thing," Maguire said.
Erin Crowley, junior journalism major and the logistics executive producer for Paulitics, worked with Ross on News at 9 on EIV. As logistics EP, Erin works coordinating studio times, communicating with guests, and other behind-the-scenes planning. When Ross approached her last semester to work on the show, she immediately hopped on board.
"We've been planning behind the scenes like crazy," Erin said.
"The whole point of the show is to educate people and to make them laugh," Ross said. "I'll basically use this time to say whatever is on my mind."
In many ways, Ross hopes Paulitics will serve as a reaction to what he sees as shortcomings of modern political journalism.
"It's not just politics. It's humor. It's education. It's trying to get people to understand what's really going on, but not desensitizing anything," Ross said.
Ross wants Paulitics to be as interactive as possible. He said he hopes to open an online discussion on the EIV website to give the audience a chance to respond to political commentary. 
A Paulitics page on the EIV website will allow reporters from the show to write political pieces. These articles will have a different tone than the unbiased and factual news EIV produces. Instead, the tone will be similar to the show's, written in a more conversational and humorous way.
"If you have a different argument, we want to know," Ross said. "Anyone with political interest could be on this show."
Ross said he became interested in politics after the 2012 election, which was the first presidential race he closely followed. He said he never desired to work on a political campaign, but instead felt inspired work from the outside as a member of the media.
Ross hopes to keep Paulitics going throughout the Fall 2018 and Spring 2019 semesters, which will be his last two at Emerson.
Paulitics will begin filming on Feb. 9, but EIV has not determined when the episodes will air.
"I think [the show is] something that's a little bit different from everything else," Ross said. "We have a very young crew and cast. I feel like we can really build something together."