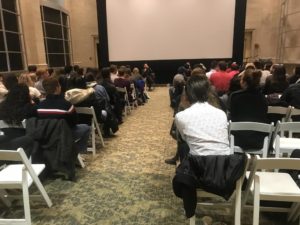 From break-dancing in the streets of California to being the voice of Prince Zuko in Avatar: The Last Airbender, accomplished Filipino-American voice actor and actor Dante Basco visited Emerson College to celebrate Asian Heritage Month.  
Last Tuesday, ASIA—Asian Students for Cultural Awareness—invited Dante Basco, known for roles like Rufio in Hook, as their keynote speaker in the Bill Bordy Theatre. More than a hundred students filled the ground and balcony seats.
"We chose Dante Basco because of his prolific work as a voice actor, actor, and producer," Vice President of ASIA Alfonso Mateo said. "We wanted someone who is not East-Asian because there has been a lot of East-Asian representation in the past. This is the first time we have a Filipino keynote speaker. It's nice to have the other part of Asia represented here at Emerson."
March is Asian Heritage Month, which celebrates the history, culture, and traditions of Asian Americans.
Basco started We Own the 8th, a platform that helps fight Asian-American stereotypes in Hollywood. The art community spotlights new Asian arts in the media once a month, posts casting call opportunities for Asian Americans, and shares screenings and open mics with prominent Asian American media figures.
At the keynote, Basco discussed the underrepresentation and typecasting of minorities in media and entertainment.
"When you're an Asian actor, the [meaningful] roles are less, but the impact is more," he said. "It stressed me out that [Asian Americans] were so underrepresented on mainstream media."
He performed poetry intermittently during the night, which included Avatar-themed pieces.
After the theatre closed, about twenty remaining fans and Basco migrated to the Cultural Center in Piano Row for autographs, pictures, and advice.
"Every Asian role you've seen in Hollywood, including roles I've done, are a white man's experience of an Asian … We have experienced every emotion through the white man's story," Basco said. "Now, we have to start telling our own stories. We have to create systems to keep us going."
Lily Rugo '17, former co-president of ASIA, reached out to Basco personally at one of his monthly We Own the 8th collectives last fall.
Rugo said she knew him from similar friend circles through her internship at Emerson Los Angeles.
"I handed him ASIA's business card and said, 'We really want you here,' and he said, 'Let's make it happen,'" Rugo said. "He emailed ASIA, and now we're here."
Freshman Emily Cristobal said she was awestruck to see her favorite childhood icon in person and to hear about how much he's advocated for the Asian-American community in entertainment.
"As a Filipino-American, seeing someone with a similar background thrive in the entertainment industry is very inspiring. He really advocates for that Asian-American narrative in media and entertainment," Cristobal said. "I was very starstruck to see him speak about it all. It was everything."