"American Vandal" creators talk Emerson Mafia, Chocolate Cake City, and Lil' Dicky at panel
American Vandal creators Dan Perrault '09 and Tony Yacenda '09 danced, joked, and took selfies with students at an Emerson panel where they shared production advice.
Screenwriting organization SPEC hosted the event on Friday, Nov. 9 at the Bill Bordy Theater, and about 40 students attended. SPEC screened clips from American Vandal before the panel.
SPEC President Rachel Gaudet moderated the panel at the beginning before opening the discussion to students. Perrault said returning to the Bill Bordy sparked feelings of nostalgia.
"I have so many memories here," he said. "It was just really fun to relive that and bizarre to watch our show in all the same space that our college shorts were done. It was just an interesting blending of worlds." 
Super-fans of American Vandal, members of SPEC, and members of the professional cinematic society Delta Kappa Alpha viewed the panel. Students joked with Perrault and Yacenda when asking questions, and the two often answered with their own retorts.
Yacenda said he felt honored to speak with students who felt so passionate about filmmaking that they would attend a panel on a weekend.
"I feel like the people who come to this sort of thing kind of have to be a step-up to come on a Friday night," Yacenda said. "That's so flattering."
Perrault and Yacenda also reminisced about their experience at Emerson.
"I always hoped, when I was in film school, to have a cool excuse to come back, and I wish it happened sooner because I love this city and this campus so much," Yacenda said. "It's so cool being back for the first time in nine years."
The pair referenced how students often look to the Emerson Mafia Facebook page to reach success. However, Perrault and Yacenda argued in their panel that peer collaboration benefitted American Vandal more. They cited their work with people they worked with in college.
"The biggest takeaway is: Work with people you like working with now," Perrault said. "Sometimes those are the most valuable connections you make as opposed to the generation before you."
Panel topics varied from American Vandal analysis to Yacenda's work on rapper Lil Dicky's music videos. The alumni also gave post-graduation advice for visual and media arts majors.
Alexander Forrest, a member of comedy troupe Chocolate Cake City, asked Perrault to perform part of a dance he did in a sketch years ago.
Perrault, a former member of Chocolate Cake City, refused to take off his shirt for the bit but still danced. Perrault reconnected with the troupe and took a picture with them after the panel.
"The fact that one of them remembered my dance was one of the weirdest, most unexpected moments of the night," Perrault said.
The event ended at 9:30 p.m., but the creators hung back to meet with students until the theater closed at 10 p.m.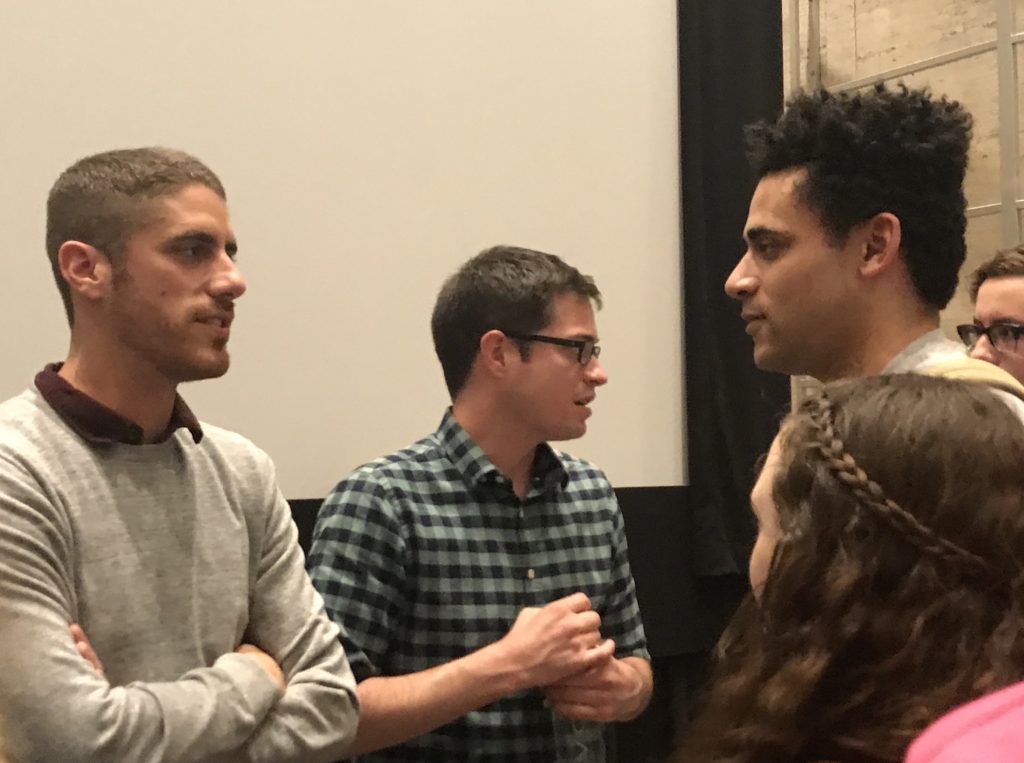 "I can't think of a better excuse than to talk about our job, which we love, to people who seem excited to hear us talk about it. It's the coolest," Yacenda said.