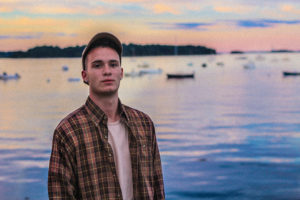 Young artists may fantasize about seeing their work featured in magazines and concert promotions, but junior visual and media arts major Mike Zahar knows the feeling well. His portraits of alternative singer Max Schneider, who performs under the name MAX, have been featured in Billboard magazine and the iHeartRadio Jingle Ball tour.
Zahar, an aspiring photography director, began his career working for Ben Esakof, president and founder of the website Roman's Wrap Up. Soon after starting at the website, which covers live events in the Boston area, Zahar took photos of rapper Mac Miller and pop singer Meghan Trainor.

Zahar met Schneider while covering one of his shows in 2017. Esakof asked Zahar to do a digital spread of Schneider while he was in Boston, so Zahar photographed and interviewed the singer for Roman's Wrap Up.

Schneider then used Zahar's photos for posters and merchandise during his performances.

"[Schneider's] management really liked the pictures I took and they wanted to use it for all of his promotional stuff," Zahar said. "Along with the Billboard picture, I knew this would be good exposure for my brand.
Schneider said he was surprised to see the professional quality of the shoot in such an intimate setting.

"[Zahar] came to a nightclub that we were doing a gig for as my group 'Party Pupils,' and we shot the editorial in the middle of this random room downstairs from the club," Schneider said. "He came extremely prepared, and I knew he was a great guy from the moment we started hanging. When I saw the photos later I was blown away."

After Billboard used Zahar's photos, the "random room" photoshoot became a staple for Schneider's interviews and concert promotions. He said he believes audiences are visually attracted to Zahar's vibrant colors.

"People felt the photos represented my vibe perfectly," Schneider said. "I think that's why people respond so much to his work and that photo in particular."

Billboard magazine featured one of Zahar's photographs when Schneider's single "Lights Down Low" entered the Hot 100 song list on Oct. 28.

Esakof knew of Zahar's abilities behind the camera and suspected success following the photoshoot.

"I knew Mike killed it with portraits and I was fully confident in his ability to do a photoshoot with Max," Esakof said. "I loved all of the photos and was pleasantly surprised with the quality of the backdrop. The picture of Max that was used in Billboard is probably the most recognizable picture of the performer."

Esakof hoped Roman's Wrap Up would help photographers build their resumes while also promoting his own website. He said he feels overjoyed by the amount of exposure Zahar has received.

"I love seeing other people win and succeed and I love being a part of the process," Esakof said.

Besides photos featured on Zahar's website, Esakof posted exclusive, behind-the-scenes photos from the shoot with Schneider on Esakof's Instagram page.

"With the pictures of what was going on behind the shoot, people can see how simple the shoot actually was," Esakof said. "That way, people know how [simply] you can shoot professionally good photos."

Zahar said the biggest factors for success in the creative field are spreading your work and attending as many events as possible to network.

"If you get started as soon as you can get equipment and learn from there, you can create amazing portraits and go to amazing events," Zahar said. "I have done some great work with some awesome people, and can't wait to see what happens in the future."