Lilian Farber photo exhibition captures the world through the decades
A new exhibit in Tufte Building's Huret and Spector Art Gallery, "A Shared Vision: The Lilian Farber Photography Collection," features images by various famous photographers from across the globe and different time periods, each selected by curator Lilian Farber. 
The exhibit, which opened on Sept. 16, runs until Oct. 29. The collection consists of various rectangular frames with photographs ranging from portraits to landscapes to photos of seemingly random objects such as an artichoke or a metal chair. The wide array of images have their own stories, emotions and purposes, all catching a viewer's eye in their own way. There's no connection between the images, just that they all have their own meaning waiting to be found.  
"The collection was mostly a compilation of a bunch of different photographs, subjects, and time periods," Julija Garunkstis, a senior VMA student, said. "It was through different points in history and different points of view, which showcases the kinds of things that people capture all around the world at different points in time." 
The collection was gifted to Marlboro College by Farber and then inherited by Emerson during the merger of the two institutions. 
"This collection came to us as a result of the liaison with Marlboro College," said Leonie Bradbury, chair of Contemporary Arts and Curator in Residence in an interview. "The collection had been gifted to the college by Lillian Farber. She had been collecting all of these works over 30 or 40 years and donated it as a teaching collection to Marlboro College." 
When Bradbury first received the collection, she was eager to "create an exhibition with these works and introduce them to the Emerson community" in a meaningful way. In order to do so, she first needed to find the connection between Farber's photographs. 
"We first had to analyze what we had received and then work to find the stories that were present in the collection and use these to contextualize the works," Bradbury said. 
While the original collection consists of over 200 photographs, Bradbury and affiliated faculty member Susan Doheny carefully selected just over 100 of them to be showcased in the live exhibition. The images are organized into categories depending on their time period, style, or context. 
"[Doheny] and I worked together for the past six months to make selections and create a structure within the collection and create a way for students to engage with the work in an organized fashion," Bradbury said. "When you see the works up on the wall in the gallery, you feel as if it was always meant to be this way, but they actually arrived in boxes and crates without any organization whatsoever." 
Though the staff succeeded in organizing the exhibition in a more structured manner, the real beauty in Farber's collection is that she chose photographs seemingly at random. 
"Lillian Farber was a very passionate collector who collected things that she liked rather than things that were supposed to be important or because other people thought they were," Bradbury said. "She really collected things that she was drawn to and thought were beautiful."
Bradbury hopes that students will engage with the collection in this same way, viewing the images with care, enthusiasm, and awe. She hopes that the audience will go beyond the obvious as Farber intended and instead find new and unique perspectives that they may not have experienced before. 
"In a culture that is saturated with imagery, it's really special when we get to see an original photograph," Bradbury said. "We see thousands of pictures a week on our phones and our screens, but to really be in the presence of an object that is a photograph, you can really feel the difference. It provides a unique experience, and not just on the content of the image, but on the physicality and the materiality of it, the process which the artist used to create it and the way that process affects our experience with the piece. That's something that's really special." 
Just as Bradbury intended, students have been able to find this meaning and beauty in the collection, either independently and/or in their classes. 
Introduction to Photography professor Betsy Schneider is one of several professors who has taken students to view the exhibition to open their eyes to this new way of interpreting images. 
"It helps us slow down a little bit and just focus on what's in front of us, it's a really important thing to have those moments when we tear our eyes away from the screen and look at something different," Schneider said. "I noticed that the students spent a lot more time looking and noticed detail, composition and some of the more technical details of the work. They were looking at the photos as objects, they were able to notice some things that they can't necessarily consider otherwise."
By instilling a new perspective of photography in students and faculty, the collection has fulfilled the purpose that Farber created it for.
"[Farber's] vision for the collection was always of sharing it with others, which is something that motivated her to donate it to Marlboro College so it could continue to be seen by as many people as possible," Bradbury said. "That's why she dedicated it as a teaching collection, she wanted it installed where the students were teaching and living and working and going to class." 
As a means of fulfilling Farber's dream of having these photographs constantly in the eye of curious and eager students, the college will continue to display her collection even after the exhibition comes to a close.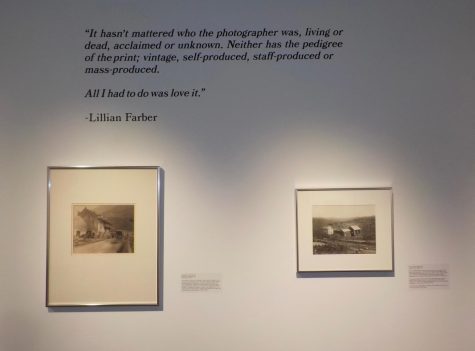 "One important thing to note is that once the exhibition is over at the end of October, we will be reinstalling the works throughout public spaces on campus so that students will continue to have access to these works," Bradbury said. 
In a quote displayed on the walls of the exhibition, Farber leaves her audience with a simple message—photography is meant to be cherished in every form.
"It hasn't mattered who the photographer was, living or dead, acclaimed or unknown. Neither has the pedigree of the print; vintage, or self-produced, staff-produced or mass-produced. All I had to do was love it."