Live Updates: Boston Straight Pride Parade
The Straight Pride Parade will pass the college's Boylston and Tremont Street buildings today. The controversial march first gained media attention in June and aims to spread awareness of alleged issues impacting straight people. 
President M. Lee Pelton denounced the event in a community wide email calling it a "perversion" and a "desecration of beauty, truth, and generosity." Organizers of the parade responded to Pelton's comments at a Thursday press conference claiming the President's comments put their safety at risk. 
Beacon reporters Belen Dumont, Anissa Gardizy, and Jacob Seitz will provide updates every 30 minutes as the parade moves through the city. 
3:00 p.m.
CITY HALL PLAZA—Speakers continue to address the gathered crowd. 
A group disperses on the back side of City Hall after appearing to throw objects at media as they walked towards North Street. 
EMERSON COLLEGE—Emerson College Police Department Chief Robert Smith said in an email to the college community that the Straight Pride Parade has concluded and the campus will return to "routine operations."
Exterior doors will be placed into unlocked mode until 11 p.m., community members can sign in guests, and the Dining Center will be accessible from both entrances. The College Bookstore and Backstage Cafe will remain closed for the rest of the day. 
"I wish to thank all of our community members for their cooperation in keeping our campus safe during this event," he said in the email. 
The Super Happy Fun America Twitter account tweeted at President Pelton.
Great photo! I think @EmersonCollege makes a good backdrop, what do you think Mr.@LeePelton ? pic.twitter.com/kOFJcjzI2V

— SuperHappyFunAmerica (@SuperHappyFunA) August 31, 2019
2:30 p.m.
CITY HALL PLAZA—A large crowd continues to form outside of the Straight Pride Parade rally at City Hall. Approximately 100 people are waiting for the event to start.
An individual associated with the Straight Pride Parade sang the national anthem as protestors shouted at them from behind a barricade approximately 50 feet away. The first person scheduled to speak is Hugo.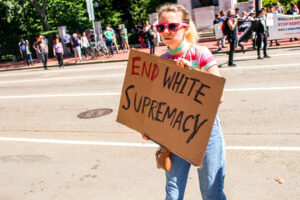 "Ladies and gentlemen of two genders, welcome to the first annual Boston Straight Pride Parade by Super Happy Fun America," SHFA Vice President Mark Sahady said. "I am straight, hear me roar." 
Approximately 300 protestors attempt to drown out speakers and music from the Straight Pride Parade with chants and drumming. Some protesters knelt during the national anthem as others chanted "black lives matter." 
Hugo takes the stage.
"Marty Walsh said there would only be ten people marching in our parade … he just can't count," Hugo said to the crowd. "That parade was epic and we're here and standing tall. These hateful antifa losers they try to shut down every single conservative parade."
EMERSON COLLEGE—Boston police take down barriers along Boylston Street and then turn onto Tremont Street and remove barriers in front of 172 Tremont St. 
Boylston Street to Essex Street is open to traffic as police are still in the process of clearing barriers on Tremont Street.
Vice President and Dean of Campus Life James Hoppe said security during the parade went smoothly.
"As far as I have heard, we haven't heard of any issues or concerns," he said in a phone interview with The Beacon. "It seems like everything went as planned."
2:00 p.m.
CITY HALL PLAZA—Straight Pride Parade organizer Samson Racioppi announces that some speakers are encountering difficulty reaching the stage. 
President of Super Happy Fun America John Hugo said police are telling parade goers and speakers that the speeches are cancelled. Hugo said speakers called him with the news.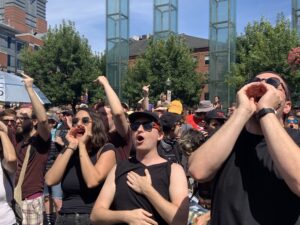 "That's not right," he said in an interview with The Beacon. "They're telling them that the event was cancelled. It's not been cancelled and that's sad."
Hugo said the event is scheduled to get underway in a few minutes. 
Counter protestors are still blocking Congress Street, however police have taken back a portion of it. The crowd has thinned out as spurts of yelling matches continue to break out between the two groups.
1:30 p.m.
CITY HALL PLAZA—Police attempted to move down Congress Street only to clash with protestors—throwing at least four on the ground and zip tying their wrists. 
Police take counter protestors protestors behind City Hall and over Congress Street as Straight Pride Parade participants wait by the stage.
Explosive ordnance disposal and K9 units stage near Faneuil hall while State police shut down most of Congress, North, and Clinton Streets.
Less than 50 people sit on the steps near a stage where parade organizers are scheduled to speak. The area is slowly filling up to the sound of classical music as more parade participants are let through a checkpoint where police are confiscating flags that are on sticks, searching backpacks, and using a metal detector.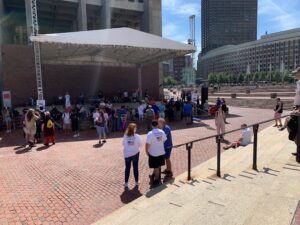 EMERSON COLLEGE—The Boylston and Tremont Street intersection is calm following the parade's arrival at City Hall Plaza. 
President Pelton said in a phone interview that he is away from campus today but has been getting updates of the events. 
"I trust the broader community and the students to behave and protest responsibly. We're on the right side of this and can speak with a moral clarity and candor that [the parade goers] cannot," he said.
He said he has tried his best to denounce the parade.
"I'm very clear that when this ugliness rears its head we need to speak clearly and call it what it is," he said. 
Traffic re-opens on Boylston Street all the way to Arlington Street. Some side streets open as well.
1:00 p.m.
CITY HALL PLAZA—Pedestrian crossings are shutdown as two marches separated by and barriers arrive at the plaza. As the parade reaches City Hall, police direct protesters to a different section of the plaza, keeping the two factions separate.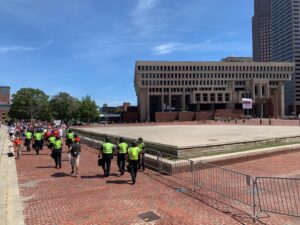 Police search bags and confiscate flag poles and signs with sticks at security checkpoints.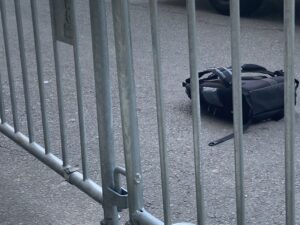 EMERSON COLLEGE—Police find an empty backpack at 106 Boylston St. and attempt to clear it. 
Police ride alongside the parade as it makes its way to city hall. A float with six-foot high letters spelling "Trump 2020" carried the Grand Marshall Milo Yiannopoulos.  
Freshman student Emma Sawyer leaned against the barricade as the parade passed by Little Building. 
"Unfortunately it's not surprising but I really appreciated our school's response to this and I feel really safe here in front of my dorm and protected by the police here," she said. "This stuff is happening everywhere. It's becoming some kind of reality which is just so terrible."
Boston resident Steve Coyle stood beside Boylston Street holding a sign that read "I don't need a damn parade but my queer daughter does." Coyle's daughter is currently a student at Boston University. 
"My uncle is gay, I also have an aunt that's gay, and I hate Nazis and Trump, so there's a lot of reasons for me to be here," Coyle said. 
Freshman HG Warrender said it was important to have an Emerson presence at the counter protest the Straight Pride parade so she posted on Facebook and spread the word for other students to join her. The group grew smaller as the parade went on but Warrender gathered about 25 students to attend.
12:30 p.m.
COPLEY SQUARE—The parade turns onto Tremont Street at 12:26 p.m. 
A parade security vehicle is leading the parade with people in a Santa Claus costume and catwoman costume with a President Donald J. Trump float behind blasting music.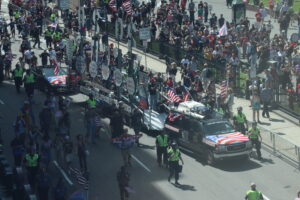 Police are lining the front of the parade and lined up along the sides as well.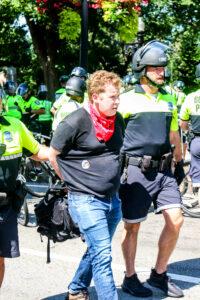 EMERSON COLLEGE—Tension is building as protestors wait for the Parade to pass by Emerson College.
Boston police detained multiple individuals at the Tremont and Boylston Street intersection and in front of the Colonial Theatre.
Windows in Little Building are crowded with groups of students overwatching the action unfolding at the intersection.
12:00 p.m.
EMERSON COLLEGE—Protestors have gathered near the MBTA station at Boylston and Tremont Streets in anticipation of the parade. Police have blocked off the intersection with barricades and bikes lining the road.
CITY HALL PLAZA—Approximately 200 protestors begin to disperse.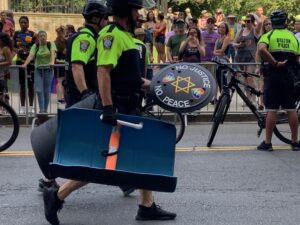 COPLEY SQUARE—Parade officially begins at 12 p.m. The route will take marchers down Boylston Street from Copley Square where they will take a left on Tremont Street. The marchers will end at City Hall Plaza.
James Harrington is planning to march in the parade with his 8 year old daughter, who is carrying a sign that says "make normalcy normal again." 
"We're marching to represent the cause, for the First Amendment cause, for equality, and to make America great again," the Lowell resident said.
He would not say whether he supported LGBT rights but said that he had never felt disadvantaged as a straight person.
"God made everyone equally with free will and  everyone can choose their path in life. I support the right of free will."
The number of parade participants and spectators outside of the parade are about equal. Most people are standing and waiting for the parade to start.
`NEAR EMERSON COLLEGE—Police confiscated homemade riot shields and weapons near Arlington Street and Commonwealth Avenue.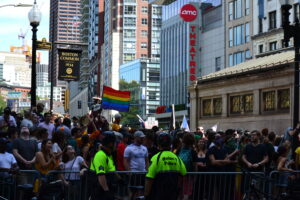 Officers pushed back the crowd of counter protesters by the Public Gardens as they tried to move closer to Boylston street. The crowd responded by chanting in unison "who do you protect, who do you serve."
Police detain five counter protesters on the corner of Boylston Street and Charles Street around 11:43 a.m. The crowd responded with "who do you protect?" 
One detained individual shouted that they did nothing and fellow counter protestors clapped in support of the person as they were escorted. All five individuals were searched along with their belongings and then transported away by the police.
11:30 a.m.
EMERSON COLLEGE—Police shut down the entire parade route to traffic. The shutdown caused traffic problems near Arlington and Newbury Streets and police attempted to reroute traffic to Berkeley Street.
A large crowd of counter protesters wait at the intersection of Boylston Street and Arlington Street for the parade. There are about 40 officers—from Boston, Somerville, and Middlesex—stationed beside them. 
CITY HALL PLAZA—Approximately 300 people are left at City Hall Plaza as the protest to the Straight Pride Parade wraps up. The organizers said while the official event is coming to an end with music and sing-a-longs, people are welcome to stay and meet the parade when it ends at the plaza.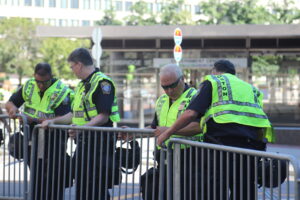 Cathie Ryan, of Boston, said she takes issue with a man holding a Gadsen flag.

"This person has a sign that says 'Don't Tread on Me' and yet he wants to tread on the rights of people to express their sexuality in the way that they want to," she said.
COPLEY SQUARE—Crowd of parade participants looking like 100. A small yelling match broke out between someone who entered the parade to excited the crowd. He was escorted out of the barricades by the police after he was surrounded by a mod of people. 
Some people have blow horns but most are standing and waiting for the parade to begin. The trump float is stationed at the beginning of the parade and there is also a truck for the parade organizers. 
Signs read "Make normalcy normal again", "it's great to be straight", Straight lives matter, and trump 2020. 
Police are stationed through the crowd, some carrying crowd control helmets. 
About 100 people are watching from the outside of the barricades at Copley Square and across the street on Boylston.
11:00 a.m.
EMERSON COLLEGE—Four individuals wearing black hoodies and masks were  walking near 131 Tremont Street, towards Boylston Street. The individuals walked through Downtown Crossing near Avery Street, towards the Tremont and Boylston intersection.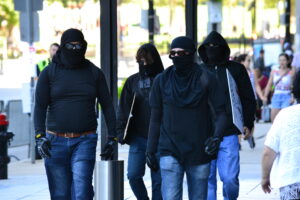 Dozens of BPD officers are stationed around the Boston Commons and Boston Public Gardens.
Dorm windows facing the commons showcase signs that say "Be gay do crime" and "straight people are NOT oppressed".
Dozens of officers are currently following Antifa throughout the Boston Gardens and area surrounding Emerson College. 
Boston police begin to close down streets in downtown Boston.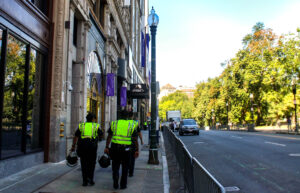 COPLEY SQUARE— Around 100 parade goers gather in Copley Square with about 100 police officers grouped in the front and back of the procession.
Chris Erchull wears a shirt that says, "Trans Lives Matter" and stands to the side of the parade assembly
"Trans people are being murdered regularly and the people here don't care. They have their first amendment rights and we have ours to protest against them," he said.
CITY HALL – About 400 people are continuing to gather at City Hall in protest of the Straight Pride Parade. Donatto Hallogagleigh, clad in all black carrying a Gadsden flag is being confronted by protestors. Police have surrounded him. In an interview, he said he is not affiliated with any group and does not the LGBT Community.

"You know, we don't all agree with the LGBT or however many letters there are now. Some of us are traditionalists," he said, "I think the [Straight Pride Parade] is great."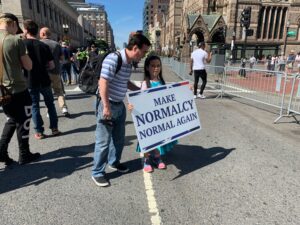 Sophomore Brady Baca said the Parade is an attempt for the organizers to prove their oppression.

"I think that it's very clearly just an attempt to continue this whole narrative that straight white people are the real ones who are oppressed in America," he said "it's similar to what they did in Portland and at the other straight pride parade last weekend."

He said that he thinks the parade passing Emerson is an attempt to intimidate students.

"I think it's a pretty bold-faced attempt to intimidate the incoming freshman class and validate the right-wing groups on campus," he said.

Sophomore Elizabeth Fretz said she liked the statement President Perlton gave on the Parade.

"I'm glad that he's supporting the LGBT community and he's saying that he's there for them," she said.
10:30 a.m. 
NEAR EMERSON COLLEGE—Boston Police detained an unknown amount of individuals at Arlington and Boylston Streets. 
A group of Antifa was spotted with helmets and eye protection at Arlington and Newbury Streets
CITY HALL PLAZA—A Crowd of approximately 300 people, some wrapped in Pride flags and carrying posters, gathered at City Hall Plaza in protest of the Straight Pride Parade, set to end at the Plaza at 2 p.m. 
Megan Kinneen '11 said Emerson was her first exposure to the LGBT community and that she feels a duty to be out in support. She said the Straight Pride Parade is disgusting.

"I think it's really sad. It's been interesting coming in on the T this morning, seeing all the red baseball caps. I just thought we were past this and we're not," she said.
COPLEY SQUARE—A crowd of parade participants began to gather in Copley Square around 9:30 a.m. Approximately 50 police officers are corralled at the start of the parade, all carrying crowd control helmets. 
Organizers of the Straight Pride Parade gave out American Flags and straight pride flags at the start of the parade and were handing out parade signs. 
Boston police secured the Straight Pride Parade staging area between Exeter and Clarendon Street and began to clear cars at Copley Square.
A group of marchers from Texas are wearing shirts reading "It's great to be straight" on the front and "Texas Proud" on the back. 
One float is decked out in Trump decorations, with a main sign supports President Donald J. Trump's 2020 presidential run.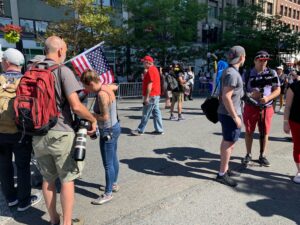 Super Happy Fun America President John Hugo said they welcomed everyone to the parade, including those of the LGBT community and once again criticized President Pelton for his comments.
"College should be a place where you hear many opinions and if you don't agree, you talk about it. That's what college used to be about, not group think. [President Pelton] doesn't want to debate and that's not right," he said in an interview.
New Hampshire resident, John Camden, drove into Boston around 8 a.m. to attend the parade. He said he came to march in the parade because he believes in "traditional marriage" but supports people of all sexualities.
"I don't feel that its about being an oppressed minority at all, I think its just being proud of who you are," he said. "I don't believe in living in a society where victimhood is constantly being the one thing shoved forward. It should be everybody united as Americans."