Make classroom conversations as inclusive as our protests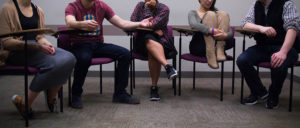 Two weeks ago, my ethics class discussed a case in which Britney Spears tried to sue a popular tabloid magazine for defamation after they accused her of having a sex tape. The judge threw the case out after arguing this allegation wouldn't harm Spears' reputation due to her "inherently sexualized performances."
Some of my classmates defended the judge's ruling. It was a shocking reminder that the culture of victim blaming still permeates Emerson. Despite the strides we've made in intersectional feminism on campus, activism and advocacy in the classroom still have enormous room for improvement.
International Women's Day is coming up on March 8. In light of modern feminist campaigns such as the #MeToo movement and the Women's March, this day is significant. Emerson students have shown that they can organize, protest, and support women—just look at past protests concerning Title IX and police brutality. However, the conversation needs to shift to our class discussions, especially in this toxic political climate.
Our student body does some amazing work in advocating for various causes on campus. This fall, hundreds walked in the #ThisIsEmerson protest organized by Protesting Oppression With Education Reform to bring attention to microaggressions and racism on campus. This spring, Emerson's Black Organization with Natural Interest's Black Rainbow Ball raised money for a Sodexo worker's application fees for their Temporary Protective Status. Later this month, Sigma Pi Theta will host a formal event to raise money for Planned Parenthood. We should be proud of these movements, because they promote all types of voices. But we must maintain this mentality in class discussions.
The #MeToo movement does not just exist for celebrities. Your peers and classmates may be victims, even if they don't bring it up—after all, statistics show that 1 in 4 female college students have been victims of sexual assault. It's easy to forget this in the heat of a classroom discussion. I've sat in classes where conversations about celebrities devolved into slut-shaming. I've heard people actively dismiss allegations of sexual assault claims against directors and comedians they idolize. We can and should do better than this.
This International Women's Day, we can't have inconsistent or performative activism. One of the greatest parts of my college career has been watching young women advocate for causes they believe in, and most importantly, supporting each other. Emerson has made great strides in intersectionality and inclusion but when it comes down to it, we must hold ourselves to higher standards in the classroom as we do when we protest inequality in the streets of Boston.