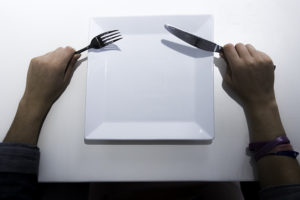 When I first laid down my thoughts for this piece, I laid curled up in bed feeling sick to my stomach with an awful headache. Somehow, my allergen-free menu came in contact with gluten—leaving me down-and-out for two days. The only place that I'd eaten that day was the Dining Center.
As someone with Celiac disease, there's a chance I'll fall ill every time I eat. Thanks to this chronic, genetic condition, my small intestine refuses to digest gluten—which includes anything containing wheat, barley, or rye. In choosing Emerson, I thought I found a school that could fulfill my academic dreams as a writer while providing viable dining options for me. I even upgraded my meal plan because I felt so optimistic about the gluten-free options, but I was soon disappointed.
If Emerson wants to market their allergen-free section to prospective students, they need to meet the national standard for providing viable options for students with allergies. In 2013, the U.S. Department of Justice, referring to a federal law that protects people with disabilities, formed an agreement with Lesley University that required the school to "continually provide" gluten-­free dining options. While this law does not apply to every college in the United States, it set a national precedent for how colleges should accommodate gluten-free students—one that Emerson is not meeting.   
Emerson provides the Simple Servings station—a major-allergen-free section in the downstairs floor of the DC, next to the vegan station. They don't serve food with peanuts, tree nuts, gluten, shellfish, soy, milk products, or eggs. The staff, according to the website, are trained to have as little cross contamination as possible, despite the disclaimer disclosing a small chance you may end up with an allergen in your food. However, the station is only open at specific times—never at breakfast or before 4:30 p.m. on the weekends. There's gluten-free bread in the fridge next to the station, but no separate toasters to use. Even the slightest contamination, such as using a toaster that's been used with glutenous food items, will make me, and other students with Celiac, incredibly sick.
Gluten-free students should not need to beg administration for reasonable dining options. According to a study from the Journal of Pediatric Gastroenterology and Nutrition, students said the idea of requesting exceptions and explaining their diet deterred them from speaking up about their concerns.   
Emerson is no stranger to competition with comparable schools—back when the school emailed about the tuition increase, they included cost comparisons to show that Emerson still offered a fair price. However, they don't live up to the same standard when it comes to dining options. At Boston University, they dedicate a separate kitchen for preparing gluten-free meals. Not only do they offer a gluten-free pantry stocked with allergen free items in three separate dining facilities, they also provide separate toasters, microwaves, and freezers exclusively for students with Celiac.
Ithaca College, another comparable school closer in size to Emerson, supplies three separate gluten-free pantries in addition to their dining stations, and they also provide separate toasters and microwaves. These schools offer better dining options for those with severe allergies, but students should not be forced to attend a college purely based on their dining options. Allergen-free dining options need to be a given, regardless of the institution.
In 2013, the National Foundation for Celiac Awareness surveyed students to see how colleges were handling the dining options for those with Celiac disease and found concerning results—60 percent of gluten-free students report being 'glutened' or becoming sick from eating at a dining hall or food-service establishment on campus. This problem is not limited to Emerson, and can be seen around the nation. But that survey was conducted five years ago, and Emerson has failed to make sufficient changes to adapt to students' needs.
The college needs to realize that Simple Servings is not a rotating station in the Dining Center like the salad bar or pizza—it's fundamental to students living on campus who have allergies. It needs to be open whenever students can access the Dining Center. The limited hours are unfair to students who cannot eat anywhere else, and the staff are unable to guarantee the food will not induce allergic reactions. It is already frustrating enough to traverse the realm of college pizza parties and North End pastry trips with Celiac. I need my own dining facility to provide three safe meals a day, as promised.