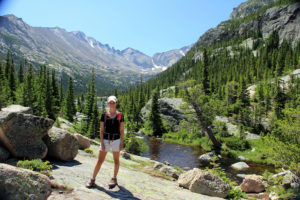 When Mariana Marshall '10 graduated from Emerson, she thought she had joined the Peace Corps. After months of not receiving an assignment, she decided to pursue a career as a park ranger and start her blog Mariana on the Move.
Park Rangers only work eight months out of the year, so Marshall always spent her four months off traveling. She has backpacked through Mexico, explored teapot lane in Japan, scuba dove in Indonesia, taught in Nicaragua, attended graduate school in Manhattan, visited her now-husband Tom Kelland in New Zealand, and moved with him to Melbourne, Australia.
Her blog chronicles these trips with separate pages for each destination, complete with pictures and stories of her experience. Marshall provides links for and information on all the jobs she's worked abroad, and readers can watch her journey unfold as she explores the world.
She started the blog after writing a letter to her friends and family describing her first days as a ranger at Mesa Verde National Park in Colorado. Her peers said she should publish the work, so she posted it on a website.
While Marshall worked at the park, she continued to update and expand the page as she traveled.
"I've always loved to write. It's how I process my experiences, so it's an online diary for me," Marshall said. "As it's grown, knowing people are reading it holds me accountable and keeps me updating it."
Marshall's trip to the Camino de Santiago in Spain inspired her to overcome her fear of traveling alone.
"[Camino de Santiago] just hooked me," Marshall said. "It's one thing to travel with your family and see places and love it, but I think traveling on your own money, time, and by yourself becomes a much more personal experience."
Marshall worked her first job abroad in Nicaragua through a nonprofit organization, La Esperanza Granada, in Nicaragua. Her experience teaching first-graders there convinced her to pursue a career in education, which led her to attend Teachers College, Columbia University.
While in Nicaragua, Marshall met Kelland as he was motorcycling through Central America. Stopping in Nicaragua, he stayed in the same youth hostel as Marshall.
"We were in the peak of our travel hayday when we met—both of us were in Nicaragua and traveling by ourselves," Kelland said. "I think that was the first thing we bonded over, and we were living in a place with a lot of less-experienced travelers who were kind of young, and it was their first time overseas."
The couple bonded over a shared view of travel versus vacationing and from there found more commonalities, Kelland said.
"Travel, I would say, is a little more—at least for me—unhinged, a little more time, like three or four weeks at a time. And you don't know exactly where you're going and you just see where the road takes you."
When traveling for long periods of time, Marshall noted life still goes on, and that can sometimes strain relationships.
"There are lots of scary moments and lots of sad moments and you're still living your life," Marshall said. "Everything still happens and it's probably amplified on the road, so if you get in a fight with your boyfriend it's sometimes worse than being at home."
Kelland lived with Marshall in New York for a year, but his visa expired, and he returned to New Zealand. The couple dated long distance for the remaining year of her studies and Marshall posted about the struggles of a long-distance relationship.
Kelland's favorite part of the blog is the diversity of posts. He loves that some posts apply only to certain groups of people who would benefit from the information, such as her post regarding traveling with Invisalign, plastic braces. He also enjoys following along with her life through her posts.
"I know [working at the national parks] formed a lot of her identity, or what her identity is now," Kelland said. "I really like to read that and see the evolution of her character over that."
Marshall said she's glad to have the blog as a way to reflect on her travel experiences as she settles into life as a teacher in Melbourne. She and Kelland have full-time jobs now, but still make plans to travel often, spanning from weekend camping trips to their upcoming visit to Bali.
"There have been many times where I have looked back through [the blog] and thought, 'Well, I never would have remembered that if it hadn't been written down,'" Marshall said. "It's crazy how those amazing moments can slip from you, especially as time goes on and life goes in other directions."