Maria's Taqueria faces financial trouble amidst coronavirus pandemic
Cristian Mancia, the owner of Maria's Taqueria, starts his day working his full-time job at a financial company. Once finished, he heads over to his family-owned restaurant on Tremont Street, sometimes staying as late as 1 a.m. cooking, balancing the books, and washing dishes.
Since March, when the coronavirus first hit Boston, Maria's—like many local businesses— struggled to navigate the financial repercussions of the pandemic. Mancia said his business lost nearly 70 percent of its revenue since last spring.
"This year was supposed to be a phenomenal year for us," Mancia said. "Every year we are always like, 'This year is going to be good,' and then always something happens."
Inside, the once-bustling business now stands largely desolate, relying almost entirely on takeout orders to keep the lights on. On average, Mancia said Maria's has three or four tables seated a day. On weekends before the pandemic, there was a line of customers out the door.
"I thought [the pandemic] was going to be like two or three months," he said. "I never thought it was going to be this slow, especially with everybody working from home."
Maria's, which has been the go-to spot for Emerson students' late night burritos and tacos since 2008, was forced to scale back its hours after Governor Charlie Baker ordered new restrictions for restaurants on Nov. 2. On Jan. 21 Governor Baker announced the lift of the 9:30 p.m. curfew on restaurants which went into effect on Monday. Previously open from 11 a.m. to 1 a.m. every night before the pandemic, Maria's began closing at 9:30 p.m. for nearly three months. Mancia said he has not yet decided on new restaurant hours since the lift of the curfew.
Mancia said reducing the hours of operation, plus losing the revenue from nightclub and theatergoers, has plummeted their business to an all-time low.
"I should have closed in the very beginning in the first two months, before money really started draining," he said. "We've already wasted all this time paying rent and bills and all that, so it's way too late to make that decision."
Rent is the biggest cost for the business, according to Mancia. The restaurant space, located at 226 Tremont St, costs $8,000 a month for the duration of their three-year lease. On top of that, Mancia said relying on third-party delivery services such as Uber Eats and GrubHub—which take anywhere between 25-30 percent of their profits—has also proven devastating.
At the outset of the pandemic, Maria's, along with other small businesses, received grant money from the city of Boston. That money, Mancia said—which helped keep their doors open in those first brutal months—has since run out.
On top of the financial toll of the pandemic, Maria's began losing business from Emerson students after the college signed a ten-year lease with El Jefe's Taqueria for restaurant space in the Little Building last March. 
Before the pandemic, a Maria's food truck would go to events in the city during the weekends. Now, it only visits the Boston Medical Center every Thursday to provide meals to healthcare workers. The closure of the food truck alone lost them approximately $300,000, Mancia said.
"We go because we have a lot of regulars, but, if anything, we only make even for the day," he said.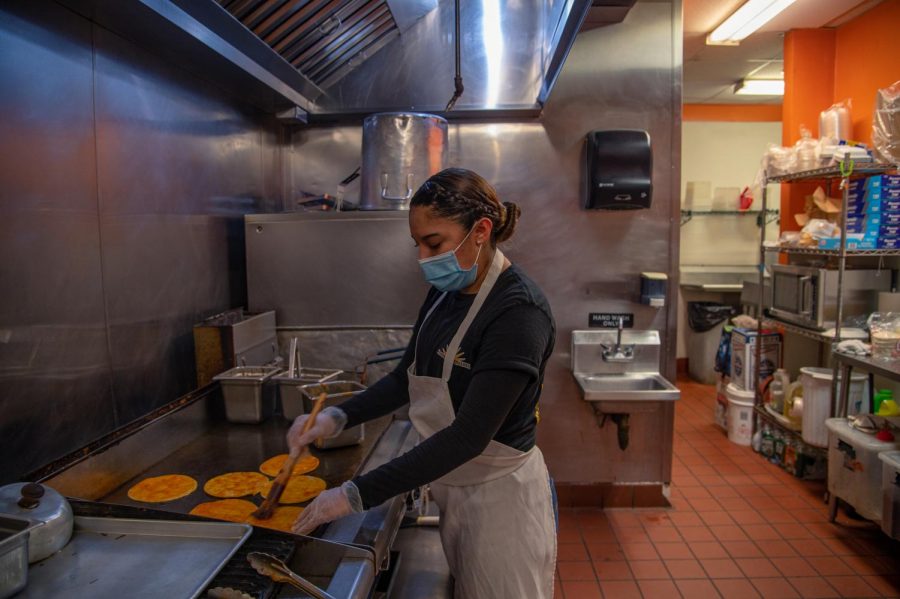 Mancia, his wife, and their four children operate the restaurant as a family business. Though their restaurant is struggling, Mancia said he can't imagine closing their doors for good.
"It's personal," he said. "My daughter says it's our baby and we have to take care of it."
Nancy Mancia, Cristian's daughter, said Maria's has always felt like home to her. She said she spends her time off from studying nursing at Johns Hopkins University to help out however she can.
"Maria's is part of my whole life," she said. "It gives a different feel, like I used to be a server and the way I care for these people compared to me working at my other jobs is completely different. It's part of us and it's been part of us for so long."
Even after business dropped off, she said her father, born in El Salvador, still finds ways to give back to the Boston community. Over the course of the pandemic, Maria's has gone to Tufts Medical Center twice, donating 200 meals each time to staff.
"He came from this childhood where he didn't have much," Nancy said. "I feel like we are so blessed and, even though we are really tight on money, God always provides. I think [my father] has that mentality that we will give and we will get our good karma back."
Mancia said he feels that the Emerson community is interwoven with Maria's.
"We really feel like we are part of the block," Mancia said. "We have a great relationship with the students. We don't really communicate with the college—we [get] a lot of workers, professors, security, maintenance, but we don't have any relationship with the college directly."
Senior visual and media arts major Matt Mitchell said he reached out to Mancia as a sophomore in the fall of 2018 to ask if he would be open to sponsoring a recruitment event for his fraternity, Sigma Alpha Epsilon.
"I wasn't really asking for anything except to use their logo on our shirts and our flyers," he said. "I actually got on a call with them before I was on-campus and they said they were totally open to catering one of our events. It was super nice of them to want to help out Emerson kids like that, and so of course I said yeah. They made us—oh my god, you wouldn't believe it—huge tins of quesadillas, salads, chips, salsa."
Mitchell said Maria's continued to sponsor his fraternity and provide them with free catering "out of the kindness of their hearts" for another two semesters.
He said because he grew up in a Hispanic household, Maria's has always provided him a sense of comfort while away at school.
"When I was coming to Boston freshman year I was like, 'Oh no, I'm not going to have any good Mexican food,'" he said. "I'm like, 'Okay there is a Mexican place nearby, I'll try it out when I get there.' I was immensely happy with what they had, and it was real authentic Mexican Hispanic food that I have grown to always love."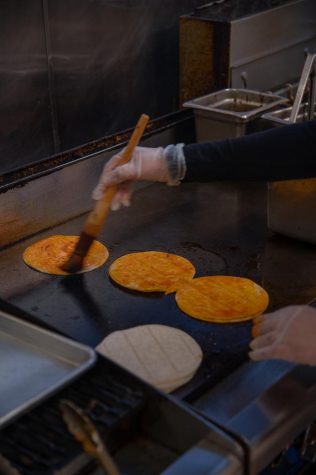 For sophomore interdisciplinary major Sam Gutkin, Maria's became a special place to him after many late-night visits to the restaurant with the rest of the Emerson baseball team when all other nearby locales were closed.
"I've always been a huge fan of Maria's," he said. "Many of my friends know that I'm a huge vocal supporter of that place, and I hate El Jefe's for moving in and going on Board Bucks and taking their business. I hate Emerson for allowing another restaurant like that to come in and take their business, because it's pretty much impossible to get anyone to go to Maria's at this point."
Matt Walting, also a senior VMA major, said he would be upset if Maria's closed.
"This is an extreme statement, and I know I can't personally do it, but I would personally fund [them] to keep them open," he said. "It's become my go-to [restaurant], especially living off-campus. The amount of times that I go there has gone up because it was so perfect for me to just go in between classes or after class if I needed food."
Walting said he still remembers the first time he set foot in Maria's during his freshman year and ordered a burrito.
"Eventually you find exactly what you want, and in time you just keep going back for it because you love it so much," he said. "For me, it's the chicken quesadilla, add guac."