Marijuana festival hits Boston Common
Emerson students grabbed their stashes and lined Boston Common on Saturday, joining the crowds gathered for a fair of marijuana and cannabis-related paraphernalia.
The Boston Freedom Rally has been hosted by the Massachusetts Cannabis Reform Coalition since 1989. The fair, formerly known as "Hempfest," had been hosted continuously until last year, when the COVID-19 pandemic forced the cancellation of in-person activities. This year, however, the organization ensured that the event would be held on Boston Common once again, allowing Boston citizens to come out in accordance with local guidelines.
"There were a lot of stoned people and a lot of people were lighting up a bong, just having fun," said sophomore business of creative enterprises major Sabrina Carr. "The vibe was really nice. Everyone was really happy and chill and there wasn't anything crazy or dangerous."
Dotted with dozens of stands selling various items—marijuana, food, artwork, and more—Boston Common was transformed into a festival ground, fitted with a stage and a lineup of acts such as C-MILLZY and Brooke Andrade. 
"I didn't think it would be my kind of scene," Carr said. "I expected there to be a lot of selling of different edibles and bongs—which was going on—but I didn't expect there to be community activities like food trucks and t-shirts and crystals."
Vendors at the rally cared more about the community and conversing with attendees than making money off of their products, said Devin Turcotte, also a sophomore business of creative enterprises major. 
"Normally when you go to festivals like that, it's just people trying to sell stuff to you," Turcotte said. "But everybody was genuinely just open to talking, even if you weren't buying anything," Turcotte said. 
Despite the abundance of marijuana products being sold, sophomore visual and media arts major Eli Fresco said that most vendors were adamant about not selling to underaged attendees. 
"The first stand I walked up to was like, 'You need to be 21 for any flower,'" he said.
For edibles, though, Fresco noted that the age was only 18.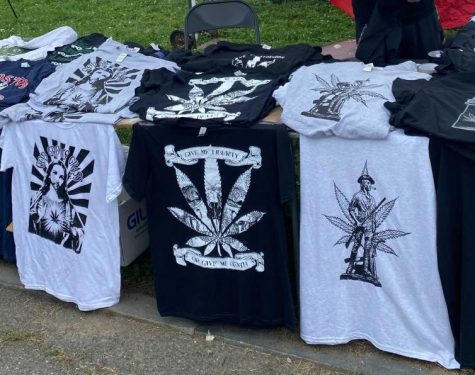 The fun-loving atmosphere of the rally was paired with a diverse group of attendees, from a large variety of backgrounds and demographics. 
"I saw a wide range of people," Fresco said. "There were college kids, there were people with backwards hats with skateboards, there were older people, and there were super rich people. It was funny seeing the stoners from all walks of life in one place."
Turcotte said events like Hempfest are helpful in promoting the cause of destigmatizing marijuana, which organizers said was a goal of Saturday's event. 
"If I walked in there and saw how calm and relaxed it was, and I normally wasn't a smoker, I would rethink everything I thought badly about it," she said. 
Massachusetts legalized recreational marijuana in 2016, though the drug is still illegal for individuals under 21. Outside the commonwealth, only 11 other states allow it for adult recreational use. According to the FBI's Uniform Crime Report, more people were arrested for marijuana than all violent crimes in 2019—and Black people were seen to be 3.6 times more likely to be arrested for marijuana possession than whites in 2018. 
"No one should be incarcerated for possession of weed, and it's been a huge problem—especially with race," Carr said. "There was someone giving statistics about how many people have been incarcerated for possession of marijuana, and it was mindblowing the amount of people of color that were incarcerated, versus the amount of white people."
Many, such as Fresco, call for marijuana to become decriminalized—comparing it to the legal status that alcohol currently enjoys.
"It should be decriminalized," Fresco said. "It's not as harmful as alcohol and alcohol has been legal for a while. I think it's a weird cultural thing and a way to fill up prisons."
For Turcotte, the Freedom Rally was a learning experience.
"I am going to be starting the process soon to get my medical card," she said. "It was really helpful and insightful being able to talk to so many people and learn so much more."