Massachusetts reports 4,239 new coronavirus cases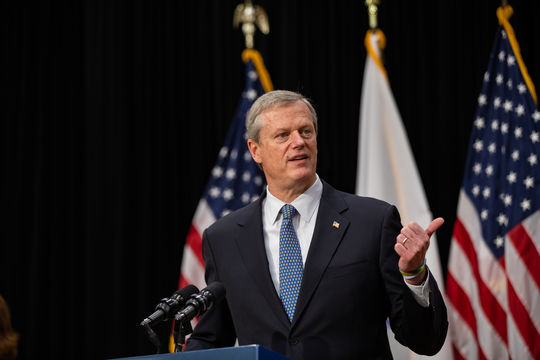 Massachusetts reported 4,239 new coronavirus cases Monday, a dramatic decline from the 5,396 new infections reported Sunday. The death toll rose by 54. 
Monday is the first time since Jan. 3 that cases have dropped below 5,000. Last week Massachusetts saw record-breaking highs, with cases surpassing 6,000 three days in a row. 
On Friday, the state surpassed 400,000 cumulative COVID-19 cases, less than a month since topping 300,000 on Dec. 18. Massachusetts did not surpass 200,000 total cases until Nov. 22.
The soaring case numbers come more than two weeks removed from the Christmas holiday that officials warned could drive another surge in infections. The incubation period for the virus is believed to be between two and 14 days from exposure, so holiday travel and gatherings are likely now driving up case numbers. Thanksgiving led to the state reporting more than 4,000 new cases five days in a row.  
The state is also seeing an uptick in the number of deaths caused by COVID-19. Monday's death total was equivalent to the seven-day average of 54, but deaths totals topped 60 for 12 days following Christmas.
Massachusetts Governor Charlie Baker announced the state would be extending restrictions on capacity and gathering limits Thursday. Indoor gatherings are capped at 10 people, outdoor gatherings at 25, and most industries, such as casinos, retail businesses, office spaces and restaurants are limited to 25 percent capacity. 
The state reports two COVID-19 positivity rates—one with higher education testing and one without. The seven-day test positivity rate higher education removed sat at 8.4 percent Monday, down from the 8.5 percent reported this time last week. The rate that includes higher education sits at 7.3 percent. 
The state reported 2,211 total hospitalizations Monday, compared to 2,339 this time last week. Hospitalizations in the state have remained relatively stagnant in recent weeks, increasing by a total of 306 since Dec. 19, after rising by nearly 300 week over week during  much of November and early December.
Baker announced last week that state officials assume the new, more contagious COVID-19 variant discovered in the United Kingdom has already reached Massachusetts. The first case of this variant in New York was reported on Monday and a subsequent case has been found in Connecticut.
Emerson reported no new positives out of just 82 new tests administered Monday, Dec. 21. The college's COVID-19 dashboard has not been updated since Dec. 22. Administrators told The Beacon the dashboard will not be updated again until the spring semester begins, despite the fact that the college's testing center in a Tufts Medical Center facility is still conducting testing. 
From late November to mid-December, Emerson reported 28 new positives, compared to 32 between early August and late November. 
Students remaining on campus through winter break are tested on Tuesdays each week. Administrators told The Beacon fewer than 30 students remain on campus through the break. 
Emerson shifted from a manual data reporting process to an automatic one on Oct. 13. The decision followed a Beacon investigation that revealed a string of inaccuracies in the data reported by the college. 
The college's dashboard is updated daily Monday through Friday. When it was first launched in August, the college opted for weekly updates before eventually shifting to twice weekly and then daily updates. Tabs for hospitalizations and the number of "invalid" results received by community members have since been removed from the dashboard after testing began in August. Invalid results are typically a result of user error and require re-testing. 
Administrators said in August the decision to remove hospitalizations was part of an effort to increase transparency, as the college was concerned it could not accurately track the metric. Invalid results were deemed "not valuable" data by "COVID Lead" Erik Muurisepp. 
The dashboard is not updated on weekends because Emerson's testing site at Tufts Medical Center is closed on Saturdays and Sundays.