Men's volleyball trounces Lesley for second win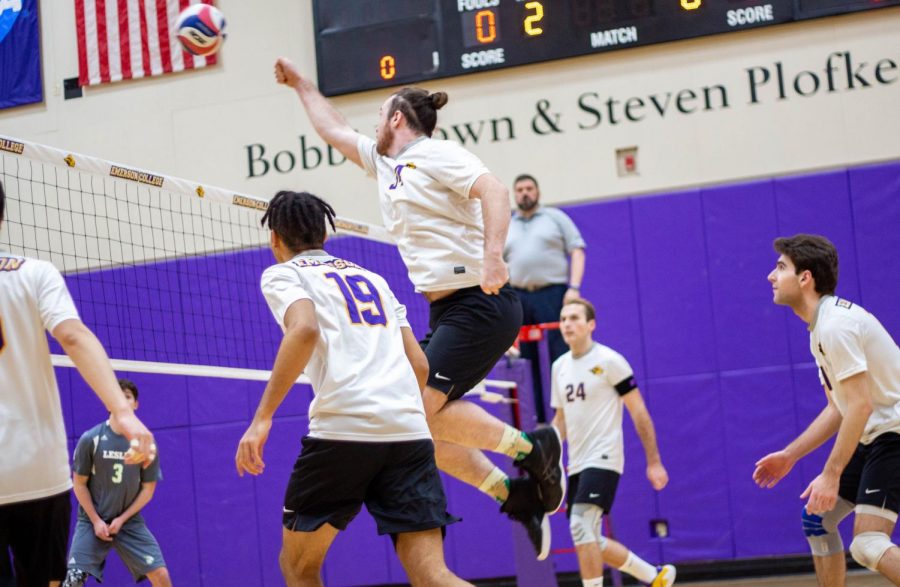 By Kayla Buck, Assistant Sports Editor
February 5, 2020
The men's volleyball team won its second match of the season, defeating Lesley University in straight sets on Tuesday.
The Lions began the first set with 13 consecutive points off of five kills from junior middle blocker Matt Connolly and two service aces from senior defensive specialist Lucas Raagas. After a service error by Raagas, Emerson quickly regained possession after a ball handling error by Lesley.
"I think it just put everyone else at ease," head coach Ben Read said in a post-game interview. "I mean, once you're up that much, you don't want to let up, and I don't think we did."
The Lynxes gained momentum following multiple attacking errors by the Lions, but the Lions maintained a lead throughout the set and won 25-10.
The second set remained close until the Lions broke a 5-5 tie to score three consecutive points. Freshman defensive specialist Jerick Lou contributed with his first service ace of the game during that stretch, and the Lions kept the lead to win the set 25-20.
We choose information accessibility
News and the truth are under constant attack in our current moment, just when they are needed the most. The Beacon's quality, fact-based accounting of historic events has never mattered more, and our editorial independence is of paramount importance. We believe journalism is a public good that should be available to all regardless of one's ability to pay for it. But we can not continue to do this without you. Every little bit, whether big or small, helps fund our vital work — now and in the future.
The Lions pulled ahead early in the third set with a pair of kills by freshman middle blocker Parker Gray and Connolly to lift the Lions past the Lynxes in the last set by a commanding score of 25-10.
"Matt, our second kill leader, hit .750, seven kills off of eight swings," Read said. "That's probably his best performance of the year so far."
Due to Lesley's lack of experience, the team focused on bringing in freshman players to translate their work from practice to in-game situations.
"Everyone got to play, everyone got a kill. We were having fun out there," Connolly stated in a post-game interview.
The Lions play Eastern Nazarene College on Thursday, Feb. 6 at 7 p.m.