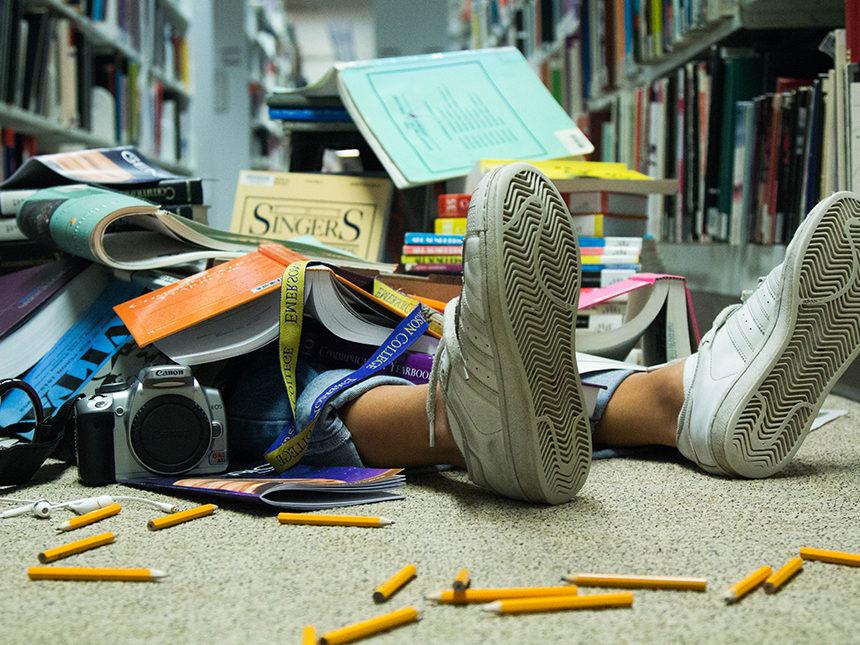 Is your ego that fragile that you have to be busy all the time? This question was raised during a series of four-hour training workshops held by the Office of Student Engagement and Leadership (SEAL) last week. As a member of the executive board of two Emerson organizations, I was required to attend this training or my org would be "frozen." While the rest of the training had been informative and helpful, I felt shocked and hurt when I saw this line projected on a slide titled, "DO LESS."
For a school so concerned with the overcommitment of its students, the assumption that they would have time for four hours of meetings on weekdays seems counterintuitive. If Emerson's administration seeks to criticize the student body for being busy, they must recognize that it's not always just classes and orgs taking up students' time. Overcommitment to orgs can't be discussed without taking into consideration the other demands on students' schedules. Telling working students to stop overcommitting without taking into account their economic status ignores the needs of students who do not come from wealthy backgrounds. This mentality of "do less" and "don't overcommit," rather than emphasizing the importance of focusing on mental health, dismisses students who are busy by financial necessity.
As the New York Times recently confirmed, Emerson is much more accessible to wealthier students. According to the Times, 8.3 percent of Emerson students come from the top 1 percent of family incomes, while 8.1 percent of students come from the entire bottom 40 percent. Lower-income students are underrepresented at Emerson and need increased consideration and support.
More attention should be focused on supporting students who need to work, but also want to participate in orgs. It wouldn't be fair to encourage working students to quit orgs. If "do less" is repeated without regard for students' financial differences, Emerson's extracurriculars will become exclusive clubs only accessible to students with the money to afford free time. Instead, staff should devote more resources to help working students manage their time and stress, without discounting their right to be involved on campus.
Orgs are not only a way to be active in the Emerson community, they are essential in furthering career opportunities. I can attest to student orgs' career benefits: I have had five different internship interviews with Emerson alumni who were members of the same student orgs where I was on staff. Another internship supervisor told me the deciding factor in my hiring was my experience at Undergraduate Students for Publishing, which she'd heard praised in the publishing community, despite not being an Emerson alumna. Emerson's student orgs have the power to help our careers significantly, and economically disadvantaged students need orgs' career-boosting powers even more than students from wealthier backgrounds. To many students, it makes financial sense to join several orgs, even if it means a hectic schedule for a few semesters.
I don't believe that the erasure of working students is intentional in any way. I've been involved with student orgs since my first semester, and I count many members of Emerson's staff as my mentors. I recognize that the administration is working to include more resources for students who struggle financially, with the introduction of the on-campus food pantry, as well as online resources like EmConnect and Handshake. I also understand that "do less" and the broader concerns about overcommitment are meant as important considerations of students' academic success and mental health.
In regards to the "fragile egos" line, it was promptly changed after I spoke to a member of SEAL following training. For the final repetition of the workshop, the "DO LESS" slide read: Ask yourself why you have to be busy all the time. Learn to talk to yourself and adjust your habits. I still don't think "ask yourself why you have to be busy all the time" takes into account students whose answer is "because I need income," but it's a start. Only through continued conversation can we make working students' challenges more visible.
Instead of discouraging participation, both staff and student leaders should get creative with scheduling and engagement. Likewise, they should emphasize the importance of time management and self-care, without discounting students' work necessities, or their passion and drive.
Student org experiences have been among the most valuable and treasured of my time in college. I learned how to get a magazine printed, but I really learned how to work on a team. I learned how to plan events, but I really learned how to better manage time. I'm in my final semester here, and as I prepare to say goodbye to Emerson, I want the wonderful extracurricular experiences I had to be accessible to all students, even those who are busy due to financial necessity.