My grandfather sent me a card every Valentine's Day, but he always crossed out "Valentine's" and wrote "LOVE" instead. So, my card on Feb. 14 always read "Happy LOVE Day." Every year Feb. 14 represents a day of love, but this year, too many people will not want to celebrate love. Instead, they will be mourning the hate of Feb. 14, 2018—when a gunman entered Marjory Stoneman Douglas High School in Parkland, Florida and killed 17 people who were loved by so many.
I live in Boca Raton, a town just 20 minutes north of Parkland. I attended school only five miles away from Stoneman Douglas. On Feb. 14, 2018, I was a senior in high school rehearsing our school's production of "Beauty and the Beast" when suddenly everyone's phones started buzzing with notifications. Snapchat stories of gunshots, blood, and people running were posted from inside Stoneman Douglas High School. Rumors about the tragedy spread rapidly on social media until the first news reports came out and confirmed numerous fatalities.
Those first reports were what no one wanted to hear—that several died in a school shooting at Stoneman Douglas. We struggled to continue our rehearsal that afternoon but everyone stayed glued to their phones and the television. Everyone knew someone who went to Stoneman Douglas.
I played in a soccer league throughout high school and many of my teammates attended Stoneman Douglas. As I waited to learn more details about the shooting, I didn't know if I would ever see my friends again. Eventually, I received texts that they were safe, but too many of their classmates and friends were not.
By the end of the day, the number 17 was on every news screen in the U.S. On that day of love, 17 innocent lives were taken. Not long after, the names of the victims were released. I knew that this day, Feb. 14, would never be the same for me, my family, my community, my state, or even my country ever again.
So how can we try to love again on a day marked so violently by hate? Shortly after the tragedy, there were outpourings of love from around the world, including a nationwide movement against gun violence. Love must not cease to exist after incidents like this because love does not despair—love makes us strong. Love gives us the hope that change is possible. Love gives us the courage to act. Love allows us to change the script. We must remember that love is a verb and to love means to do something.
At Emerson, we live in the heart of one of the greatest cities in the country. There are many opportunities to show how much we can love, including the best way to show it—casting your vote. Vote for who you believe in, and vote for what you believe needs to change. Your voice is your vote. Take action by participating in marches, rallies, and walkouts. Stand up for those who have been affected by these senseless tragedies and show that you love them.
This year on Valentine's Day, I will not mourn or succumb to hate, instead I will spread love to all of those around me. We must love the victim's families, the students of Stoneman Douglas High School, and everyone who was affected. We must say their names and remember the love they brought to so many lives.
Alyssa Alhadeff, 14. Scott Beigel, 35. Martin Duque, 14. Nicholas Dworet, 17. Aaron Feis, 37. Jaime Guttenberg, 14. Chris Hixon, 49. Luke Hoyer, 15. Cara Loughran, 14. Gina Montalto, 14. Joaquin Oliver, 17. Alaina Petty, 14. Meadow Pollack, 18. Helena Ramsay, 17. Alex Schachter, 14. Carmen Schentrup, 16. Peter Wang, 15.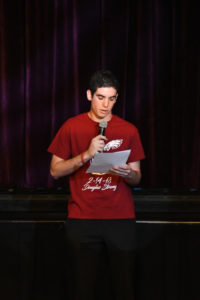 Shinder dedicated his high school performance of "Beauty and the Beast" to the Parkland victims from the Marjory Stoneman Douglas High School shooting that happened on Feb. 14, 2018.