As Trump's chances narrow, optimistic student body awaits final election results
Former Vice President Joe Biden claimed victories in several key battleground states Wednesday, laying clear his path to the presidency while narrowing the chances of incumbent President Donald Trump's re-election.
With wins in Michigan, Wisconsin, and Arizona, according to calls by the Associated Press, Biden has now accrued 264 electoral votes, just seven votes short of victory. With the exception of Alaska, should he pick up one more of the six states yet to declare a victor, Biden would win the election.
For Trump, the path forward is bleak. At 214 electoral votes, he would need to win Georgia, Pennsylvania, Nevada, and North Carolina—all of the states still with power to influence the election.
At Emerson, the wait for results is one filled with anxiety. A palpable tension settled on the Boston campus Wednesday, with swaths of students worried but cautiously hopeful for a Biden victory.
The Democratic nominee addressed a crowd of supporters in Wilmington, Delaware Wednesday afternoon after clinching Wisconsin and narrowing races in Georgia, Nevada, and Michigan—a state he won later that evening.
"I am here to report that when the count is finished we believe we will be the winners," he said. 
Trump, who delivered a speech to supporters around 2 a.m. Wednesday, filed lawsuits later that day in Pennsylvania, Georgia, and Michigan, calling to temporarily halt ballot counting amid demands of increased campaign access to polling locations in the crucial jurisdictions, and disputes about the handling of absentee ballots.  
"Our lawyers have asked for 'meaningful access,' but what good does that do?" Trump tweeted Wednesday evening. "The damage has already been done to the integrity of our system, and to the Presidential Election itself. This is what should be discussed!"
There is no evidence to suggest the existence of widespread voter fraud in the mail-in ballot system, which Trump has repeatedly and falsely suggested would influence the election.
First-year Sara Valentine said she'd been on "pins and needles" the whole day and hadn't checked the election results since this morning. Valentine, who voted for Biden in her home state of Texas, did not attend her scheduled Zoom class this morning. 
"I did not make it out of bed," she said. "I would feel almost better if we had an outcome, but we're not going to have that for a couple days. So it's just waiting, and waiting is the worst part."
While sitting in the 2B alley at 5 p.m. eating a quesadilla—her first meal of the day—she said she was coping with the news by trying to distract herself. 
"It's been a lot of talking to friends, a lot of trying to listen to music and block everything out," she said. "This is the first time I've left the [Little] Building."
Jayson Zwahlen, a first-year sitting with Valentine, was half-listening to a Zoom class on his phone. 
"The vibe in the class right now is very exhausted," Zwahlen said. "Nobody got any sleep last night. Everybody's not really focused, as they would be normally." 
Zwahlen added that he was cautiously confident that Biden would emerge victorious, especially because outstanding mail-in ballots are expected to lean overwhelmingly blue. 
"I was surprised to see that Biden was leading anyways for most of it," he said. "Trump's still very close as of the last time I checked. But I haven't been feeling too worried about it, but it's still creeping up on me."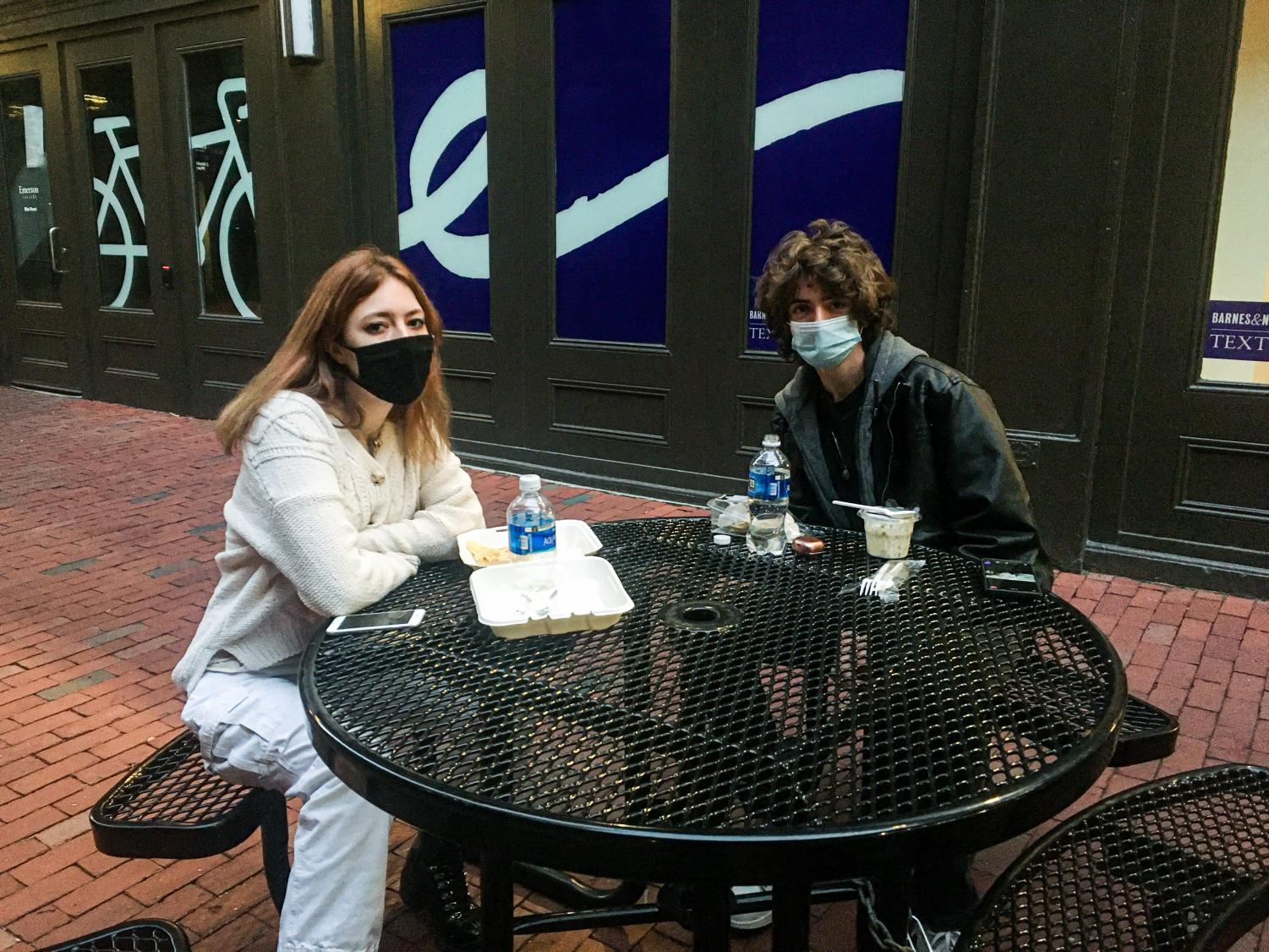 Emerson extended its decision to hold all in-person classes online and limit campus access after 6 p.m. through Thursday, as administrators braced for civil unrest in the downtown area.
Many of the college's public facing buildings are boarded up, and local businesses followed suit. 
First-year Caden Rodems-Boyd said he wasn't sure if he would end up participating in any demonstrations that may take place. 
"It is definitely weird to see places boarded up," he said. "We're all anticipating mass civil unrest, but honestly, for me it almost doesn't feel as significant. It kind of pales in comparison to what's actually at stake, and the anxiety that I'm feeling about a million other things."
Rodems-Boyd added that demonstrations are an understandable reaction to the fear and concern enveloping this election.
"Reasonably, it's some people's way of articulating their powerlessness and frustration after their voting is said and done," he said. "I have spent virtually all of my time either talking to my mom, my sister or my friends, and having people around, whether you're being miserable together or whatever the case may be, is so helpful. And, in a more macrocosm way, mass demonstrations and civil disobedience may even be a broader example of that support network."
Charlie Mahoney, who was sporting a Bernie Sanders button outside the Dining Center Wednesday afternoon, said he was more concerned about the ensuing months after the election than the results themselves.
"I personally don't think the election was the hard part," he said.
Zwahlen said that he's been trying to stay off of Instagram leading up to the election, but is concerned for the safety of the downtown area residents if Trump were to lose.  
"Somebody said, 'Don't go to the Boston Common,'" he said. "Seeing as that's literally right across from where I live—can get a good view of it—that's scary, to say the least."
Allison Valton, who is the co-president of The Communication, Politics, and Law Association, which hosted a results watch party last night over Zoom, said she's been surprised by the slow trickle of numbers last night and today. 
"Everybody in the call, including the professors, were like, 'Okay, we should know by midnight,' and then 11:30 crept around, and we were like 'Oh my gosh, this is really slow,'" she said. "We kind of expected to know more." 
Junior Lee Forrest said they felt encouraged by some of the victories by LGBTQ+ politicians last night, such as Deleware's Sarah Bride, the country's first transgender state senator. 
"I am, in a strange way, hopeful because I know that a lot of the work that needs to be done to further protect LGBTQ+ people will not automatically happen based on who wins the election," they said. "This work is going to take a lot of organizing that will continue, no matter who wins the electoral college vote."
Junior Rodin Batcheller said he was up late tracking the results but said his nerves calmed overnight.
"I woke up and things are starting to settle down a little bit more," he said. "But it's going to be really close, and I'm on the edge of my seat." 
Junior Owen Tambor, who called Trump "a little bit fascist," said the president's early claim to victory of several undecided states was the most troubling development of the day. Tambor said he's not a staunch Democrat but still wanted to see Trump voted out. 
"Last night I was more anxious, today I'm better," he said. "I don't want it to be blue all the time, but I just don't like Trump." 
Eric Toalson, a sophomore hoping for a Biden victory, said the results that came in throughout the day brightened his spirits after initial returns showed Trump with a lead.
"As of right now, I'm feeling very optimistic," he said. 
Diana Bravo and Karli Wallace contributed reporting.