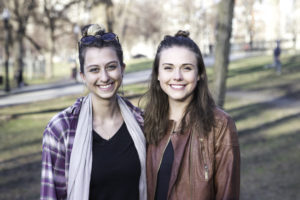 For the second year in a row, Emerson will join Northeastern University, Boston University, and other Boston schools in hosting an Out of the Darkness Campus Walk, organized by senior Suzie Hicks. This year, Hicks and a team of other students are hoping to make the walk a bigger, school-wide event by upping the number of attendees and raising more money as a school.
The Out of the Darkness Walk is an annual nationwide campaign created by the American Foundation for Suicide Prevention to raise money for advocacy, research, and support work for those struggling with depression or suicidal thoughts.  
"It's important to get a bunch of people in the same physical space, all walking for the same cause at Emerson," Hicks said. "We disagree on a lot of things, but we all deserve to be here."
Emerson's walk will occur at Boston Common on April 8 at 9 a.m. Hicks said that participating in the fall 2016 walk inspired her to bring the event to Emerson. She placed in the top ten fundraisers.
"I actually did the whole thing by myself last year; getting all the food, running it, getting volunteers," Hicks said. "This year I was like, 'I don't want to do that again.' I got a team together of about seven people working on it."
Senior visual and media arts major Katie Johnson serves as the co-chair. Johnson said the event is important in bringing a sense of community to Emerson.
"I think it's important because I know that at Emerson, a lot of the students have had issues with the mental health services that are available. In a public campus, it's hard to sit down and have a conversation with people on a one-on-one level," Johnson said. "So having this opportunity to have people come together says, 'You're not alone on this campus.' I think that will help start the conversation of what we can do to improve the Emerson services."
Johnson said students can create teams to fundraise for the walk, or they can participate individually. She said it has become a competition between teams to raise the most money, with Zeta Phi Eta in first place, followed by Delta Kappa Alpha.
In addition to the walk, there will be food, a DJ, and a performance from the a capella group Noteworthy.
Participants can choose to wear "honor beads," colored necklaces that represent different struggles. For example, green beads mean the wearer has struggled with depression or suicide, while gold beads mean the wearer lost a parent to suicide.
Sophomore Charlie Welling, member of the Delta Kappa Alpha team, said this is the organization's first year participating.
"We've all been participating in the online fundraising as an organization," Welling said. "We've raised past our goal already … We're pretty happy with what we've raised so far."
Welling said he is participating as a virtual walker, or someone fundraising that cannot attend the event. He said most of his team's funds came from posts on Facebook from members sharing their own experiences with depression or suicide.
Hicks said Emerson raised over $10,000 at last year's walk, so she and Johnson set their goal this year at $12,000.
As of now, Emerson has raised over $10,000.
"What I'm hoping is for people to see that it's okay to be struggling," Hicks said. "You're not the only one that it's happening to. There are so many people that are willing to fight for you … It's nice to show that mental health is a priority for Emerson students."