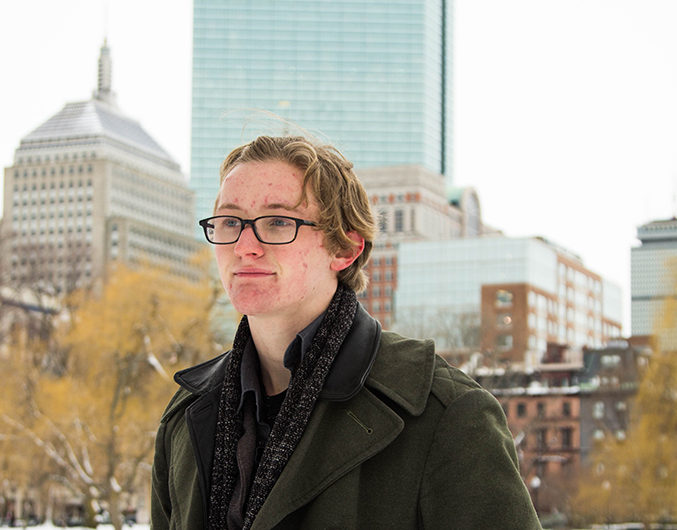 The largest daily newspaper in Connecticut recently published eight of Owen Elphick's poems in its monthly Poet's Corner column, making the sophomore writing, literature, and publishing major the youngest poet ever to have his pieces featured in The Hartford Courant.
Robert Rennie McQuilkin, the Connecticut State Poet Laureate who manages the monthly section, invited Elphick to submit his work after watching him perform at the Hill-Stead Museum's annual Sunken Garden Poetry Festival a few years ago, where he was one of five winners who were given the opportunity to recite in the garden and have their poems printed in Fresh Voices 23.
"Most of the authors published have been in their 60's, 70's, or even 80's," McQuilkin said. "I decided it was time to publish someone younger, someone who is on the way up, and I immediately thought of Owen. I agree with a lot of people that he's one of the most outstanding young poets we have run into."
Although he began writing poetry in the seventh grade, it wasn't until he participated in the Poetry Out Loud competition during his junior year of high school that he considered a career involving it.
Starting at the classroom level at E.O Smith High School, Elphick won his way up word by word through the school-wide, regional and state competitions, securing a spot as one of nine finalists out of over 250,000 students across the nation. He performed three poems and ended up placing fourth at the 2015 Poetry Out Loud National Championship in Washington D.C.
"Because I was involved with Poetry Out Loud, I made connections with many poets, who then gave me opportunities to read at various venues in Connecticut," Elphick said.
Since, he has also recited at the Connecticut State Capitol on Poet's Day, Bishops Corner during its Poetry on the Patio series, and Hill-Stead Museum on Young Poets Day.
Even though Elphick has experience with reading poetry, he said he is more focused on writing it. Of his published pieces, "The Birdwatchers," which he wrote for his father, is one of his favorites. Elphick attributes the way he is now to the way his parents raised him—had they not read to him when he was younger, he would not be the writer that he is today.
"My parents are evolutionary biologists and avid bird watchers, and what they do is very different from what I do," Elphick said. "It means a lot to me that I was able to create something that connects my passion to theirs."
Elphick also credits Denise Abercrombie, his creative writing teacher at E.O Smith High School and the coordinator of its Poetry Out Loud program, for shaping him.
"Owen is incredibly talented, so it was always more about helping him gain confidence and believe in what he had to say, rather than helping him figure out what he wanted to say," Abercrombie said. "It was my role to keep encouraging him to find his own voice and vision, and help him accomplish his goals."
Elphick said he enjoys poetry because it allows him, through the manipulation of language, to elevate the simple things in life and make them more significant.
"It's not exactly about making someone feel a particular kind of way with my writing, because I don't have any control over that," Elphick said. "Rather, I just try to make sure that it's not all about me, because it's much more important to make people think in new ways, and see the world in different ways."
Recently, Elphick has been focusing on submitting his works to different publications. A member of the Emerson Poetry Project and Em Review, Elphick has had his work published in Gauge Magazine and Black Swan Magazine.
"I'm serious about making this a part of my career path, so I have to get smart about not only being good at writing, but also being good at getting that writing out into the world," he said.
Although he is unsure of where the future will take him, Elphick is determined and said he will continue working hard to write pieces of which he is proud.
"The cool thing about the last three years for me has been seeing how things link together—how being involved in one thing has allowed me to go to other things," Elphick said. "I'm thankful to have gotten all these opportunities and to have done all these things at such a young age, but I don't really feel satisfied yet. I know I still have a lot more I want to do, and a lot further I want to go."