Practicing self-love and accountability ahead of Valentine's Day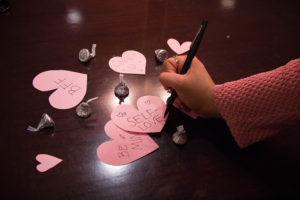 In my senior year of high school, my AP English teacher told us to write the perfect Valentine's Day rant.
We were assigned to choose an aspect of Valentine's Day that made our blood boil and write a speech about it to deliver to the class. I came to class the next day with a two-minute ukulele pop song about why I hated the day—the cards, the cheap candy, and the endlessly cheesy Hallmark Valentine's Day television specials.
Feeling cynical about Valentine's Day comes so naturally to me that it's easy to write pop songs about. The holiday's inherently commercial nature is the ultimate facade. More importantly, portrayals of the holiday throughout the years have shaped a culture of performative expectation and unaccountability. A day dedicated to the people you love can be a great thing一but at the same time, it is important to avoid harmful behavior and navigate the holiday in a healthy way.
The worst thing about Valentine's Day is the pressure to make it special, which is further amplified by the need to 'one-up' our past selves. Those celebrating the holiday this year are estimated to spend an average of $143.56. The expectation to outdo our significant others every year not only breaks banks, but also perpetuates the idea that genuine love and appreciation are not enough unless there is a material object attached to it.
Thinking outside the cost, this culture of expectation also applies to one's bodily autonomy, particularly in a college setting. The most important part of a relationship is communication, and this should not change when the day arrives一reading someone's signs, body language, and ultimately having a dialogue with them about what they are comfortable with is still mandatory.  In a sexual relationship, no one should ever feel that they owe something. Movies and television tend to romanticize this unhealthy behavior. It's essential to remember that sweeping someone off their feet is only okay if they consent.
Because of the inherent commercialization, we tend to forget that Valentine's Day can be a great chance to celebrate healthy relationships, romantic or platonic, and engage in self care. It's a perfect opportunity for face masks, sending campus candy grams, and eating chocolate while telling your friends you appreciate them.
When you're a college student, love is already confusing enough. A culture that encourages giving more of ourselves than we're comfortable with can be toxic. What's more important is to appreciate our friends and significant others for who they are, and not what they have to offer us. Valentine's Day may seem more unbearable as the years go by, but it doesn't have to be this way. Instead, take it as an opportunity to practice self love in addition to love for others.