Producer-in-Residence's film, "Leave No Trace" up for three Independent Spirit Awards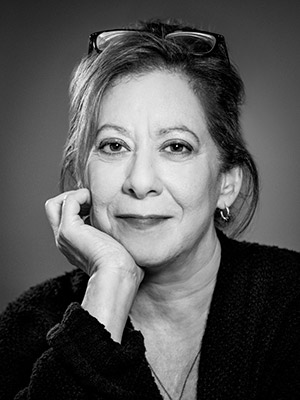 If a tree fell in the woods of Portland, Oregon, would anyone be around to hear it? According to Linda Reisman's latest film, Leave No Trace, the answer is yes.
Reisman, who is currently Emerson's Senior Distinguished Producer-in-Residence, said the heart of the movie is a father and daughter's relationship to each other and to the community. Inspired by a true story, Leave No Trace follows the duo as they live in isolation in a public park.
The film, released in June, is based on Peter Rock's 2009 novel My Abandonment. 
"It's a story about the love between a father and a daughter, and a girl who is coming into her own," Reisman said. "It's also a story about people who choose to live differently and being accepting of those lifestyles. What do I want someone to come away with? Well, it's empathy. Probably a lot of grace and forgiveness."
The film stars Ben Foster and Thomasin McKenzie, and both were nominated for Gotham Awards. In addition, The National Board of Review of Motion Pictures named Leave No Trace one of the top 10 independent films of the year. The film was nominated for three Independent Spirit Awards in November and is one of few movies to be rated at 100 percent on Rotten Tomatoes' 'Tomatometer.' 
Reisman said the critical reception extended beyond what she imagined.
"I don't think we have any unrealistic expectations about the Academy or Golden Globes," she said. "It's been a very long process, and it's incredibly rewarding to be even in the awards conversation with all the movies that are out there fighting to be seen and to be paid attention to."
Reisman is one of three full-time professors in the visual and media arts faculty. She teaches two undergraduate classes per semester and one class in the MFA Low Residency Screenwriting program.
Currently, Reisman teaches Creative Producing for Film and Studios and Independents: Navigating the Motion Picture Industry. 
Reisman said she spent the past 10 years creating Leave No Trace with her co-producer Anne Harrison. 
"I always tell my students Lincoln took Spielberg 20 years to make," Reisman said. "It's not unusual that a film takes a long time. What is most important is that the script is right, that the script is strong, that it's original. Even if it's based on a book or a short story, that the script is compelling and well-written."
Reisman said she entered the film industry by working with writer and director Paul Schrader. Schrader, director of the film First Reformed, was nominated for an Independent Spirit Award in the Best Director category along with Leave No Trace director Debra Granik.
"I was incredibly fortunate to have a mentor," Reisman said. "I had people, both men and women, to really support me. Paul Schrader was one of the first people to say, 'You want to produce movies? Here you go, produce my movie.' I had incredible support from him, from [Director] Francis Coppola. I had some really important women mentors."
While Reisman was working with Schrader, Harrison, worked with director Martin Scorsese in the same building. Harrison said her background is in film development, which involves fleshing out the story idea, writing a screenplay, and financing the film.
Michael Ryan—another full-time faculty member and professor of Creative Producing for Film—said the changes the current faculty is making to the producing department are giving an arc to the curriculum.
"For the first time, the curriculum is getting shaped in a very specific way so that each level can build on the previous level," Ryan said. "That involves full-time producing teachers—myself, Linda, Maria [Agui Carter]—working with the adjunct or the affiliated producing teachers so that we're all on the same page. There's a unity that's happening in terms of our curriculum, and that hasn't happened before."
After living in different areas of New York for years, Reisman said she moved to Boston to teach full-time at Emerson. Teaching and producing full-time is a good combination, according to Reisman, who said she is dedicated to both professions.
"I love teaching," she said. "I'm also very, very dedicated to my professional work as a producer. And it's a good combination. It's a good fit for me."
Over the course of her 30-year career in the film industry, Reisman said she has learned how to choose the right screenplays to produce.
"It's more than a gut feeling," she said. "I think that you really have to assess if the scenes are working. You have a narrative, you have a plot, you have a structure, you have characters, you have dialogue. There are a lot of ingredients that go into making sure that the themes are clear. It's more than just a gut response. It's an intellectual one. It comes from many, many years of reading scripts."
Harrison said Reisman was the one to approach her with the movie idea, since Reisman is friends with the editor for My Abandonment, Adrienne Brodeur.  Reisman said Brodeur sent her the manuscript, and Reisman decided to call Harrison about optioning the book for a film.
"It's an impossible movie to make, and we've got to try it," Harrison recalled saying to Reisman.
Reisman said that, once Harrison became involved, they optioned the book, which means they obtained the rights to buy the story from Rock to be adapted into a movie at a later date.
Harrison said that one of Reisman's distinguishing characteristics is her ability to maintain a project's momentum.
"Linda is really quite brilliant at keeping things moving and getting things done," Harrison said. "She's great at keeping the train moving in a direction. You can lose focus really easily on a project like this. She's an executive in a lot of ways."