Protesters demand statewide recognition of Indigenous People's Day
On Saturday, Indigenous people and allies assembled to commemorate Indigenous People's Day and call attention to the day's lack of holiday status in Massachusetts. 
The march was organized by Indigenous Peoples Day Massachusetts, United American Indians of New England, North American Indian Center of Boston, and Cultural Survival. Protesters took to the streets, pausing at the Massachusetts State House, Boston City Hall, and Faneuil Hall over the course of three hours. 
As they marched alongside the Boston Common, protesters held signs saying "Ban native mascots," "Land back," and "Indigenous People's Day now! #Sinking Columbus." One bright orange sign read, "We are not vanishing. We are not conquered. We are as strong as ever," along with the UAINE logo.
"[Indigenous People's Day] is a meaningful symbolic gesture in addressing the pain caused to native peoples by the many years of public celebrations of Columbus as a hero," UAINE and NAICOB said in a joint press release.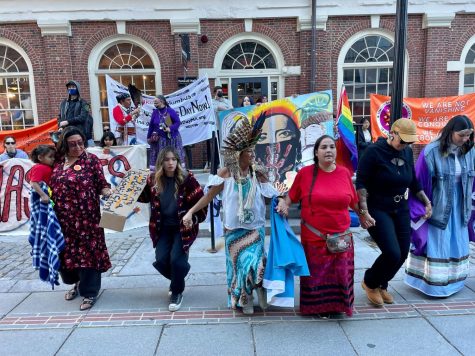 Indigenous Tufts University student Hannah Norton remembers experiencing discrimination and racism since kindergarten. They expressed frustration and discouragement regarding their university's celebration of a genocidal leader like Christopher Columbus. 
"My [elementary through high] school was very white," Norton said. "I felt very alone, and I couldn't represent my indigeneity or else I would be teased and taunted." 
The protest demanded that state legislature honor Indigenous People's Day in Massachusetts, facilitate the return of Native American sacred and funerary objects to their respective tribes, prohibit the use of Native American caricatures as mascots in public schools and sports teams, include indigenous culture and history in K-12 curriculum, and create a commission on the education of Native American children. 
The city of Boston took measures to honor similar demands in its recognition of Indigenious People's Day in 2021.
The rally began at the MBTA Red Line's Park Street station with the recitation of a land acknowledgement. Although land acknowledgements have been criticized as a hollow gesture in many circumstances, this one included a "land back" call to action. Kimimilasha James, an Aquinnah Wampanoag representative for UAINE, declared her support for the land back movement, asking the audience to chant "land back now."
"'Land back' means the land is returned to us and we can better take care of it… We need to get the U.S. government out of our lives," James said to the crowd. "As a starting point, all of the state parks and national parks can be returned to us right now." 
The phrase "land back" was popularized in 2018 by Aaron Tailfeathers, a member of the Kainai Tribe of the Blackfeet Confederacy of Canada, who used it in memes criticizing Canadian Prime Minister Justin Trudeau's policies supporting pipeline development and opposition of land reparations. Since then, the phrase has been used to oppose pipeline construction, as well as in a demonstration at Mount Rushmore.
Organizers gave a series of speeches highlighting the Indian Child Welfare Act—which protects the continuity of Indigenous culture by setting standards for preventing the excessive removal of Native American children from their homes—the land back movement, the widespread use of indigenous people as mascot—such as the Washington Commanders, which until 2020 were referred to with a derogatory term—and the disproportionate rates of domestic violence against Native Americans.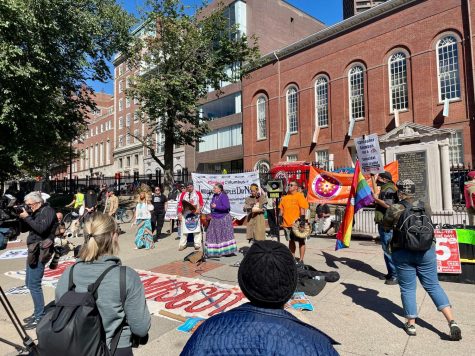 After pausing at the Massachusetts State House, the protest passed down Beacon Street to Congress Street. Along the way, event organizers and protestors alike led a variety of chants. Some mirrored those heard in the Black Lives Matter protests of 2020, such as "Whose streets? Our streets," and "Show me what democracy looks like! This is what democracy looks like!" Others described Indigenous-specific grievances, such as "Liar, liar, colonizer, native people still live here" and "From Turtle Island to Palestine, free the land, free the people." 
The protest landed at City Hall, where protestors gathered under the Ponkapoag flag, flown at City Hall for the first time on Saturday. The event organizers celebrated this recognition, as well as Boston City Council's recognition of Indigenous People's Day in 2021 under the leadership of Ruthzee Louijeune and Kendra Lara, but they believe Boston still has a long way to go. 
Spilling onto the street across from City Hall, protesters planted themselves in front of Faneuil Hall, ready to protest its namesake, founder Peter Faneuil—a wealthy slave trader.
Kevin Peterson, founder and executive director of the New Democracy Coalition, repeatedly emphasized the need for solidarity across marginalized communities, highlighting the intersectionality between struggles of Black and Indigenous people. He also discussed the brutality caused at the hands of Columbus and the damage caused by celebrating a murderer and a tyrant. 
"Perhaps we should call this place Crispus Attucks Hall," Peterson said. "Perhaps we should call this place Freedom Hall. Perhaps we should call this place Liberty Hall. But we cannot call it Faneuil Hall, so for now we call it Slave Trader's Hall." 
To end the protest, organizers invited all protesters and spectators to stand in a circle and join in a two-step dance. They described it as a healing activity meant to close out the protest on a positive note celebrating the community protesters formed in their collective demands for action. 
"People think it's a day where we're supposed to dress up and drum for you," James said. "We're here for politics. We're here for reality."