Ryn Soorholtz '16 serves as production coordinator on Disney's 'Raya and the Last Dragon'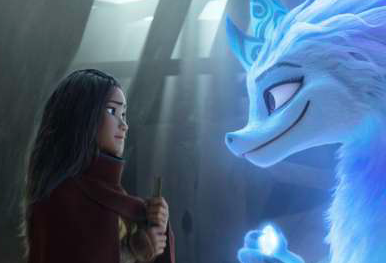 Walt Disney Animation Studios' "Raya and the Last Dragon" takes viewers on an epic journey through the eyes of lone warrior, Raya, as she tracks down the last dragon to help her stop an evil force threatening her homeworld. Viewers can watch the fantastical world of Kumandra, one that Emerson graduate Kathryn "Ryn" Soorholtz '16 helped produce, after the film's release date on Mar. 5. 
The film, directed by Carlos Lopez Estrada and Don Hall, is coming to select theaters as well as Disney+ with Premier Access for $29.99. Tickets are available for preorder on sites such as Fandango. The animated film has a star-studded cast including Kelly Marie Tran, Awkwafina, Sandra Oh and Benedict Wong, among others. 
Soorholtz spoke in a phone interview about her experience working as a production coordinator for the film's effects animation department. The marketing communications alum credits Emerson for getting her foot into the door of the animation world. In fact, the Emerson Mafia Facebook page was where Soorholtz got her first animation job for the TV show, "Bojack Horseman," created by Raphael Bob-Waksberg.
"Emerson helped prepare me by really giving me a good network of people to talk to and find my way out in Los Angeles," Soorholtz said. "Other than that, just kind of giving me some major skills in terms of being able to connect with people, work with people on projects. It was really important stuff I couldn't have gotten at another school."
Soorholtz described her job on "Raya and the Last Dragon" as figuring out how to coordinate to make things happen for the effects department. She described the department as the spot where the film's "literal magic" is created—this means any work not relating to a character, set or prop. 
"Since it is 3D, and the effects are so complex, it's a lot of working with other departments and really getting things figured out in terms of problem solving," Soorholtz said.
"Everyday, it's a different issue, complication or puzzle to be figured out, and that's where we come in."
Soorholtz talked about the collaborative effort that goes into making an animation film.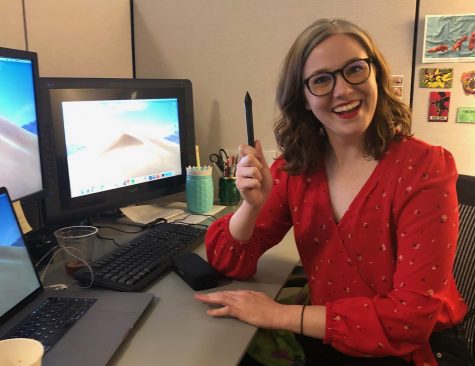 "Animation is like one giant group project. Everyone kinda has their own little edition of things; everyone has a say in their own way and it adds onto the department," Soorholtz said. "We always say that each department keeps adding on more and more beauty, complexity and depth to the movie as it goes, and it's something that I don't think people realize before they step into the industry is how much it's not just one person sitting at their desk making a whole movie."
"Raya and the Last Dragon" is Soorholtz's first Disney credit, which she said she's thrilled about. She explained that although working on this film was a fun task, it also proved to be an obstacle with working from home because of the pandemic.
"This movie specifically, especially with work from home, it provided a lot of challenges that we did not see coming," Soorholtz said. "Somehow, we really didn't skip a beat. We transitioned to work from home immediately thanks to our incredible tech team who really moved heaven and earth to make sure everyone was able to work from home."
Soorholtz worked closely with the character animation department. She expressed how great of a group she was surrounded by and how passionate everyone was, even throughout the challenges. 
With an exclusive pre-screening link, I sat down and watched the movie on my friend's projector. In a spoiler-free review, I can say this is a charming film for audiences of any age to watch, whether it's with family or friends.
The film took from Disney predecessors like "Tangled," "Frozen" and "Moana," which feature a strong female princess—with an animal sidekick—who puts on an invisible hero cape in order to save their home or an important person in their life. This is a typical formula for Disney movies, and even though it's predictable, the format does the job considering Disney is a multi-billion dollar company.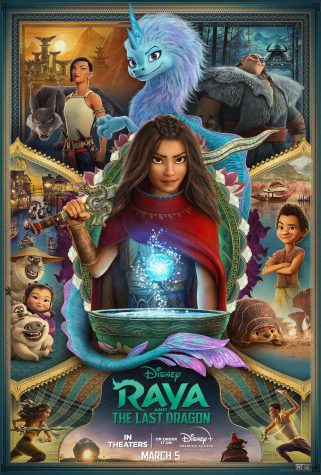 Immediately, the film's soundtrack caught my attention. Throughout the film, the music never let me down. It greatly supported the film's outstanding animated visuals, adding to the immersion. The music is composed by James Newton Howard. This is his fourth Disney film score, and there's also a song called "Lead the Way" by Jhene Aiko, written for the trailer and end credits. The soundtrack just brings the magical aesthetic of the film to life in an audible way.
The cast is also incredibly talented. The film's most notable character, Sisu the last dragon, was especially captivating, mostly thanks to Awkwafina's enthusiastic performance. Everytime her character appeared on screen, it made for an enjoyable moment. For a PG-rated movie, it even managed to get a few laughs out of me. 
For those people who don't want a song interrupting their movie every 15 minutes, this film is perfect for them. To my surprise, musical numbers were absent from the film, though I wasn't complaining. 
The two hour film was over before I knew it. The heartwarming storyline brought me back to seeing "Moana" in theaters, which is one of my favorite Disney movies. "Raya and the Last Dragon" is a great addition to Disney's roster of princess films. 
Without giving any spoilers away, Soorholtz said her favorite part of the film was the scene of a waterfall. 
"It's one of the most beautiful shots I've ever seen in a movie, ever, and knowing how much work went into that one waterfall," Soorholtz said. "It took almost a month for one or two shots to be developed and just being able to see it really coming to life, it encapsulated the whole process in such a beautiful way.
Seeing all the small details come together, though viewers may not realize it at first glance, made for an amazing moment in Soorholtz's eyes. 
Before ending the interview, I asked Soorholtz for any advice she could give to fellow Emerson students looking to succeed in the film industry. 
"Learn to love collaboration and to really learn how to love group projects in a way," Soorholtz said. "It's a lot of working together and communicating."