Senior wins Fortune 500 marketing contest in midst of pandemic
After senior Madison Umina's summer internship was canceled due to the pandemic, the program that hired her created a Fortune 500 marketing competition to take its place. Eventually, the marketing communications senior came out on top over more than 150 students.
Umina originally applied for the MADE internship program, intended to place 50 students with paid internships for the coming summer. She was matched with Foote, Cone & Belding (FCB) Health as an advertising council intern. 
When the pandemic cancelled most of the internships, MADE quickly pivoted to another solution. They developed a multiple-round competition with the Association of National Advertisers Educational Foundation and the Clorox company. Members of the team that won the contest would each receive an interview for an entry-level job at Clorox.
The competition lasted two weeks. Each team received their first-round assignments on July 13, before the competition officially began on July 23. The MADE program notified the five groups of who made it past the first round, after which the final presentations happened on July 30.
"[MADE] created webinars that happened every Friday," Umina said. "They would meet with professionals from the marketing industry, and they would talk to us and give us advice. In addition to that, Clorox, who has worked with the ANA Education in the past, they were like, 'we are going to do a case competition and then you guys can get some experience.'"
Umina's team included three other students, all attending schools in Boston—Erin Qiu from Boston University, Luiza Nascimento of Wellesley University, and Nicole Sullivan from Fordham University. 
Umina's team was the only one made up of all women. She said the group became good friends throughout the competition. They keep in touch and are still friends. 
For the first round of the MADE competition, groups were asked to create a product that would encompass Clorox's portfolio and provide helpful COVID-19 information. The product also had to be zero-waste certified and have a technology component to it, meaning it reaches strict guidelines by Green Business Certification Inc. 
Her group created a product designed to sanitize the handles of shopping carts, which would help stop the spread of germs and make one component of the shopping experience safer. 
"[The product is] a dispenser that goes on the exterior of the [store], and you push the cart underneath it, and it automatically sanitizes the handle," Umina said. "There were a lot of products that were coming out for that same need, but they were for the entire cart, so they were expensive. They were bulky. They were hard to assemble. We minimized it and made it to clean the essential part, which is the handle."
This product earned Umina's team one of only five spots in the final round, where they were then each given a retailer and a brand to work on a new product. Umina's team had to design a Glad product exclusively for Kroger Company. They were tasked to increase the use of Glad trash bags at Kroger stores. 
Kroger is a popular grocery store that is located in the Midwest. None of Umina's teammates have been to one before, making the final round more difficult.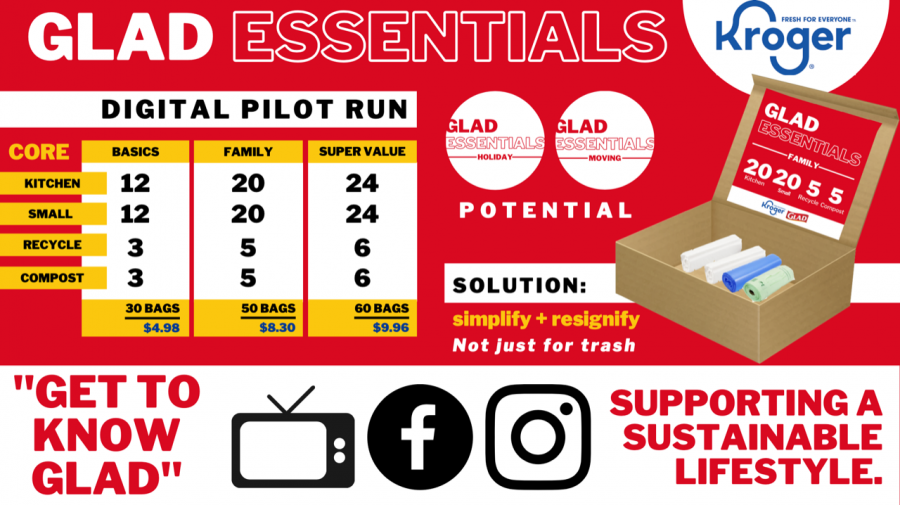 The group designed bundles of different sizes of trash bags to make the purchasing process easier for the consumer. The bundle would help consumers cut costs, as it included enough bags to last a month. The package also included composting bags, which Kroger does not currently carry. Additionally, to the benefit of the added simplification for the consumer, it also lowers the overall cost of making the trash bags.
"We created a package where, instead of going to the grocery store and buying kitchen bags and then separately recycling bags, small bathroom bags, we put them all into one," Umina said in a Beacon interview. 
The winners of the contest received an interview for each team member for an entry-level job at Clorox and a care package. 
Umina said she is extremely grateful for the opportunity and the learning experience from participating in the competition and seeing how a Fortune 500 company operates.
After college, Umina said she hopes to pursue a marketing job with a small agency that deals with critical social issues such as human rights and women's rights. 
Senior marketing communications and creative writing major Walter Gorden also participated in the marketing contest, though he was not a finalist.
"[The whole experience] was great. The irony was, before I applied, I almost talked myself out of it. I started marketing late, at the end of my sophomore year," Gordon said. "I got to network with marketing students from around the country."
Umina was chosen to move further than Gordon. Both, however, said they received beneficial experiences for their future careers. 
"My biggest piece of advice: don't back down from your brilliance. It's okay to prove yourself or work hard. You don't need to accept average," Gordon said.