SGA voter turnout increases by 230 percent
In the highest voter turnout since 2009, 875 students voted in the Student Government Association elections on April 3 and April 4 for 19 different positions.
Voter turnout increased by more than 200 percent compared to the 265 votes in the spring 2018 election. Five percent of the undergraduate student population voted in the spring 2019 elections.
Current Executive Treasurer Ian Mandt attributed the spike in voter turnout to the joint ballot with Voice Your Choice, which also saw an increase in turnout compared to the 500 students who voted in the earlier Voice Your Choice election.
Voice Your Choice allocated $75,000 to the Mary Burrill Diversity Scholarship and $25,000 to the General Scholarship Fund based on the students' votes.
SGA began conducting online elections in 2004, and since then, the highest voter turnout occurred in 2009, when 1,036 students cast their vote.
Junior Raz Moayed, the current executive vice president, ran and won unopposed for executive president, and said she hopes to make SGA a larger part of student life and to continue the work of the current Executive Board.
"This is a dream, of course, and I'm very honored— and I have a lot of ideas and plans to keep this momentum SGA has going," Moayed said in an interview.
Marketing Communications Senator William Palauskas beat Communications Studies Senator Annie Noel in the race for executive vice president. Palauskas had 373 votes compared to Noel's 367,which gave Palauskas a victory by six votes. Both sophomores ran with similar goals, including increased financial transparency from the college.  
Abigail Semple, Emerson Independent Video's business manager, ran a write-in campaign for executive treasurer and won after the two balloted candidates dropped out of the race. Semple ran on a platform of streamlining SGA's reimbursement process and continuing Mandt's efforts to release partial student organization budgets.
Semple received 86 votes compared to the 383 and 240 votes her competitors Davidi and Baca won respectively, but she won because they both declined the position.
"It's nice to see people paying attention [and] caring about the race, whether that be multiple people running or people asking questions," Mandt said. "I would hope that that continues because every position on SGA is important."
The elections filled all of the departmental senatorial positions, and Moayed and Palauskas said they are both excited to work with a nearly full senate next fall. After the fall 2018 elections, four out of nine departmental senatorial positions were empty.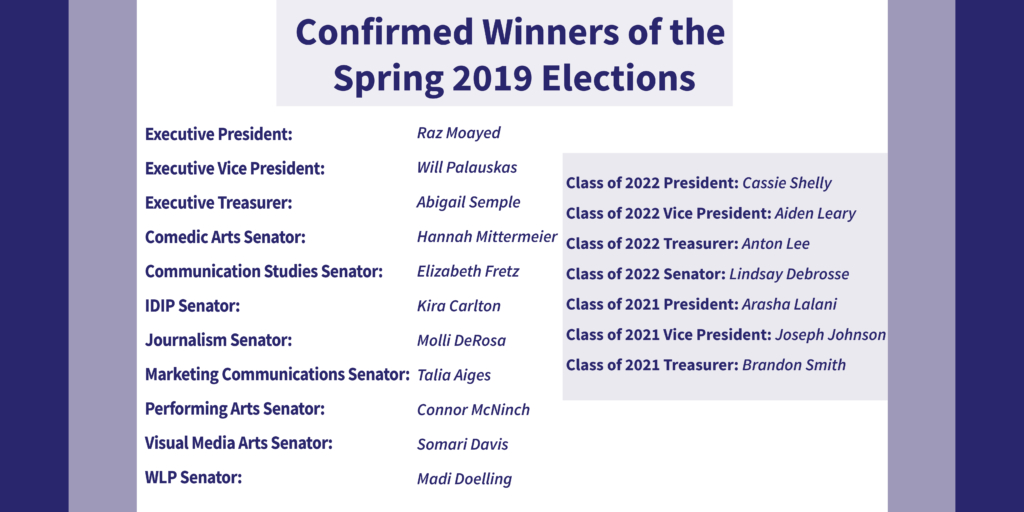 "It's just going to be amazing having a full senate and being able to have [SGA members] all across the college," Palauskas said in an interview.
All 12 proposed constitutional amendments and 9 additions passed  will go into effect starting in fall 2019. One of the successful amendments opens the possibility for SGA to create new senatorial positions for academic programs that exist outside of any single department such as the Business of Creative Enterprises and upcoming Public Relations majors.
The Class of 2020 Council does not currently have any fall 2019 members, and SGA will hold a runoff election soon.