Sophomore brings victory to St. Louis team at international poetry competition
Six teens sat cowered in a compact dorm room in Las Vegas, whispering poetry to each other for hours at a time so their competitors would not overhear. It's a vital part of the St. Louis team's strategy for the 2019 Brave New Voices International Youth Poetry Slam Festival that led them to victory.
Hundreds of young poets from around the world packed into the dorms of the University of Nevada on July 17 for four days of competition. Among the poets, Emerson sophomore Zack Lesmeister attended the competition for the third time. This year, Lesmeister and the St. Louis team brought the win back to their city for the first time.
The competition is powered by Youth Speaks, an organization that empowers young minds to use their platform for social change, and which attracts young poets between 13 and 19 years of age to compete. The artists perform their original pieces on stage for three minutes and are scored by a panel of judges based on the quality of the writing, the content of the piece and the performance, according to Youth Speaks. Their poems can be accompanied by choreography, movements, and costumes, but no props other than a microphone. 
"It's like spoken chess—it's the best way to describe it," Lesmeister said in a phone interview from St. Louis. "Slam is a game at the end of the day … You really have to have a strategy, and what poem you throw up should really be dependent on what the poem before you was about, what the room is feeling, how the judges are feeling, and what type of poems they're reacting well to. And so I play it like a game."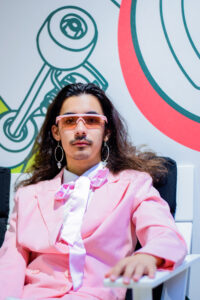 The poets competing at Brave New Voices are champions from each participating city—Lesmeister scored among the top 15 poets of St. Louis. He participated in a citywide grand championship in February, where judges selected him and five other artists to make the St. Louis team for the Brave New Voices competition. 
During the days leading up to the competition, the team practiced day and night to perfect their performances. Lesmeister recalls having to rehearse their poems in a whisper so the other teams sleeping in the nearby dorms wouldn't overhear their performances. 
"There's a lot of strategy behind what topics you choose, and how you use them," Lesmeister said, laughing. "And I don't really want to give all this strategy away." 
Majovah Bastien, one of the assistant coaches for the 2019 St. Louis team, became a coach after participating in the Brave New Voices competition himself for two years before aging out in 2018 when he turned 19.
"I wanted to go again … I wanted my team and my city to go all out and be the best that they can be," Bastien said in a phone interview from St. Louis. "And make sure they were doing everything in their power to represent our city in a really good way."
Bastien praised the competition for being an inclusive and diverse event bringing together poets from different countries and backgrounds, all sharing the same passion. 
Bisa Adero, second assistant coach and 2016 St. Louis Youth Poet Laureate, explained that, despite the uplifting energy and camaraderie of Brave New Voices, poets can't forget it's a competition.
"We work on strategies," Adero said in a phone interview from St. Louis. "That's what you've got to do when you go to Brave New Voices."
After coming close to victory last year and losing in the semifinals, the team stood out this summer and took home the victory. 
"We knew how to get them to the finals," Adero said. 
Before accepting the assistant coach position, Adero wanted to be sure the people on the team were not only going for the experience, but also to win. 
The poets on the St. Louis team were the same for four years until last year. Adero said the new group brought a diverse range of personalities and backgrounds, both with the poets and coaches, and these differences made the team's performance stronger. 
During the final stage against Chicago, Sacramento, and Newark, the St. Louis team performed a piece on school shootings, one on the Pulse nightclub shooting, an ode to single mothers, and a piece about slavery reparations. 
"The poets did it for themselves," Bastien said. "The poets did it for their families. But I think we all did it for our city, because our city is home. It was a really amazing, overwhelming feeling when they announced St. Louis."
The poem about single mothers resonated with Adero so much she tattooed one of the lines on her arm, which reads, "My mother isn't afraid of death. Death is afraid of my mother."
As a Vietnamese poet, Lesmeister said he initially did not like the craft in high school because the poetry included in the curriculum was mainly canonized and written by a whitewashed demographic. By participating in speech and debate his sophomore year of high school, Lesmeister found Vietnamese poets he could relate to, such as Paul Tran and Hieu Minh Nguyen. 
"That was the first time I really connected with poetry," Lesmeister said. "From that moment on, I started writing."
Now that he's attending college in Boston, Lesmeister said he's thinking about the next steps in his poetry slam journey. He said he plans on competing in the National Poetry Slam on the Boston team and joining the College Unions Poetry Slam Invitational Emerson team.
Lesmeister explained that, while bigger cities like Los Angeles and New York provide stronger resources and well-funded programs to young poets, the St. Louis team worked hard to achieve this victory.
"It means so much to bring this win back to our city," Lesmeister said. "And just because, you know, no one really looks at St. Louis like a city that can make something that can produce people that could be creative and be successful artists, or successful in whatever field. So it was an awesome moment to force other cities to look at St. Louis in a way that's, like, you shouldn't look over us and you can't look over us."