Sophomore libero quarterbacks men's volleyball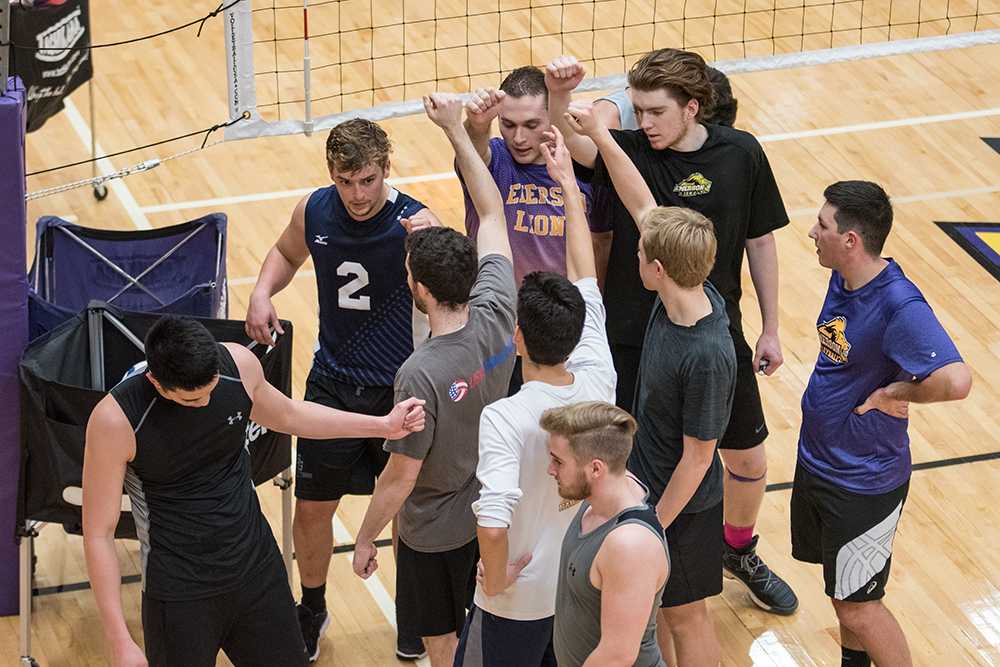 By Dylan Rossiter, Operations Managing Editor
February 21, 2018
Carl D'Aguiar can't roll out of bed, throw on a pair of boardshorts, and kick-start the day with a game of volleyball on the beach during Boston winters. Hardwood or sand, the sophomore libero knows how to lead his team on and off the court. 
"[D'Aguiar's] been doing a great job for us this year," head coach Ben Read said. "He's one of those people that's going to step up and make those changes that we need during games."
D'Aguiar, named Great Northeast Athletic Conference defensive player of the week for the week of Feb. 5, is a dominant back-row force for the Lions. Through eight matches, the sophomore communication studies major leads the conference in digs per set—averaging 3.3—and ranks ninth in total digs at 80.
"I think we've had a pretty good start to our season," D'Aguiar said. "Recently, I've been trying to focus on being a leader to the freshmen and bring them up to speed a bit with the team chemistry."
The Lions (6-2) have yet to play a conference match and are locked in a four-way tie for third place. As the team's libero, D'Aguiar is the odd man out. He is restricted to the back row, cannot serve, and wears a different colored jersey than the rest of the team.
We choose information accessibility
News and the truth are under constant attack in our current moment, just when they are needed the most. The Beacon's quality, fact-based accounting of historic events has never mattered more, and our editorial independence is of paramount importance. We believe journalism is a public good that should be available to all regardless of one's ability to pay for it. But we can not continue to do this without you. Every little bit, whether big or small, helps fund our vital work — now and in the future.
"The back row is kind of mine, and the front row is someone else's," D'Aguiar said. "It's a little challenging because I want to focus on myself at times and just improve as a player; but at the same time, I need to focus on my other back-row players and what we want to get done as a unit."
Read likens the 5-foot-8 Tujunga, California native's position to that of a football quarterback.
"[Liberos] need to be very strong defensively and be one of the serve-receivers," Read said. "They've got to have the confidence back there to be able to lead not just by example on the court, but talk about the adjustments you need to make with your defense against different teams."
One of nine returning players from last year's playoff team, senior captain Stig Regan, says D'Aguiar is a critical part of the team's makeup.
"Carl is a very hard working guy," Regan said. "He's got a really good sense of the game and not just his position, but other people's positions … he's often speaking in huddles, and he's got really good insight into changes that need to be made."
D'Aguiar said he knew of Emerson from the Los Angeles campus, but never gave the school much thought until a former assistant coach approached him at a tournament. He said he chose to major in communication studies because he wasn't sure what career he wanted to pursue.
D'Aguiar is unsure what he wants to do after graduation, but is considering an extended stay in academia at a law school. He also may venture into public relations.
Dylan Rossiter, Operations Managing Editor
Dylan oversees revenue, strategy, growth, and newsroom operations at The Beacon. He has helped in the paper's transition from a weekly print publication, to a multi-platform daily news source. He first...