Student-run jewelry shop thrives as new earthy designs and collaborations surface
From disco balls to shark teeth and magic mushrooms, a student-run online jewelry shop featuring fun, eclectic designs has garnered traction among the Emerson community and beyond. The shop has grown through creative promotional strategies and music industry collaborations.
Livy Burdo, a sophomore business of creative enterprises student, developed a love for crafts and nature during her childhood. In November of 2021, she found a way to combine these passions via an online jewelry shop selling uniquely named beaded necklaces and earrings. 
While Burdo has always been involved with the arts and creating different accessories and crafts, the pandemic allowed her more time to cultivate this hobby. Soon enough, Burdo's affinity for making beaded jewelry outgrew its place as a quarantine craft and transformed into a small business. 
"I was creating so many necklaces so rapidly and just really wanted to be able to share them with my friends and sell them for fun," Burdo said in an interview with the Beacon. 
To expand the scope of potential customers, Burdo decided to open an Etsy shop. Since then, her business grew from a few occasional sales to loved ones to around 20 sales a month.
"I thought [Etsy] would be the easiest way for me to sell the goods while also marketing to people who might not be in my general social circle," Burdo said. "Getting the products out there to international people and people who live all over the U.S." 
Burdo differentiates her shop from other Etsy jewelry businesses through her natural aesthetic, which combines her coastal upbringing in Fairfield, Connecticut and Yarmouth Port, Massachusetts, and her connection to nature. 
"I grew up near the water so I love water and mountains," she said. "It's not super Bohemian, but I feel like my jewelry is really beachy and earthy, which is definitely distinguishable."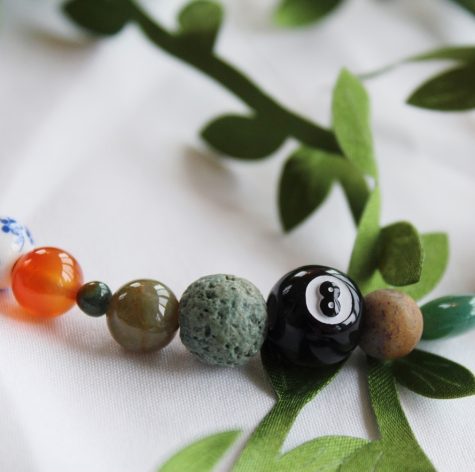 Burdo currently makes dangle earrings and bead necklaces, which allow her to focus on and thoroughly explore both accessories in a variety of innovative ways and sets her apart from other shops.  
"I also feel like the biggest thing is that the aesthetic of the shop is really consistent and stands out from others," she said.
An expressive aspect of Burdo's brand is the unique names of her products. Where most Etsy stores will focus on descriptive names to draw in consumers, Burdo's focus on creativity points to her aspirations outside of Etsy, like selling on her own website, which sets her products apart from others. 
Her favorite product to create is the shark tooth necklace—cleverly named "Bite-Size Necklace"—which is inspired by growing up near a lot of great white sightings, and currently sells for $27 on her Etsy shop. 
Her shop also boasts products named "Disco Diva," "the night we met," and "written in the stars," demonstrating her devotion to music and adding character. 
Burdo, who is working towards a minor in environmental studies, emphasized the importance of sustainable production through supporting fellow small businesses. 
"I try to make sure I am conscious about where I am buying my jewels," she said. "There's a small business near my home that I love where they sell a lot of beads, and all the jewelry they sell there is so beautiful, so I frequent it a lot,." 
Burdo transferred to Emerson in the spring of her sophomore year and majored in BCE with a focus in the music industry, but her jewelry store has become an outlet to explore different aspects of the entrepreneurship field. 
"Once I started playing around with my company more and talking to my professor, and having different friends be really encouraging about it, I [became] more open to using BCE as a way to explore so many different creative realms," Burdo said. 
Among Burdo's many interests is a love for music, which motivated her collaboration on a recent jewelry collection with friend and musician Hana Eid. 
"[Eid] was ready to release a new single, and she reached out to me over the idea," Burdo said. "She basically helped design every single piece and market it. It was so much fun."
Eid's music is at the intersection of soft indie folk and electric guitar-based indie rock. Ahead of her recent single, "Moonroof," Eid worked with Burdo to create a lyrically inspired jewelry collection.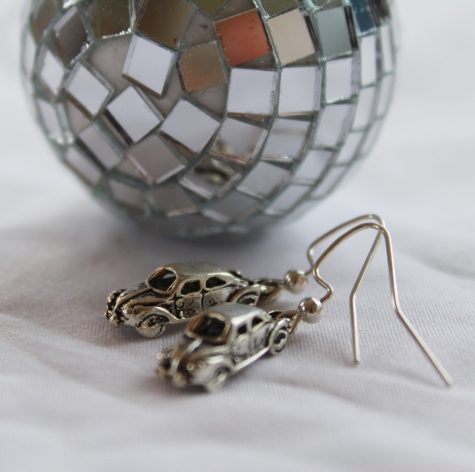 "Almost all the pieces are directly named after a lyric," Eid explained. "The [car earrings] are named 'midnight cruise' which is one of the lines in 'Moonroof.' The phases of the moon bracelet, [titled] 'in phases' is a piece I really love, and I think is really symbolic of how the song talks about the phases of a relationship."
Eid said she loved choosing the colors she envisioned for the song and making the energy of the music into something tangible. She feels proud of the creative expression within not just the lyricism, but also of what each song means to her, and how the jewelry collection encapsulates those meanings. 
"I've always been really passionate about music as an art form and finding how that connects to other art forms," Eid said.
Eid and Burdo collaborated on designs and colors virtually, sharing a love of earth tones. They communicated via Google docs and swapped Pinterest boards to achieve their ideal designs. 
"I really want people to feel connected to me on a personal level and down to earth," Eid said."Going for those earthy kind of vibes has really helped with that." 
Burdo hopes to continue artist collaborations and expand from a solely online platform to selling in-person. 
"Next summer, I'm going to talk to some local businesses about selling in their shops," she said. "I'd like to also be able to frequent different arts and crafts fairs, as well as being able to work with micro-influencers who live in different areas of the world so I'm able to get a broader audience."