Junior BCE's music management and promotion company in the Boston Hip-Hop scene
Two students have jump-started their careers in the music industry, managing emerging artists, planning concerts, and promoting events within the Boston hip-hop scene. 
Juniors Harry Jenkins and Nissim Hershkovits, both studying business of creative enterprises, met during their first-year orientation, bonding over their love for rap music. Their friendship grew from there, eventually turning into a professional partnership. 
"I said [a similar favorite artist] to Harry, and he messaged me and was like, 'What's your phone number? Let's talk,'" Hershkovits said. "We just hit it off from there and decided to start this together because we were both interested in music."
Inspired by a Future and Juice WRLD song, together the two created Afterlife. Since the birth of their company, they've managed artists such as RichAmiri and DevStacks, and promoted five concerts in the past eight months. Afterlife is focused on developing careers for their musicians by organization and throwing concerts throughout the Greater Boston area. 
"Our real goal is seeing our artists succeed," Hershkovits said.
Typically, artists have both a manager and a booking agent, but Afterlife combines those roles to make an artist's career growth process more efficient. 
"What we're trying to do is be an all-in-one manager for the artist and provide them with all the resources they would need for multiple people," said Jenkins.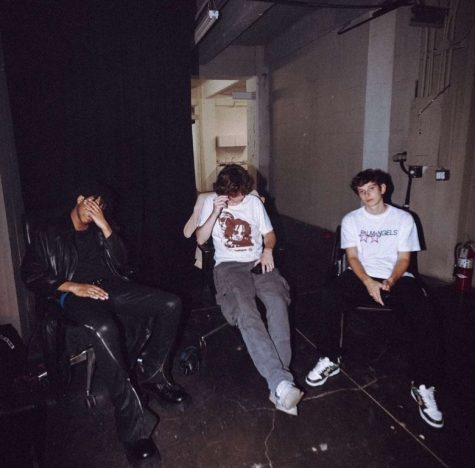 Since starting the company in November 2021, Afterlife has hosted multiple events and manages local artists such as RichAmiri and DevStacks, both of whom they met at shows in Boston. RichAmiri currently has a record deal, and a recent DevStacks single now has two million streams. 
"Getting Amiri signed to a record deal is something that I'm proud of." Hershkovits said. "Being able to navigate that process as we were sophomores in college, being able to go into that situation walking out feeling like we didn't get taken advantage of, and [now] he's in a great place."
Jenkins and Hershkovits credit their success partially to the lack of hip-hop artists and related events in the Boston area. 
"On social media and in the articles written, it's really talking about the new age of hip hop in Boston and our artists are at the forefront of that." said Jenkins. "Our concerts are the only concerts really highlighting the small hip-hop artists, and really just shining a light on what's going on." 
Jenkins and Hershkovits credit their ability to relate to their artists due to their youth and the technological savvy required of music management for emerging rap artists. 
"A big asset for us is that we are really young, because the Soundcloud scene they're a part of is really young," Hershkovits said. 
This ties into their goal to manage not as individuals but as a brand, and to connect with the Boston community as a whole. 
"We've built Afterlife into a brand," Jenkins said. "We're not just managers. All other managers and other people in music do it as a person, but we're trying to do it under the brand of Afterlife and bring it holistically around the community of Boston and our artists." 
Now, Hershkovits and Jenkins are focused on continuing the work they're doing, hoping to develop and improve their current work. 
"We are looking to become fully dependent on ourselves, just running concerts and managing artists and making sure we can develop the careers of artists to the next level, throwing bigger shows and eventually developing more aspects of the company," Jenkins said. 
For the future of Afterlife, Hershkovits and Jenkins hope to convert their current brand into an independent record label, so they can sign some of the artists they are currently managing. They're currently in the process of fundraising. 
"[We hope to have] real money to invest in the artists ourselves while still allowing them to maintain ownership of their music," Hershkovits said.