The Berkeley Beacon News Hour: Kasteel Well, Guy Fieri, Primary Race
By Kyle Bray, Former Managing Editor: Visual and Design
March 9, 2020
On this episode of The Berkeley Beacon News Hour, an alumni host Kyle Bray filled in for Ryan Ribeiro and was joined by our new Deputy Column Editor, Katie Redefer who lead the show with coronavirus coverage from the Kasteel Well. Later on in the show, Digital Managing Editor, Stephanie Purifoy came by to give an update on the Guy Fieri restaurant -takeover on the corner of Boylston and Tremont St. To tie it all together the trio broke down some of national politics in regards to the Primary races.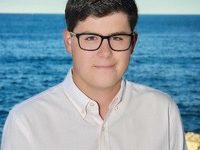 Kyle Bray, Former Managing Editor: Visual and Design
Kyle Bray is a former Visual Managing Editor for The Berkeley Beacon. He worked for the paper from Fall 2017-Fall 2019. He also served as the Sports Editor and Music Columnist.