A contentious timeline of Jake Paul's controversies and crimes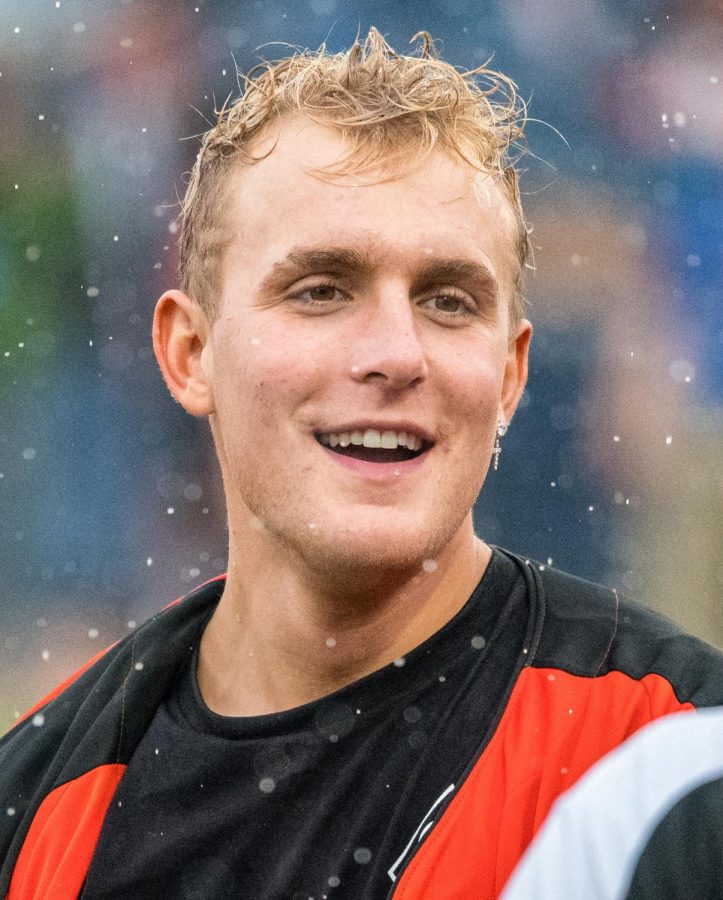 TW: This column contains mentions of domestic abuse, sexual assault, racism and xenophobia.
There are two main reasons the name Jake Paul might be familiar to you: one, for his infamously annoying song "It's Everyday Bro," and two, for being a genuinely terrible human being—the most recent example of this being the sexual assault allegations Paul is currently facing. 
In April 2021, a video posted to YouTube by Tik Tok creator Justine Paradise detailed Paul's alleged assault against her, and the events leading up to the incident. This allegation is one in a string of many heinous controversies currently following the younger Paul brother. Before we dive into Paradise's allegation, let's look back at who Jake Paul is, and why he needs to be removed from YouTube.
Paul got his start on YouTube long before the aforementioned 2017 diss track, on a channel he started with his brother Logan in 2007, called "ldogandjslice." As you can probably guess, this channel did not lead to fame for the Paul brothers. Both Jake and Logan can attribute their success to the now-defunct video app Vine for their millions of followers. 
In 2016, Paul purchased a grandiose Los Angeles property, which would later become known as the "Team 10 House," where he and other creators would live to collectively produce social media content together. This started his descent down the path of controversy, and later, crime. A year after acquiring the house, Paul announced the official members of Team 10, and started wreaking havoc across various internet platforms with them.
The first blow of many to Team 10 was when Paul and his (at the time) girlfriend Alissa Violet went through a very public and messy breakup in Feb. 2017. Paul accused Violet of cheating on him, and Violet accused Paul of mentally and emotionally abusing her. 
In May of that year, Paul uploaded his "It's Everyday Bro" video to YouTube. In 2021, the video sits at almost 300 million views with a like/dislike ratio of 5.2 million dislikes to 3 million likes. "It's Everyday Bro" currently holds the amusing title of the 11th most disliked YouTube video of all time, according to Dexerto.  In the track, Paul and former Team 10 member Tessa Brooks take multiple jabs at Violet, mentioning how she's "talking shit on Twitter" because she left the Team 10 house. 
Violet later posted a video to YouTube in June 2017 detailing the relationship and how strict the rules of the Team 10 house are, mainly relating to the money they owe Jake, the rules surrounding alcohol, and the times they were mandated to be awake to create content. 
With the attention garnered by "It's Everyday Bro," it didn't take long for the Team 10 House's address to be leaked online. In July 2017, his neighbors came forward and explained that between the constant fans outside of the house and the house's stunts and partying, their quiet street had been turned into a "war zone" and a "living hell." Paul responded on live television by dabbing, climbing on top of a news van, and saying, "I feel bad for them, but there's nothing we can do. Jake Paulers are the strongest army out there." 
Amid the media attention surrounding Jake Paul being a terrible neighbor, Disney announced that they would remove him mid-season from his role on the television show "Bizaardvark." 
But that's not all for 2017. It seems that there's a Jake Paul scandal for every single month of the year. Adding xenophobia to his list, Paul posted a video in August where he told a fan from Kazakhstan that "it sounds like you're just going to blow someone up."
Finally, the last of the 2017 scandals: in August, Paul's former classmates came forward and exposed him as a bully. (Is anyone surprised?) The classmates came forward after Paul released the "YouTube Stars Diss Track" where he claimed he stopped other kids from being bullied in school.
At the 2017 Teen Choice Awards, Paul did take time out of his acceptance speech to apologize for his scandals, saying, "The past few months have humbled me quite a bit, and I have to be more mindful of my actions and words and how they impact others." As a journalist, the one concerning part of Paul's speech is when he says he just has to "ignore the negative press."
The one thing I have to mention that's not really a scandal, but important to note, is Jake Paul's relationship with children—both in his audience and in the Team 10 house. In an interview with ABC News, Paul stated that his audience is "definitely younger, like eight years old to sixteen years old." If I was a parent, I absolutely would not let my child watch any of Jake Paul's content. 
Multiple children call the Team 10 house their home, and Paul regularly makes content with family channels. The youngest of the children is "mini Jake Paul," also known as Tydus Talbott, now six years old, but four when he originally moved into the house. Personally, I find it a little strange that someone who posts video content with porn stars, not to mention other questionable videos, is so hell-bent on involving children in his videos. 
Moving on from 2017, Paul had a few relatively quiet years in the media. In 2018, he was featured in a Shane Dawson documentary that helped clean up his image, and the community at large seemed to feel that he was a changed person.
In 2018, Paul scammed his young fans out of their money with his cash-grabbing "influencer classes," but any backlash he got from this scandal didn't deter him from starting another paid website for influencer classes in 2020. A video of Paul saying the n-word at Coachella in 2015 resurfaced, but it happened at the same time as his brother's suicide forest scandal, so it garnered much less criticism than it should have. 
While this article is about Jake and not Logan, the brief summary of the Logan scandal is that he filmed a dead body in Japan's Aokigahara Forest, also known as the "Suicide Forest," and uploaded the footage to YouTube. Clearly, both Paul brothers have a knack for forgetting the consequences of their actions. 
In 2019, Paul married fellow controversial YouTuber Tana Mongeau in a scam wedding, netting both stars a combined $600 million from the paid-livestream of the event according to Insider, not to mention that the livestream crashed, lagged behind, and froze for many viewers. 
And then comes 2020. In May, Paul "attended" a Black Lives Matter protest at a mall in Arizona. On social media, Paul made it look like he was there in support, but a video later surfaced of him looting a P.F. Chang's with his friends, because the multimillionaire definitely needs to steal from a restaurant. Paul was later charged with two misdemeanors for Criminal Trespass and Unlawful Assembly. 
The FBI later raided the Team 10 house in August 2020. Authorities seized multiple illegal weapons from the property. News reports during the raid claimed that firearms were scattered all over the house, and a picture shows a rifle propped up against a hot tub. Definitely seems safe, considering the young children that are often present in the Team 10 House, right? 
That brings us to 2021, with allegations of Jake Paul making girls sign non-disclosure agreements before sexually assaulting them. 
On April 9, 2021, TikToker Justine Paradise uploaded a video to YouTube titled, "TRIGGER WARNING: Jake Paul Sexually Assaulted Me." In the video, Paradise details meeting Paul through mutual friends, and her experience being forced to sign a non-disclosure agreement upon entering the Team 10 house for the first time.
Paradise claims she and Paul texted for the whole month of July 2019, until Paul sexually assaulted her at his house. Paradise goes into extreme detail in the video, providing screenshots and an explicit retelling of the assault itself. I believe the video is incredibly important to watch, but please do so with caution, as it may be triggering to some individuals. 
Paradise admits she was reluctant to actually say Paul's name, but said she was told through her TikTok comments that NDA's do not cover assaults. In California specifically, where the assault occurred, "Under the law, a perpetrator cannot use an NDA to silence a survivor from discussing conduct like rape or felony sexual battery," according to the ACLU. Despite what people like Jake Paul and Harvey Weinstein might think, an NDA does not inherently protect them from facing consequences for alleged criminal actions. 
This is not the first time Paul has been accused of unseemly acts towards women under the guise of NDAs. In 2018, a group of mothers who live in the same city as Paul, Calabasas, came forward claiming that their daughters had been drugged at a Paul party after being forced to sign NDAs. The group claimed the girls returned from the party "half-naked" and "unable to walk or talk," according to Newsweek. 
Despite the previous allegations, Paradise's video about Paul garnered lots of negative attention. The video has 24,000 dislikes, and many of the comments claim that Paradise is "looking for clout." Many of the comments also mention the timing of the allegation, as it came days before Paul's boxing match with former UFC fighter Ben Askren. 
On Twitter, Paul responded with what looks like a Word doc apology—a slight step up from the notes app. Paul claims that the allegation is "100% false," and that "[the] claim is solely a manufactured accusation and a blatant attempt for attention during a highly visible fight week." Paul also states that he will be pursuing a defamation lawsuit and that he's been dealing with "fake news" since he was 16. 
Paul's claim that the allegation is false has not stopped the incident from reaching mainstream attention. On the night of his boxing match, comedian Pete Davidson asked Paul about the allegations, to which Paul said "You can't joke around about that," and Davidson responded, "No, I'm not."
Later, during an interview with Askren, Davidson responded to a question about why he doesn't like Paul by saying, and I quote, "Well, I mean, do you have an hour? He's not a good person. He's clearly not a good influence on any of the youth culture. Why isn't he in jail?"
If someone like Davidson, who lives their life off the internet, heard about this, that means it's likely spread far beyond the YouTube community. 
Paul has a massive following, and his social media presence clearly demonstrates his high levels of narcissism. He thinks he can get away with anything he wants and that he won't face consequences for it. Hopefully, the attention from the media and the non-YouTube community can bring Paul the consequences he deserves. 
Jake Paul should not be allowed to post content on YouTube aimed at child audiences. He should have been stopped from making content for kids in 2017, and now after the allegations, he definitely should not be allowed to target the younger generation. Just as Davidson says in the Askren interview, "That's the message we're trying to get to the kids—that [Jake Paul] is a piece of shit."
I counter with, that's the message we're trying to get to the world at large, that Jake Paul is a piece of shit.