'The Five Fingers of a Dog': Emerson students debut horror short film
By Ryan Yau, Assistant Living Arts Editor
December 7, 2022
No filmmakers have been bold enough to suggest dogs have fingers. Classical thought considers dogs' forelimbs to be legs, making the phalanges on their paws "toes."
None until Charlie Compton and Justin Landsman, junior visual and media arts majors who co-directed and wrote their debut short film "The Five Fingers of a Dog."
The film is currently making the rounds in its festival run. On Dec. 10, it will be screened virtually for Shockfest Film Festival. On Jan. 21, it will open for "What Have You Done to Solange?" at the Coolidge Corner Theatre for Cinematic Void's January Giallo series. 
They eventually plan to release the film on streaming platforms as well as physical media.
Compton and Landsman met during their first year at Emerson and quickly became friends due to their shared interest in horror—specifically, giallo.
Giallo is an Italian horror subgenre that incorporates murder mystery and psychological thriller elements, typified by black-gloved killers, exaggerated gore, insane soundtracks, and 11th-hour murderer reveals. It combines schlock sensibilities and subpar writing with arthouse visual style, and that central contradiction is its mystique.
The subgenre was most popular in the 70s, and production of giallo movies has since declined. But its influence lives on—giallo is notable as a major inspiration for the ubiquitous slasher subgenre, as well as on "The Five Fingers of a Dog."
"Going into our sophomore year, [Charlie and I] knew we wanted to make something together," Landsman said. "Giallo was brought up in most of our conversations because we love that subgenre so much. It got to the point where we were just like, 'Let's make one.'"
The duo has described the film as a neo-giallo infused with gothic and cosmic horror elements.
The film is a phantasmagoria of bloody murder scenarios, committed by a faceless, shapeless killer. A narrative thread loosely follows an unnamed detective—played by junior performing arts major Qinshi Meng—as he attempts to make sense of the killings around town.
Not a particularly diligent detective—while still on the job, he makes out with a polaroid portrait for so long he starts autoerotically asphyxiating. The directors found the scene especially fun to shoot.
"It was a five-minute-long take," Compton said. "Our crew was all there to watch and their jaws were dropped the entire time. It was pretty unbelievable."
The plot as presented is too fragmented to properly relay—narrative wasn't a focus when writing the film.
Within a 20-minute runtime, they wouldn't be able to flesh out the particulars of a compelling murder mystery. Thus, they opted to replicate the feeling rather than the logic of tracking a killer—the result is a film driven more by emotion than story.
"It's not so much about trying to find out who it is, but more the aesthetic of mystery," Compton said. "We're analyzing more so the steps than the actual thought process."
The duo is creatively like-minded, so co-directing went swimmingly. Each benefited from the extra help.
"Directing requires you to be doing a lot of things pretty quickly," Compton said. "With two people, we could easily split between one person working with the actors and one person working with the camera. We never really hit any bumps with that."
Shooting began in September. The directors shot the film in various Boston locations—Trinity Church, Beacon Hill, and Andrews Park, among others. They deliberately chose places with gothic architecture to evoke an anachronistic feel.
In this sense, "The Five Fingers of a Dog" can be seen as a Boston film. The duo was in part inspired by Lucio Fulci's "The New York Ripper," a giallo about a sadistic murderer based in New York.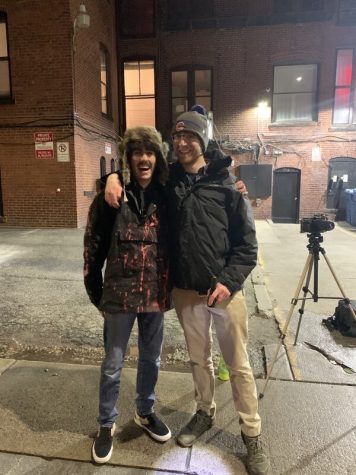 "It's unrealistic, but very honest," Compton said of "The New York Ripper." "It's brutally honest in the way that they're willing to show the worst of the worst these places have to offer."
Likewise, Compton and Landsman show the worst of the worst in Boston—starting with the MBTA. One cut uses the Green Line's deafening arrival screech to startle the audience, a fun Easter egg for those who take the infamous train.
"The Green Line is freaky," Compton said. "It's an old and decrepit system that is not updated because it's underground—it has the feeling we're going for in terms of this desolate place that still exists."
The environment of the film was designed to create an atmosphere of cosmic horror. Background extras are nowhere to be found and the outdoors are shrouded in blackness. The characters of the film feel very much alone in an enclosed world.
"It doesn't feel like our world exactly," Landsman said. "We wanted it to feel like a nightmare, with the kind of logic that comes with a nightmare, and the way that these spaces affect those inhabiting them."
Since the film was an independent production, Compton and Landsman secured funds independently—largely a GoFundMe campaign, plus their own pockets.
With a $2,500 budget, they embraced the aesthetic of low-budget horror.
"We didn't try to fight it at all," Compton said of the budget. "We knew what we could accomplish and wanted to really use the aesthetic that we had available to us."
Compton and Landsman strove to replicate the characteristic look of giallo—in no small part defined by its distinctive blood effect. Giallo blood is lurid red, milklike in texture, and sprays out of wounds with incredible capacity and velocity. The duo mimicked this style with acrylic paints, straying from realism for a more visceral effect.
"The feeling of it is the most important," Compton said. "So with the gore, we wanted to make it as impactful as possible without the budget or preparation that we'd otherwise need."
Compton and Landsman are big practical effects enthusiasts—they cite body horror luminary David Cronenberg as one of their greatest influences. Even on a limited budget, they found creative ways to achieve effective gore.
For viscera, much of what they needed was in the supermarket. They drew from an eclectic source of foodstuffs—ground beef, pizza dough, peppers, twizzlers, anything that could pass as a human innard.
"Giving the actors something to actually react to is a huge part of it for us," Landsman said. "Having real grounded textures that they can interact with lets us get an authentic performance out of it."
"We feel very much that making a movie is about creating something real and capturing it for that moment," Compton added.
Creating "The Five Fingers of a Dog" was a year-long process. Compton and Landsman finalized editing at the end of their sophomore year and started distribution by the beginning of the next semester.
The film screened twice at Emerson—at the Student Performance Center and at the Bright Family Screening Room. Currently, Compton and Landsman are in the process of submitting the film to mainly horror-centric festivals.
Compton and Landsman were pleased with the audience's reaction to the film—the packed SPC screening was an emotional space. Viewers laughed at comedic beats and moments of discomfort, and overwhelmingly left the theater disturbed.
"We are definitely under the school of thought that cinema is a medium of raw, visceral emotions," Landsman said. "It's an emotional experience from visuals and sound, and horror is the most extreme of that."