WATCH: Thousands march on Boston Common for gun control
Different hues of orange bandanas flashed on the stage, situated on the organizers' heads, around their necks, and tied on their wrists. The color, recently adopted as a symbol of anti-gun violence, speckled a crowd chanting "Enough is enough" in Emerson's front yard, Boston Common.
March for Our Lives protests occurred across the country on Saturday as a response to the Feb. 14 Marjory Stoneman Douglas shooting in Parkland, Florida. While some Emerson students took a bus to Washington, D.C. the night before, others marched with Boston teachers and other local students.  
Participants first gathered at Madison Park Technical Vocational High School in Roxbury. The march route followed along Columbus Avenue and finished at Boston Common around 2 p.m.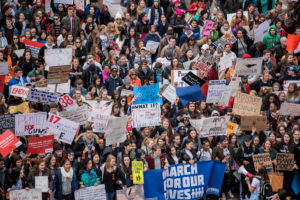 Freshman Francis De Leon attended the march with his friends and classmates Antonio Camasmie and Jamie de Cesare. The trio trekked through the muddy ground with thousands of others to get as close as possible to the main stage, located on the periphery near Beacon Street, where Parkland students and high schoolers made speeches and several musicians performed.
"I thought it was really powerful to see the movement," De Leon said. "You could really feel the energy and the passion."
Camasmie said watching high school students organize a movement and do so passionately hits close to home, as he and other freshmen were that age not too long ago.
Student leader of March for Our Lives Boston and Northeastern student Rebeca Muñoz is from Parkland, Florida and gave a speech to the crowd.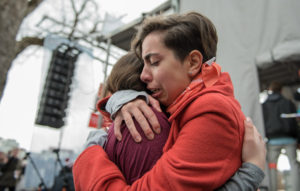 "This all happened organically," Muñoz said in an interview. "People just showed up because they know that they have to."
Parkland survivor and Marjory Stoneman Douglas High School student Leonor Muñoz, Rebeca Muñoz's younger sister, acted as a student liaison for March For Our Lives Boston. Leonor Muñoz said the work put into this march has been completely done by Boston and she has been impressed ever since arriving in Massachusetts on Friday.
"I'll be completely honest with you, it's the high school students that have out-shown the college students," Rebeca Muñoz said.
Leonor Muñoz said she and her fellow classmates see action as means to cope.
"For us, if the world is not fair, then you change the world," Leonor Muñoz said in an interview. "I'm not saying this is going to be easy, I'm saying that we're going to do it."