Thousands rally for women's rights on Boston Common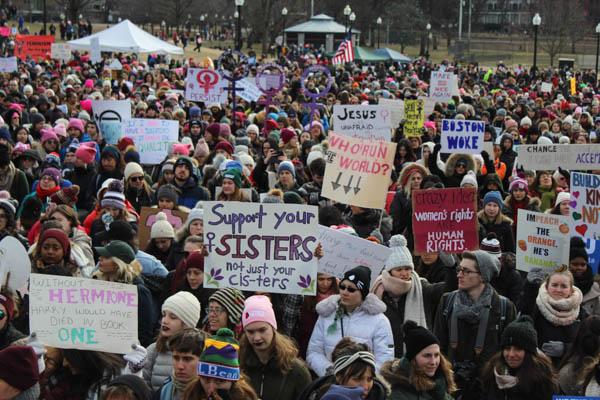 By Diana Bravo, Copyeditor/Photographer
January 19, 2019
Thousands of bundled-up protestors gathered on Boston Common to march and chant for the third Boston Women's March on Jan. 19.
March Forward Massachusetts, a nonprofit organization that seeks to build community and advocate for social justice, organized the march to showcase women from all walks of life, according to the 2019 Boston Women's March Facebook page.
Freshman Kathryn Smith got involved with March Forward Massachusetts in early December with no prior organizing experience. As an LGBTQ woman with a chronic illness, Smith said she felt a responsibility to stand up for other marginalized groups.
Smith focused on offering accessible seating, Spanish translation, and American Sign Language translation for the 2019 Boston Women's March attendees. On Jan. 14, Smith met all of her co-organizers in person for the first time to plan the event after having multiple conference calls beforehand.  
"I felt like I got to know these people over the phone for so long, and then to finally actually see them face-to-face and have conversations with them one-on-one was a lot of fun," Smith said.
Democrat Rep. Ayanna Pressley delivered the keynote address before the march began. She noted the importance of women running and serving in public office.
"I have the honor of being your congresswoman, and your sister in solidarity. Shoulder to shoulder with all of you here today and those that were here two years ago. Women who answered the call to run [and] to serve—who didn't ask permission to lead," Pressley said.
Speakers including Jordan Thornton from Planned Parenthood League of Massachusetts and President of the National Association for the Advancement of Colored People Boston Tanisha Sullivan rallied the crowd from a large stage that sat parallel to Beacon Street and faced the inside of the Common. The huddled crowd stretched from Beacon Street to the Soldiers and Sailors monument.
The Facebook event for the 2019 Boston Women's March was organized with no affiliation to Women's March Inc., a national organization involved in a controversy over claims of anti-semitism within its leaders.
Several speakers, including representatives from the American Civil Liberties Union Massachusetts and United American Indians of New England, emphasized issues facing the different marginalized groups they represent.  
"In this city and in cities around the commonwealth we march in unity, we are not divided, and we recognize that hate is hate and there is no room in this movement for hate of any kind," Sullivan said.
The march started at approximately 1:30 p.m. after the conclusion of Pressley's speech and a call to march by the organizers.
Participants marched around Boston Public Garden, down Beacon Street, Arlington Street, Commonwealth Avenue, and Boylston Street before returning to Boston Common.
Freshman Maddi Cocca and her friends all said they felt obligated to march and show support for marginalized groups.  
"I feel that it's my duty to advocate for people who are also marginalized," Cocca said. "We need to protect the rights of all people, not just the people we think are important."