Tom Cooper, champion of treats and sower of kindness
During the Thanksgiving and winter breaks, freshman Jehan Ayesha remained on campus, over 9,000 miles away from her home in Malaysia. Ayesha received a welcoming invitation to the home of professor Tom Cooper, who opens his doors to members of the Emerson community during the holidays, particularly those who find themselves away from home.
"Christmas was so close, and even though I don't celebrate it, I started feeling homesick because I saw everyone else celebrating with their friends and family while I was staying on campus alone," Ayesha said in an interview. "So, when I got the invitation, and actually made friends and experienced their warmth, it was really heartwarming, and it was really like a home away from home."
While many members of the Emerson community head home for winter breaks, Cooper spends time on campus. For Thanksgiving, Cooper usually takes members of the community out to dinner, with the goal of finding students who do not return home for the short break. For the holidays, he typically hosts a party at his house with his wife, like the one attended by Ayesha this past winter vacation. He also famously delivers chocolate or candy to the staff members required to work during the breaks, even on Christmas and Thanksgiving day.
"For me, it's very rewarding to be giving, and when I'm around someone who's always giving, it picks me up," Cooper said in an interview. "Even if you don't see results, why not keep giving? Why not keep doing all you can for other people? My motto is, 'I want to help as many students as I can before I die.' It's pretty simple."
Cooper joined the Emerson community 38 years ago after graduating from Harvard University in Cambridge. He teaches a 400-level visual and media arts ethics course as well as an interdisciplinary class on professional ethics, but is also widely known for heading the Spirit of Emerson, a group dedicated to spreading Emerson's spirit and acknowledging those who passively exhibit it on campus.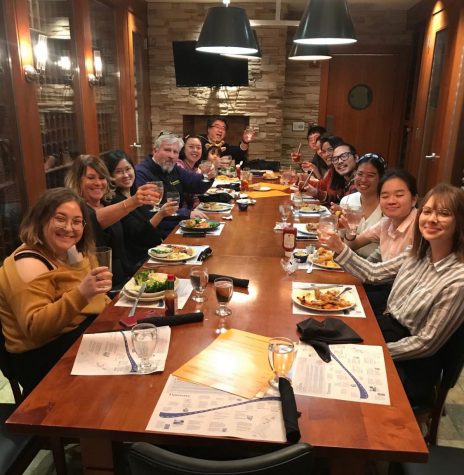 Cooper approached President M. Lee Pelton with the idea of the Spirit of Emerson in 2013. Cooper said many people within the Emerson community—whether it be a security guard, a dining hall worker, a student or any member of faculty—project spirit quietly or in unobserved roles.
"I noticed that there were a lot of people who are unacknowledged and who were really doing great things around Emerson," Cooper said. "We often acknowledge academic or athletic achievement, but we very seldom acknowledge what's at the heart of the matter—which is the matter of the heart."
Pelton said that when Cooper proposed the Spirit of Emerson, he agreed at once.
"I immediately affirmed the idea," Pelton said in a phone interview. "I spent my first year as president talking to students, faculty, and staff, and one of the biggest issues expressed to me was the improvement of a sense of community. Tom has helped build a sense of community by reminding us of our generosity and our humanity."
The Spirit of Emerson Committee, a subgroup of the Spirit of Emerson, annually gives out the Spirit of Emerson Award to a member of the Emerson community. This year, the committee will focus specifically on kindness with another award, the 2020 Kindness Award, soon to be named after Performing Arts Chair Robert Colby, Cooper's longtime friend. Submissions for both awards are due on Jan. 31.
Jacqueline Holland, the assistant director of academic support and chair of the Spirit of Emerson Committee, met Cooper—whom she dubbed "the champion of treats"—after she won the Spirit of Emerson Award herself in 2016.
"He just believes in kindness so much, and the Spirit of Emerson, and that we should all be nice and have these nice interactions and moments and celebrate each other," Holland said. "Chocolate definitely helps do that. It's a small token but people do appreciate it."
Former Co-Facilitator of the Spirit of Emerson and the new Assistant Vice President of Student Success Sharon Duffy said she remembers being in a state of disbelief after meeting Cooper four years ago.
"I remember thinking, in a cynical way, 'Is this guy for real?'" Duffy said in an interview. "He just has this way about him, he's so positive, so caring and giving, it's very rare for a person to be the way that he is all the time. And that's genuinely who he is…he lives it."
Duffy said Cooper is known by many for his basic and fundamental acts of kindness, and anyone who meets him may expect chocolate or candy almost immediately. 
"No one asked him to do any of this," Duffy said. "With the Spirit of Emerson award, delivering candy to security guards, he's just thinking about the people that he believes other people don't think about."
Cooper said he demonstrates small acts of kindness in an effort to spark a chain of generosity in his community.
"They are small gestures, but it's like if you keep sowing seeds if you're a farmer, some of them are eventually going to grow," Cooper said. "You might give candy to 1,000 people and only two of them will say 'thank you.' But somehow, they start giving candy to someone else, or they start doing something for somebody else."
From a young age, Cooper said he felt like a "communicator," leading him to write poetry, play music, and act in plays. He was the president of his high school class and continued being a communicator at Harvard in various ways through the student newspaper and as a teacher's assistant.
"Even as a child, I wanted to strongly express myself," Cooper said. "It's very typical Emersonian, you just don't want to die with your music in you, whatever your major is. You've got that strong longing to express."
In addition to teaching ethics over the past 38 years, Cooper's career includes stints as an assistant speechwriter under the Jimmy Carter administration, and for the last four years, he has worked on a project headquartered in Vienna under the United Nations, where he helps the development of a worldwide ethical curriculum. He spent a part of the recent winter vacation in Honolulu with the Pacific Telecommunication Council, joining over 2,500 others from over 70 different countries to work on issues pertaining to the cultural impact of globalizing technology. He joined the PTC 27 years ago, after participating in a teacher exchange program that landed him at the University of Honolulu for two years.
He is the author of eight books and over 150 articles, and is planning on publishing another book in April that examines 12 cases of the "most challenging ethical decisions in the history of the world."
Cooper also plays keyboard in the rock band "Sundance," which was created during his time in college at Harvard. They have performed at each college reunion and still play today, and most recently performed at two block parties over the summer. "Sundance" performed in Carnegie Hall four years ago, but Cooper did not perform because he was on sabbatical.
"We used to do an hour of [the] Rolling Stones when I was in college—people had to dance until they dropped," Cooper said. "Now we can do more like 20 minutes of Rolling Stones before we take a breather and do another song."
He is also the writer for an upcoming musical, which will have their next reading at a professional theater in Cambridge's Central Square in June.
Both Duffy and Holland said Cooper acts without seeking praise or recognition, and that he purely wants to spread positivity around the Emerson campus and beyond.
"You may not change everything that's wrong in the world, but every single person who's life you help or save or heal, or whatever it is that you're doing or educating, they probably will say, 'This made a difference in my life,'" Cooper said. "And who knows, some of them may go on to be world leaders, or people who help larger groups of people."