Emerson to offer on-campus housing to some students over winter break
Emerson will offer limited housing to some on-campus students during the final two weeks of the fall semester and through winter break.
Fewer than 80 students are expected to be provided with short or long term stays in on-campus housing to accommodate special circumstances related to COVID-19, Christie Anglade, director of the Office of Housing and Residential Education, said in an interview.
Administrators announced the option in an email to residential students on Oct. 14, and applications are due on Oct. 18. Short term stays will be between Nov. 25 and Nov. 29, while long term stays will allow students to remain on the Boston campus through the beginning of the spring semester on Jan. 19. 
"At any given point in time, we always have students who have a need for housing in between the periods that we are typically open," Anglade said. "Especially now, because of COVID-19, I think some of those needs are exacerbated." 
The college also provided special housing for students over the summer.
Any student approved to stay on campus will move into the Paramount residence hall, which currently houses students in quarantine and isolation. The college will clean and sanitize the residence hall before students move in for break housing. Students who are approved for a long-term stay on campus will fill out a separate housing contract and will be charged $2,717, without a meal plan. Students approved for short-term stays will not be charged. 
Paramount suites will include microwaves and mini-fridges, and students in long-term stays will receive bathroom cleaning products. Students will live alone in rooms but may share suites.
The fitness center, the library, and most academic and administrative buildings will either be closed or have significantly curtailed hours over winter break. Weekly COVID-19 tests at Tufts Medical Center will still be mandatory for these students, though the testing center will have reduced hours. Dining options have not been solidified, Anglade said.
"We're hoping that by asking students to apply, we can get an idea of the number of folks that are going to stay and then develop a plan with dining about how we can support those students," she said.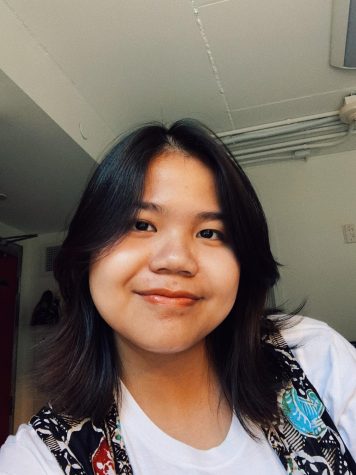 Anglade added that housing insecurity, unsafe family conditions, and international students facing barriers to leaving and reentering the country are the main reasons she anticipates students may need to remain in campus housing. 
Sophomore Jehan Ayesha, who is from Malaysia, said she plans to apply to stay on campus until the spring semester begins. Ayesha, who also stayed in campus housing over the summer, has to arrive early on campus for Resident Assistant training. 
"If I go home, adjusting to jet lag, I also have to quarantine for two weeks," she said. "What do I gain from going home for two weeks when I've been away for over a year?"
Also the executive vice president of the Student Government Association, Ayesha said it has been difficult to be away from family and friends for so long. But she feels Emerson has been largely accommodating to international students.
"I do miss home, and it hurts more when people point it out," Ayesha said. "It forces me to think about what I've experienced and what I've had to endure, because living here alone in so much uncertainty, I had to fend for myself in a way."
Kendra Stokes, associate director for housing operations, said it seems students are grateful for the option to stay on campus. 
"This is a good catalyst to help students [remember] that November is coming," she said. "Students need to really forward think on this one, as there is a more extended period of time that they'll be away from campus."