"Everyone's upset and annoyed": Students voice frustrations with the move-in pushback
Some Emerson students have been left frustrated and confused following the college's weeklong delay in residential move-in, an announcement that came just two weeks prior to the originally scheduled return. 
The Dec. 30 email from President M. Lee Pelton announcing the delay caught many students by surprise—particularly those who had already finalized travel plans. The delay, which shifted the move-in window from Jan. 14-17 to Jan. 21-24, is in response to guidance from the Massachusetts Department of Health aimed at minimizing the potential impact of the winter holidays on a COVID-19 case spike.
Several students have taken to social media to voice their concerns with the way that the decision was abruptly communicated to the student body.
"Everyone's upset and annoyed," sophomore Lilly Kollross said in an interview. "I just don't get why they did it. I don't know how much moving back one week later makes things better. Were they not prepared for us all to move back or what?"
College officials made the decision in response to guidance from the Massachusetts Department of Health to minimize the potential effect of winter holidays on already-rising COVID-19 cases across the state.
"We understand that this decision upends many plans," an email sent by Dean of Campus Life Jim Hoppe said. "We are not making the decision on a whim, but as a result of the request from the state."
The college offered certain exemptions to the pushback, allowing international students, and those experiencing "significant financial hardship" from changing travel plans to return to campus on their original dates. 
Nevertheless, for some students, the delay resulted in lost airline tickets and forfeited hotel reservations. Andrew Carter, a sophomore from Houston, Texas, estimates the postponement cost him "in the ballpark" of $300 in non-refundable cancellations. 
Coronavirus cases in Boston have worsened dramatically since the departure of most of the on-campus population in November. With steadily rising hospitalizations, spiking death tolls, and a positivity rate nearing double digits, the college should have warned students earlier that its calendar was subject to change, Carter said. 
"Even if it wasn't an outright announcement, [the college could] just say, 'Hey, there's the possibility this could be delayed, just keep things malleable,'" he said. "Even a small warning like that could have done a lot for a good number of students so they're not wasting money on flights that they're going to eventually cancel."
Students and families should still avoid setting plans in stone, said Assistant Vice President for Campus Life and "COVID Lead" Erik Muurisepp, due to the evolving nature of the virus. 
"We've been saying to families and students—even outside of the Emerson experience right now—if you're buying airline tickets, you should always, at this point, make sure they're refundable or changeable or something," Muurisepp said in an interview. "I think we have to make a lot of our decisions in life right now about, 'Okay, what if this was to change?'"
dear emerson college, thanks for pushing back move in a week. not like everyone has already bought plane tickets or anything… pic.twitter.com/ArTOHgetWd

— lily k. 🌸 (@lilykollross) December 30, 2020
Given the worsening coronavirus situation in Massachusetts, Kollross, who is flying in to Boston from Chicago, said she felt the college could have taken decisive action without necessarily waiting for the state to make the final call.
"They should have done this either before Christmas or not at all," Kollross said. "The college would have known that cases were rising [in Boston]. How did so much change in such a short time that they didn't know before Christmas? I just don't understand why they waited."
Emerson is one of the only Boston-area colleges to have changed its original move-in dates. Boston University students are still slated to return on Jan. 14, Suffolk University students on Jan. 16, and Boston College students on Jan. 24. Northeastern's on-campus population will return as early as Jan. 9.
Maddi Chun, a sophomore returning to campus from Oregon for the first time since the spring 2020 semester, said she was frustrated with the fact that many students had to wait nearly a week—until the college's administrative reopening—to reach out about specific concerns.
"The first email they sent was just very baseline information," Chun said. "On top of that, the school wasn't open until Jan. 4, so basically [they said], 'You won't hear anything else until then.' That's what really got me—I needed to discuss multiple things with multiple different people, and I couldn't do any of that or get any answers about anything for another couple of days."
For sophomore Courtney Donohue, she felt it was "a little ironic" that the announcement came after the spring billing deadline of Dec. 16. She said she knew many students who were concerned about the cost of losing a week of housing and hybrid learning—the spring semester will be fully virtual from Jan. 19-29. For room and board alone, on-campus students pay around $9,600 a semester. For this term's 16-week academic calendar, that breaks down to approximately $600 a week. 
"We're online another week now," said Donohue. "A lot of people have been frustrated with the pricing, and how it hasn't really changed when maybe it should have."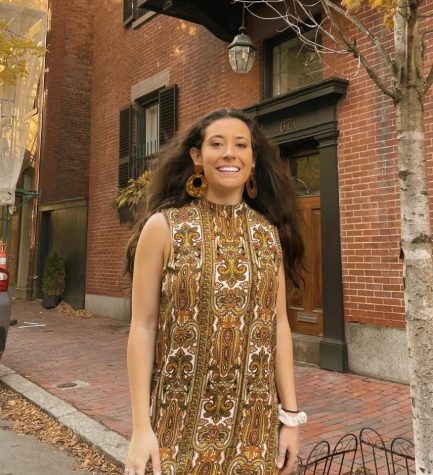 Students received partial refunds when the 2020 spring semester was cancelled. Despite this, Director for Housing and Residential Education Christie Anglade said the college would not provide any reimbursement for the week in January. She pointed to the fact that, in a normal term, students would still be charged the same rate despite "variable" move-in and move-out dates.
"Refunds are only considered when the College cancels services completely," Anglade said. 
Carter said he wouldn't be surprised if the college made further changes to its reopening plans—including outright cancellation of the on-campus spring semester—considering the severity of the pandemic.
"When last spring [semester] was cancelled—even though it was entirely warranted—that came out of nowhere," Carter said. "I'm not Lee Pelton. I'm not the administrative staff. I don't know what's going to happen. I can only adapt as well as I can, hope for the best, and just pray that we'll get an actual full spring semester."
In his email, Hoppe stressed the delay is not an indication that returning to Boston is unsafe, instead saying that, like "almost all COVID regulations," it is targeted at "reducing density and managing risks."
"We do not anticipate any additional changes, but will inform the community as soon as possible if the situation changes," the email read.
Donohue said many students have come to expect the eleventh hour nature of the announcement.
"It's kind of a known Emerson thing—it's a joke among a lot of students now that they're very, last minute on their calls," she said. "Maybe they don't think about how we have to accommodate our schedules or what a big deal traveling to college and moving in is to us—because it is a big deal."