Photo: Dylan Rossiter
Two Emerson classes devastated by loss of graduation ceremonies
March 18, 2021
For the second year in a row, Emerson will hold an online commencement ceremony in May, slashing a ritual many recent and upcoming graduates anticipated as a time of closure and celebration.  
The virtual ceremony is set to be held during May's "Emerson Week," an initiative announced in early March intended to honor Emerson traditions remotely. In addition to 2021 graduates, there will be a celebration of the class of 2020, whose commencement originally set to be online, was postponed last July.  
"The challenge we have is that class has already dispersed," Jim Hoppe, vice president and dean of campus life, said. "Even trying to contact them is more challenging…  but we're going to try to do everything we can to make it meaningful for both classes." 
Hoppe said switching to an in-person ceremony at this point is highly unlikely due to the meticulous planning of an event of that size and Emerson's sports complex, Rotch Field, being unsuitable to fit the graduating class with state-mandated distance requirements. 
Commencement is typically held at Boston University's Agganis Arena—as of March 22, arenas will be permitted to reopen in the state at 12 percent capacity, which for Agganis would be just over 850 attendees.  
"It's not the kind of thing you can just kind of flip a switch and pivot on quickly," Hoppe said. "Most of the larger venues that are open to the public haven't been willing to [have] reservations for groups that size, a decision of what is going to happen [had to be made]."
Other Boston-area colleges, like Boston University and Northeastern University, plan to hold in-person commencement ceremonies. Northeastern plans to split their graduating class in half and hold two ceremonies, both at Fenway Park. Boston University plans to restrict attendance for the Nickerson Field ceremony to "graduating seniors and advanced degree recipients and a small platform party, including deans, administrators, and honorary degree recipients." 
For seniors experiencing their last months at the college as the pandemic continues, losing commencement was devastating. Senior comedic arts major James Richardson said it felt "like a gut punch."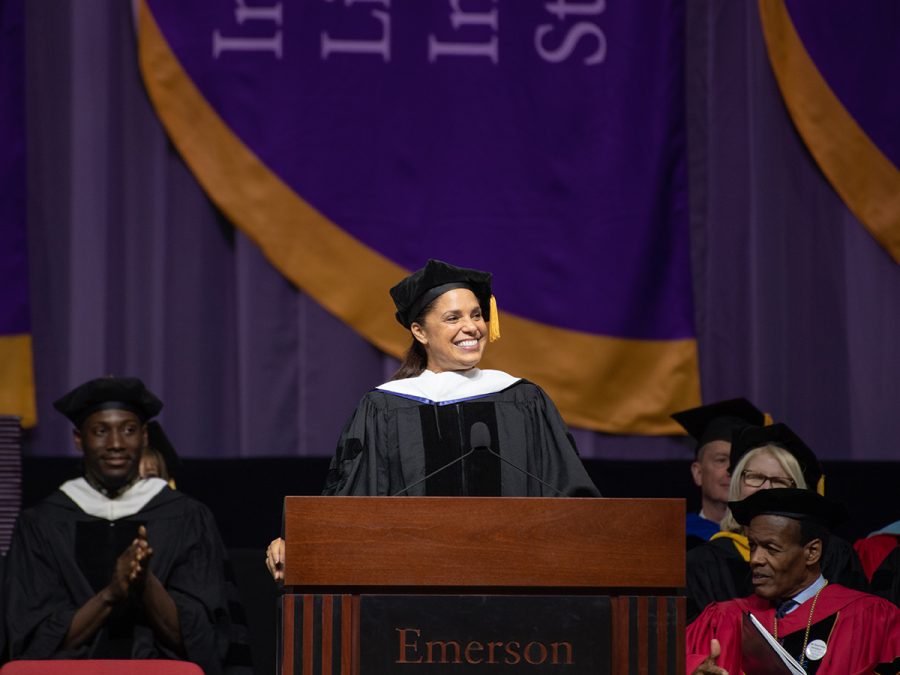 "This school has moved mountains before [and] done incredible things," Richardson said. "I just can't help but feel that Emerson only strived to have that many in-person classes to avoid the complaints of 'We should be charged less because it's all online.' Since there's no complaints relating to graduation in that way, they're like 'We don't have to try.'"
Sam Willinger, a senior visual and media arts major, said he was particularly disappointed because of the effort he put in to graduate college at all. 
"I wasn't supposed to go to college," Willinger said. "I have a learning disability [and] was told I would never graduate high school. For me, this is a big deal to have gone to a college, gotten into a school and now subsequently graduating after doing a lot here." 
Richardson said the abrupt cancelation made him feel as if he were being "cut loose" by the college. 
"The fact that they can't even try to give us in-person graduation or postpone it [is] really frustrating and leaves a bitter aftertaste in my mouth," he said.
For the class of 2020, the loss of graduation was the culmination of a turbulent senior year of confusion and cancellations. Brett Boone, a VMA graduate, said he felt a lack of closure following his online commencement in December. 
"I feel like I got kicked off Emerson and I haven't been allowed to be back," Boone said. 
Sent off into the "real world" with a slideshow and pixelated confetti, both classes have also expressed apprehension about entering an unstable job market. 
Career Development Center Director Carol Spector said 61 percent of the class of 2020 were employed following graduation compared to 75 percent of the class of 2019. Despite the dip, Spector said the 2020 data was higher than what she anticipated. 
"It's a little bit lower than normal, but pretty good," she said. "Considering where we're at right [now]." 
Post-collegiate paths, Spector said, have to be more flexible now than they were in the past. Many graduates explored less-traditional employment opportunities after graduating last year, a tactic Spector is now advising the class of 2021 to pursue. 
"If you have good writing skills and you wanted to work in the publishing industry or write your own novel, that may not happen right now," Spector said. "How can you still use your writing skills and develop more, and work on some of your own projects on the side? Insurance agencies, financial organizations, [and] healthcare all look for good writers to do either blog posts [or] update website information." 
Brock Higley, a journalism graduate, said he was one of the lucky ones landing a job with a television news station in Missouri. 
"I applied to anywhere from 100 to 120 positions across the US," Higley said. "I would hit one state each day and apply to two or three jobs in each, just going down and back up the list. I didn't land the job that I have right now until December of 2020, which was almost six months after I'd graduated."
For Abigail Semple, who graduated last May, branching out of her VMA path secured her a job working for a smaller IT company. 
"It's a job that gives me a paycheck, which is great," Semple said. "I am still looking for opportunities where I can better use my major… I just spent a quarter of a million dollars at Emerson College learning how to make movies to graduate into an environment where very few movies are being made. It's definitely stressful."