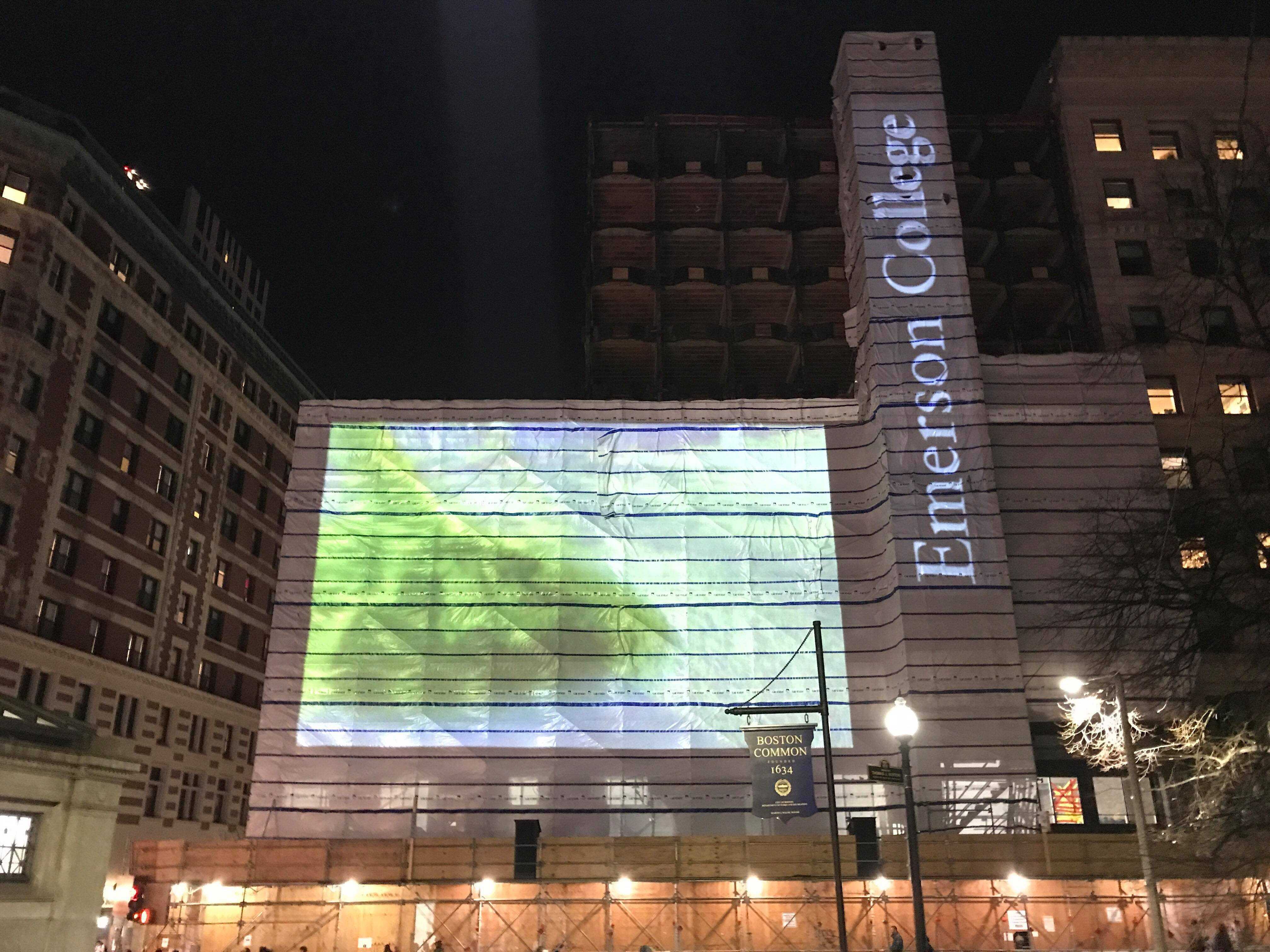 The Uncommon Project entered its second stage when the 15 story white sheet covering the Little Building was cut in half, and a new cycle of artwork began.
The large-scale projection displays illustrations, photographs, animations, and video onto Little Building's tarp. The artwork will continue as long as the image maintains a proportionate width and height that is not distorted or too small, Emerson's Distinguished Curator-in-Residence Joseph Ketner said.
"The terminus time is completely contingent on construction," Ketner said.
The projected artwork is the second stage of the Uncommon Project and contains a group of artists curated by Ketner and #STANDWITHIMMGRANTS that began on Jan. 16. The organization is a collection of immigration advocacy groups that want to empower legal advocates to protect immigrants from deportation.
Erik Jacob's Stand With Immigrants artwork appears on screen, displaying a collection of photos of immigrants on many of Boston's iconic landmarks, such as the famous willow trees in the Boston Public Garden.
President M. Lee Pelton said he wanted to center the second stage of the Uncommon Project on supporting immigration because he worries Congress will not pass laws addressing President Trump's repeal of Deferred Action for Childhood Arrivals.
"These are 800,000 young people who have come to this country, it is their home … and the administration's rescission of DACA threatens the lives of these students."
With the first stage done, Pelton said the Uncommon Project met his expectations to display creativity, deepen awareness of the college, and create a venue for public art in downtown Boston.
"So it's achieved all of those, in a very very robust way," Pelton said.
The Uncommon Project has reached over 150,000 people across the world via various social media platforms and the college's website, Associate Vice President of Marketing Michael Sarra said. The Facebook live broadcast alone has 25,000 views and over 750 likes.
"I think I can speak for many people in saying that the reaction that we saw exceeded our expectations," Sarra said.
Freshman Tea Kingley said she isn't sure about the Uncommon Project's new look.
"I feel like it looks unfinished, but I'm glad that they're still doing it because it is a cool and innovative idea," Kingley said.
Pelton has not disclosed the final cost of the Uncommon Project. The cost depends on the project's duration, and the length of the display depends on the speed of repairs to Little Building. College officials expect the completion of Little Building by fall 2019, according to previous reporting by the Berkeley Beacon.
The college purchased the projectors used to display artwork onto Little Building. When the Uncommon Project comes to a close, Pelton said the college plans to sell the equipment.
"Our estimation is that we will receive anywhere from 75 to 80 percent of the cost of those projectors," Pelton said. "So that the net cost will not be substantial, relative to the benefit that we have received."