Vaccine rollout progressing, health experts foresee a return to normal in the fall
Public health experts say there appears to be a "light at the end of the tunnel" shining for college campuses after a year of restrictions, social distancing, and online learning—but warn that administrators and students are not yet out of the woods.
The college announced its plan to continue the hybrid model into the fall semester on Feb. 22—allowing for a possible "shift" to fully in-person classes should the conditions of the pandemic allow. Beyond that, though, it is unclear what the college landscape will look like in the fall.
"Barring any unforeseen circumstances, I do think that things can get pretty much back to normal by the fall," said Dr. Michael Siegel, a public health researcher at the Boston University School of Public Health. "Exactly how normal, I'm not sure."
Emerson has not yet determined whether other aspects of its coronavirus safety policy, like  twice-weekly testing, social distancing, and restrictions on public gatherings, will also be carried into in the fall term, according to Assistant Vice President for Campus Life and "COVID Lead" Erik Muurisepp.
"We've had conversations about it, but no decisions have been made yet," Muurisepp said.
He also said the college's efforts to loosen capacity restrictions are based on city and state guidance, which have progressed further in their reopening plans since the initial hybrid learning announcement. Emerson reopened multi-person seating in its dining centers the same day Massachusetts entered Phase Three, Step Two of its reopening plan. The fourth and final phase, which allows the reopening of stadiums, arenas, and performance venues, is slated for March 22. 
The rising vaccination rate in Massachusetts—nearly one million residents are fully inoculated—should be an encouraging sign for colleges, Siegel said.
"It seems almost certain that, by the beginning of the fall, everyone who wants to will be able to get vaccinated," he said. 
Though Siegel expects colleges to return to in-person classes at some point during the fall semester, he said the prospect of safely returning to the hallmarks of campus life—parties, live performances, and sporting events—is not yet assured.
"If we reach a level of herd immunity—a level of vaccination above which the virus really can't spread—the virus may fizzle out and not really be much of a concern," Siegel said. "The problem, though, is that if we don't reach that level it could become endemic, [meaning] it still will be around and still be infecting people."
Given the gradual decline in new cases and hospitalizations, Massachusetts may already have "partial herd immunity," according to Dr. Todd Ellerin, South Shore Health's director of infectious diseases. However, he said it would take "a couple years" to determine whether the virus was endemic—a constantly recurring disease, like the common cold—or at least seasonal—recurring based on time of year, like the flu.
"The first year of a pandemic, you almost never have true seasonality because there's no background immunity," Ellerin said. "You have an entire susceptible population around the world."
It is possible the virus will continue to transmit throughout the year, according to Ellerin. Even without endemicity, he said he expects infection rates to rise in the fall and winter of 2021, as it did in 2020—especially if it continues to mutate into new, more transmissible variants.
Massachusetts is sixth in the nation in terms of vaccines administered per capita—a rate that could rise after Gov. Charlie Baker's announcement Wednesday that the state will expand vaccine eligibility to the general public, including Emerson students, on April 19. Nevertheless, Siegel said he was still concerned with the rapid pace of the state's reopening process, warning the college against proceeding too quickly with its return to normalcy.
"Vaccination is taking such a long time—and in the meantime, everything is open," he said. "This seems like the perfect time to be protecting people, if we can just be patient enough; it's the last time in the world to be opening things up and just letting the virus spread at its own speed."
"Unfortunately, that's what we're doing in Massachusetts," he continued. "That's what a lot of other states are doing. It means there's going to be a lot of unnecessary illness and death."
Dr. Daniel Kuritzkes, chief of the infectious diseases division at Brigham and Women's Hospital, said the city needed to take a "nuanced approach" to the question of reopening.
"I don't see any problem with letting retail shops function at regular capacity [in the fall]," Kuritzkes said "I'm not particularly concerned about having people together in a lecture hall, as long as everybody is masked."
His concern, he said, is that people will take advantage of the loosened restrictions by gathering in public, without necessarily having been vaccinated first.
"That is the challenge," he said. "We don't want to be asking people to flash their vaccine cards, and then be trying to enforce some regulation where this person needs to be wearing a mask, that person doesn't, this person gets in, and that person doesn't."
All three health experts stressed the next several weeks and months are critical in safeguarding the fall semester.
"I'm confident this is going to be a great summer," Ellerin said. "There's been a marked reduction in cases, I am feeling very optimistic. But then the fall becomes a question mark."
"The worst is behind us, that much I'm confident about," he continued. "I don't want to speculate yet what the big bars and sporting arenas are going to look like, whether we're going to be masked or unmasked. It all depends on what a potential fall surge looks like. I don't know."
Leave a Comment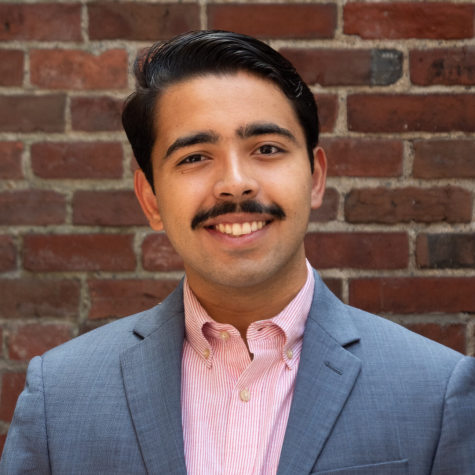 Camilo Fonseca, Editor-at-large
Camilo Fonseca is a former editor-at-large for the Beacon. He previously served as news editor and as managing editor for campus coverage. Camilo has also contributed to The Boston Globe, as a metro/express correspondent, and The Seattle Times, as a business reporter. He is currently interning at The Christian Science Monitor. Hailing from Tampa, Fla., Camilo is a senior journalism major with a minor in political science, and hopes to pursue a career...