Violence erupts near Boston campus as police and protesters clash
Peaceful protests in Boston over the police killing of George Floyd erupted into chaos late Sunday night as police deployed pepper spray and tear gas into crowds in Downtown Crossing, shortly before the National Guard arrived.
Protests started at multiple locations around the city and were peaceful until nightfall when police in riot gear started firing tear gas and flash bangs into crowds to disperse protesters around Tremont Street, turning the area surrounding Emerson into a haze of smoke and debris.
The peaceful gathering began around  6:30 p.m., with a large group of protesters meeting in Roxbury's Nubian Square and marching to the State House. The sea of people spanned the width of Washington Street and ran several blocks deep, chanting "Black lives matter" and "No Justice, No Peace." At one point, the march paused on the Washington Street bridge over the Massachusetts Turnpike and held their fists in the air, letting the silence wash over them with only bird chirps and the faint hum of cars filling the air.
The marchers passed the Paramount Theatre, which had the names of recent victims of police brutality and the phrase "Black Lives Matter" on the marquee. Protesters were met by exuberant onlookers, who waved and honked their horns in support. During the march, most of the protesters wore masks. 
The procession arrived at the State House around 8 p.m. and joined an earlier group which had already gathered there. At one point, protesters held a moment of silence in remembrance of lives lost at the hands of police, with fists in the air and flashlights up on their phones. Protesters also chanted George Floyd's name and called on police behind the State House fence to kneel in solidarity, which they did not do.
As night fell, the crowd began to disperse and hundreds headed to Downtown Crossing. Not long after, protesters began throwing water bottles and rocks at a line of police in riot gear who arrived on Washington Street, prompting the officers to spray mace. Protesters continued to spill through the streets, throwing more debris at police, who formed a circle near Temple Place. A handful of the people stood between the protesters and police, urging them to stop the violence. 
Tensions rose further when police began to fire tear gas into the crowd, which sent protesters running onto Tremont Street. Officers yelled at the protesters to move, threatening to use pepper spray on them if they refused. They then began pushing protesters with wooden batons around 9:30 p.m., and deployed more tear gas on Tremont Street near the Park Street Station. 
Multiple groups of riot police advanced through Downtown Crossing and were joined by police coming from Boston Common around 10 p.m. The National Guard was called into Boston around 10:15 p.m. Around that time, video on Twitter showed protestors spray painting "ACAB"—an acronym for "All cops are bastards"—and "Fuck 12" on the exterior of Emerson College's Little Building residence hall. 
Multiple shops around campus and Downtown Crossing were broken into and looted including the Walgreens on Boylston Street, and the Wild Duck nearby. Protesters moved barricades, trash cans, and plants into the streets to hinder the police officers' movements.  
Around 10:30 p.m., a police cruiser was set on fire near the Park Street Church and several protesters were hit by a separate car at the intersection of Boylston and Tremont Streets that appeared to intentionally drive into pedestrians, footage broadcast on WCVB showed.
At 10:25 and 10:37 p.m. the college sent two alerts using the Emerson Alert system, warning tear gas had been deployed in the area of the college and that there were multiple dangerous situations around the college. At 11:03 p.m., the College sent out an alert saying crowds had dispersed but asked residents to continue to shelter in place. 
Police were last seen pushing people towards Boston Common, and the MBTA announced that all trains were bypassing Park Street, Downtown Crossing, Government Center and Chinatown stations.
Several Emerson students present at the protest, including members of The Beacon, suffered minor tear gas and pepper spray injuries, but it is not known at this time whether any Emerson students were seriously injured or arrested at the protest. 
In a tweet early Monday morning, Boston Police announced the arrest of about 40 people during the protest. The department also said seven officers were taken to the hospital to be treated for their injuries, and 21 police cruisers were damaged,
A Boston EMS spokesman was unable to provide any information on how many protesters were injured.
The Boston gatherings follow a string of nationwide protests over the killing of George Floyd, a Black man, in Minneapolis last Monday. A store clerk called the police after Floyd allegedly attempted to use a counterfeit $20 bill to buy cigarettes at a convenience store. Derek Chauvin, the police officer who knelt on Floyd's neck for nearly nine minutes, was charged with third-degree murder and manslaughter earlier this week. Video of Chauvin kneeling on Floyd's neck ignited tensions in cities across the country.
Mayor Martin J. Walsh said in a statement that he was angered by the "people who came into our city and chose to engage in acts of destruction and violence, undermining [the protesters'] message."
Jamie Kenneally, Head of Media Relations at the Boston Police Department, said the situation is still very fluid and could not give an estimate for injuries or arrests.
Governor Charlie Baker released a statement around midnight thanking Boston Police for "protect[ing] the people of Boston from the individuals whose violent actions, looting and property damage was criminal and cowardly."
Leave a Comment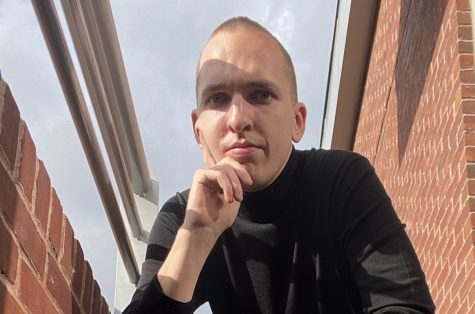 Jacob Seitz, Staff Writer
Jacob Seitz is originally from Central Ohio and resides in Cambridge. He is currently a staff writer at The Beacon, having previously served as Assistant Express Editor. He was previously Assistant Editor of The Record, the student newspaper at Antioch College in Yellow Springs, OH. He has covered The Women's March, The Straight Pride Parade, and has reported on the Massachusetts State House for the Beacon. He led The Beacon's coverage of Emerson...