WATCH: SGA holds press night ahead of election
Hang on for a minute...we're trying to find some more stories you might like.
The Student Government Association held its elections press night for spring 2018 candidates on March 20.
Press night gives candidates a platform to read speeches and field questions from potential voters and on-campus media outlets. A Beacon reporter was the only representative of on-campus media present. Polls open on March 28 at 12 a.m. at vote.emerson.edu.
SGA Class of 2020 President Christopher Henderson-West and Class of 2019 President Jessica Guida are going head-to-head in the executive presidential race. Last year, Executive President Anne Makielski, who is set to graduate in May, won unopposed.
Henderson-West said he decided to run a write-in campaign to increase SGA's visibility and maintain a close relationship with voters. A write-in campaign requires voters to fill in blank space with the desired candidate's name, as opposed to selecting someone from a ballot.
Advertisement
Henderson-West said that though a write-in campaign may not be an effective strategy for winning, that's not necessarily his aim.
"It's my goal to make sure people know that they have an SGA," he said. "It's my goal to make sure people have an SGA [that] is working for them and is at least striving for some sort of change whether that be small steps or big steps."
Guida, on the other hand, is running a traditional balloted campaign, meaning her name will appear on the ballot. In her speech, Guida promised to improve the communication between administration, SGA, and students.
"Real change happens when you acknowledge the voice that is missing in conversations," Guida said. "I know that there are marginalized members of our community who had to stand up and speak out against the lack of equity and transparency at this college."
On the issue of SGA's visibility, Guida said she wants to promote student government to incoming freshmen.
"I think something got lost in transition this year because we did not see a lot of new students joining," she said. "Which usually in my experience has happened."
About the Writer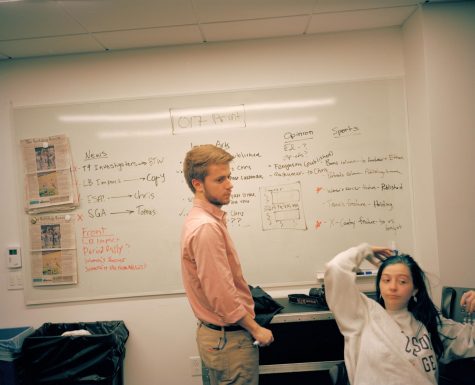 Chris Van Buskirk, Editor-in-Chief
Chris Van Buskirk is originally from Buenos Aires, Argentina, but was raised in Dallas, Texas. Currently, he serves as the Editor-in-Chief directing the...