SGA hosts press night in Center Stage for spring election candidates
Four Student Government Association senatorial and executive board races are contested while 12 remain without balloted candidates as candidates spoke at SGA's semesterly Press Night on March 26.  
This year, 65 percent of balloted candidates spoke at Press Night, compared to the 50 percent in spring 2018 and 54 percent in spring 2017.
Two candidates seek to secure the Visual and Media Arts senatorial position—sophomore Somari Davis and freshman Mallory Shofi. Both candidates hope to increase communication between their department and students.
Shofi spoke at press night about primarily serving as a liaison between the department's faculty and students. As the incumbent, Davis mentioned her prior experience in SGA as VMA senator and how she believed another term in office would benefit the entire department. Davis also emphasized her commitment to diversifying the VMA department.
"What I would like in my role is to emphasize the 'V' in VMA," Davis said in a written statement because she could not be present at the event. "I have to make the students visible and the work the department is doing for students transparent."
Sophomores Arasha Lalani and Brandon Smith campaigned for Class of 2021 president. Only Lalani's name will appear on the ballot as Smith initially decided to run for 2021 treasurer and must now run a write-in campaign for the presidency instead.
As the incumbent, Lalani emphasized her successes in the position including her campaign to bring menstrual products to on-campus bathrooms free of charge. She also mentioned her hope to increase communication between the college and students on issues such as construction and called for increased transparency about the college's purchases and building renovations.  
"It matters who our leaders are in Student Government," Lalani said in her speech. "We have the power to decide who we want to represent us, so we can choose to put women forward, we can choose to put people of color forward."
Smith, the current 2021 treasurer, emphasized his efforts to increase SGA elections' accessibility to new candidates. Smith said he created infographics to explain the SGA electoral process and deadlines.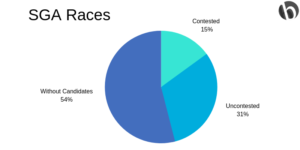 Executive Presidential candidate Raz Moayed prepared a video statement because she could not attend press night. Moayed emphasized her three years in SGA and her hope to continue her work there.
"I've committed a lot of time to SGA and in the past three years I've found Emerson to be my home," Moayed said in her statement. "So if you vote for me as President, know I'll always be in your corner."
The Executive Presidential race remains uncontested.
Executive Vice Presidential candidate Annie Noel and Will Paulauskas both focused their speeches on streamlining internal communication from the college and its departments to students while highlighting their tenures as SGA Communications Studies and Marketing senators respectively.
"Emerson College is a changing institution and we the students of Emerson College demand more out of it," Paulauskas said in his speech.
Executive Treasurer candidates Joseph Davidi, Abigail Semple, and Brady Baca all made statements at the event as well.
Seven candidates run unopposed. Many of the departmental candidates hope to increase communication between their departments and the students.
The uncontested elections are:
Raz Moayed—Executive President

Melissa Bordelon—Communication Sciences and Disorders Senator

Elizabeth Fretz—Communications Studies Senator

Kira Carlton—Independently Designed Interdisciplinary Program Senator

Talia Aiges—Marketing Communications Senator

Cassie Shelly—Class of 2022 President

Lindsay Debrosse—Class of 2022 Senator
Twelve positions remain without running candidates. These include:
Journalism Senator

Writing Literature and Publishing Senator

Comedic Arts Senator

Class of 2020 President

Class of 2020 Senator

Class of 2020 Treasurer

Class of 2020 Secretary

Class of 2021 Senator

Class of 2021 Treasurer

Class of 2021 Secretary

Class of 2022 Treasurer

Class of 2022 Secretary