When Hillary Clinton saw Rebecca Morgan Brubaker '18 at a book signing, Brubaker told Clinton her idea for a documentary about the 2016 election. Clinton grabbed Brubaker's hands and asked how she could help.
The documentary, "To All The Little Girls," highlights reactions from Clinton's supporters about her campaign run. The film features footage of the former Secretary of State interacting with supporters during her book tour. It also includes an exclusive one-on-one interview with Clinton. Brubaker released the documentary online on June 13, 2017.
Brubaker worked with Clinton during her 2016 presidential run as a member of her communications team. When Philadelphia hosted the 2016 Democratic National Convention, Brubaker said her dad encouraged her to get involved. Brubaker took photographs of the moment Clinton accepted the presidential nomination.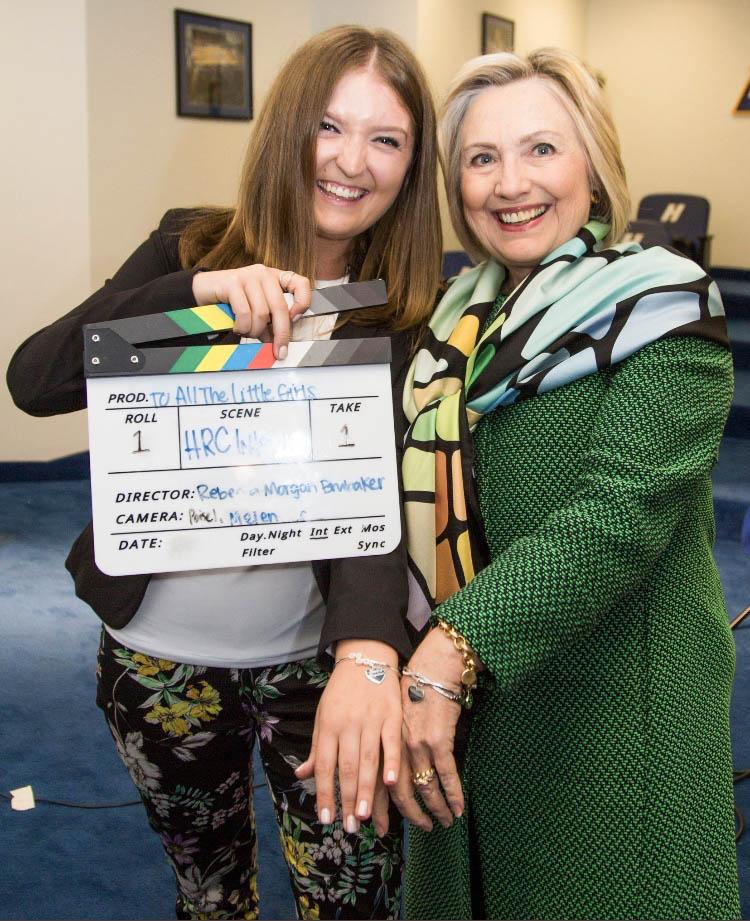 "Specifically, when I watched Hillary accept the nomination, something in me just clicked," Brubaker said. "I was like, 'I have to go into politics.'"
Brubaker said she did not see any media focusing on Clinton supporters following the election, so she decided to change that.
"I wanted little girls to see resiliency after the election," Brubaker said. "I was so frustrated that the media wasn't talking about this. So I said, 'I can either complain that the media isn't out there, or I can make it myself.'"
Brubaker said she started working with Clinton's office staff and formed a relationship based on shared values and a passion for uplifting female voices. Clinton endorsed the documentary on Twitter, tweeting, "Proud of you, Becca!" along with the link to Brubaker's Kickstarter campaign on Nov. 12, 2017.
Marina Khalili, director of the documentary, said she hoped the documentary would impact viewers by helping them realize their own potential.
"Age does not limit you in what you can do. Gender does not limit you. Nobody should ever feel that it does," Khalili said. "This documentary proves that. A bunch of 20-something-year-old girls came together and made a documentary with one of the most well-known women in the world."
Following the D.N.C., Brubaker worked at Somerville for Clinton and volunteered in Massachusetts and New Hampshire to create content for their social media accounts.
"How we started working together was kind of an alignment of stars, as cheesy as that sounds," Brubaker said. "We had this shared passion for wanting to tell these stories. Hillary wanted her supporters to have a microphone to share them, and she was grateful that I was setting out to do that."
Clinton inspired the title with a quote from her concession speech: "To all the little girls watching, never doubt that you are valuable and powerful and deserving of every chance and opportunity in the world."
Brusker said she made the documentary to give hope to women in politics.
"For me, it wasn't about converting people into Hillary supporters," she said. "What I wanted my documentary to do was provoke thoughts around why we demonize powerful women, why they are met with so much resistance, why the media doesn't celebrate powerful women, and why we tear each other down."
Craig Melendes, director of photography for "To All The Little Girls," said he hoped to capture the way Clinton interacted with her supporters.
"This documentary is meant to bring light not only to Secretary Clinton herself, but really to all the little girls she's inspired," Melendes said. "I think today in the media we sort of get wrapped into this whole idea of Hillary Clinton as a company."
Melendes said the documentary aimed to create community around ideas of hope.
"With any project that I do, I want to bring individuals together so they can communicate, grow, and learn together," Melendes said. "I hope that this documentary does that. I hope that it also highlights all the little girls that look up to Secretary Clinton, and I hope that it gives them the voice that they need."
Additionally, Brubaker said she hopes viewers of the documentary who did not support Clinton's presidential run can see Clinton in a more human manner. Brubaker wants people to ask themselves why they did not like Clinton.
"I wanted them to be faced with these images of her with women, seeing her and getting to know her as a person and not as a candidate," she said. "I wanted people who didn't like her to question what their dislike of her is rooted in. Is it rooted in disagreement, or is it rooted in something else?"  
Brubaker said she hopes her film will push viewers to question the gender roles in play when women enter politics.
"I wanted Hillary supporters to know they weren't alone," she said. "I wanted them to know that we are going to move onward together and the community is still very much alive and fighting for the same things we were in 2016."